---
Get the body you've always wanted. Feel amazing doing it. (Yes, that's possible)
Does that include losing inches? Seeing abs come through? Building a booty that looks great in jeans?
Sure – those are some major perks.
But you'll also enhance your life:
feel confident, both in your jeans and in your abilities
sleep better
run up a flight of stairs without huffing and puffing
feel strong and able
Your life will change.
---
---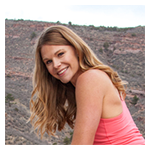 I loved working with Paige. My biggest problem with other workout programs I've was that they were never sustainable. The meal plans weren't realistic for me, and I found them to generally be too all or nothing. This bootcamp fit into my life without any extra stress. The meal planning was realistic and not at all restricting. I never felt like I was missing out, and I saw fantastic results. This is something I could easily keep up for the rest of my life, and I think that's the most important part."
So, are you ready to change your life – and your body?!
I've got a few different options for you.
Not sure which option is right for you – or if online training is right for you? Fill out the form below, and I'll be in touch with you shortly to give you more information – and answer any questions you have.
---
---