Hi, everyone! I hope you had a lovely weekend. Mine was in one word: cold. I spent all day skiing on Saturday, and then all morning working a race for KIND on Sunday. I think I'm still thawing out! Saturday I took my first skiing lesson here in Colorado, and I absolutely loved it!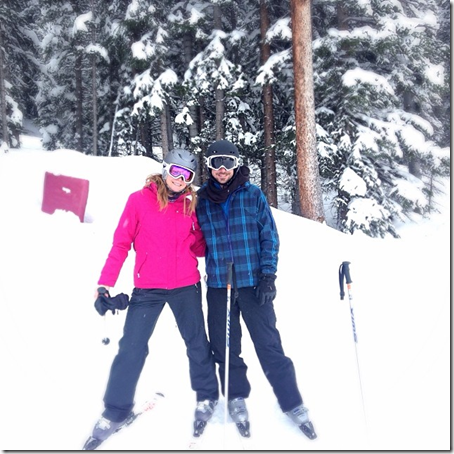 I caught on quick, and didn't want to stop! Unfortunately, spending 5 hours outside skiing lead to the worst Raynaud's attack of my life. My feet have never hurt so badly in my life.
Oh yeah, and although I'm a Bears fan, as far as the Super Bowl is concerned, I was rooting for the Broncos, and well…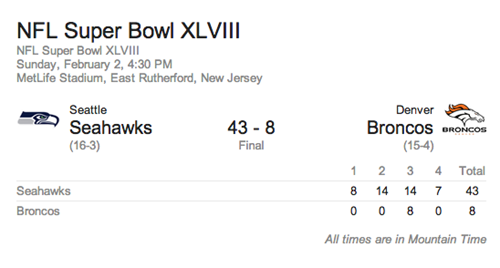 (womp womp)
I also spent a lot of time thinking this weekend. When I started training clients in 2009, I didn't really know just how much I'd love it. Since then, I've trained all sorts of clients of all ages, with all sorts of ailments and all sorts of goals. I've trained in my house, in my clients' homes, in the park, in a box gym, and in privately owned studios and clubs. Through all of that, there were things I enjoyed and not so much enjoyed, but one thing remained the same: I love my job.
There's just something that gets me going about being able to transform lives through programming and coaching. Of course I love seeing and training my 1-on-1 clients, but what's surprised me the most that I really enjoy is online training and coaching. It's really rewarding for me to be able to get to know a person from across the country, write a program for that person, and then coach them toward their goals as they get stronger, fitter, and healthier. It amazes me that all of that can take place in a virtual setting.
Another reason I love it is because I love writing programs. Of course I enjoy the interaction, too, but I really like the process of assessment, gathering information, and then writing workouts.
Ironically, because I have so much passion for training my online clients, I'm taking a step back from it. Over the past couple weeks, I've told my current clients that we'd be taking a little hiatus, and my wait list that the wait would be extended a little longer.
It took a lot of thought to come to this decision, but there has been something nagging at the back of my mind that it could be better. My schedule's gotten pretty filled up lately, but I want to dedicate more and more time to my online clientele. So over the next month, I'm going to be working with a web designer to re-vamp my online programming. After thinking about some priorities, I realized I want to to make it better by: providing more of a community for my clients, for better motivation and support. And I want it to be easier for them. The easier the program and use of the tools, the easier they can apply it to their life.
So, come March, Your Trainer Paige Personal Training is going to be more interactive, streamlined, and easier. I'm excited for the changes!!

I also took a step back by quitting (going on a hiatus, rather) one of my teaching jobs. I now only train at one studio, and only teach at another. Three gyms, plus my online business, plus KIND work proved to be a little too much for me right now. This was also a tough decision because a) I loved my class members energy in my early morning classes, 2) the staff is so wonderful, and c) I got free indoor rock climbing out of the gig. But in the end, it was the best decision for my time, finances, and sanity.
I'd like to say I came to these decisions because I'm wise, and so in-tune with myself, my priorities, and my stress levels, but that's not the case here. I was go-go-going, as I do as an all-or-nothing-person, and I came to this decision at the beginning of the year, in a state of pure exhaustion and frustration. Sometimes that's the state of being it takes to take a step back and evaluate priorities – for me, at least. But hey, I'm learning as I go…
When's the last time you had to take a step back from something you love?
Super Bowl: did you watch it? Who were you rooting for?
---