Good morning, friends

Yesterday was my last day visiting my family. I woke up and joined my mom at her gym (except we parted ways upon entering; she got her cardio on, while I hit up the weight room) and then enjoyed a pretty leisurely day of packing and just sitting around until it was time to head to the airport. It's been real, Illinois! On my last day in  but it's time to get back to the regular lifestyle – and back with my man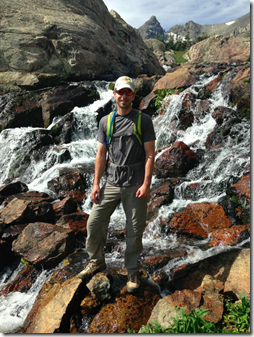 Niko and I missed him so much! I'm now back home in Colorado (I almost typed Chicago, ha!) and am enjoying some breakfast and coffee before heading out to train my morning clients. My day looks like this today: morning clients->hike break->KIND work->evening clients. Hey, come back with a bang, and all that, right?
Life-Changing Diet Changes
The other day I was emailing back and forth with an online client about what tweaks and additions she could make to her diet to better support her goals and training. It got me thinking about changes I've made to my diet that have really made a lasting impact:
Buy only organic meats and dairy. My grandma said way back, before I was even born, that they should let the chickens eat what they're supposed to eat – bugs and grass and whatnot. That whatever they're feeding the chickens is what's going to cause cancer eventually. I definitely think she was on to something.
Buy only organic dirty dozen fruits and vegetables
Switch over to BPA-free stuff, and all-glass tupperware items
Try to eat vegetables with at least two meals of the day
Try to stay away from genetically modified organisms and "fake food" in general (Quest bars = my weakness)
Eating every 4 or so hours
And I'm sure there are more. However, my most recent modification, and one I've talked about a lot on here, has made the biggest impact on my health. It's completely eliminated the dizzy spells, complete with shakiness, light-headedness, and sweating, that I used to have in the middle of a walk with Niko or a spin class. It's helped regulate  my cycles (to a T! Super duper regular) and help me sleep better. It's also helped me eat more mindfully instead of just grabbing this or that. And it comes down to one simple guideline:
Eat a source of protein every single time I go to put something in my mouth.
This does not mean I'm eating a low-carb diet, it just means when I go to eat starchy carbs, I make sure that a protein source accompanies that carbohydrate.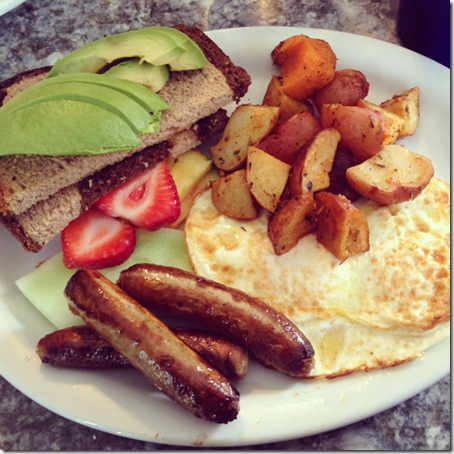 Toast + potatoes (starchy carbs) with turkey sausage and two eggs (protein!) Bonus points for healthy fats in the avocado
No more grabbing a handful of sugary cookies at random, or eating a bowl of ice cream several hours after dinner by itself. In fact, if I do want dessert a few hours after dinner, is just what I said earlier – accompany it with a source of protein. Like last night, I really wanted some chocolate covered banana chips, which would make my blood sugar all sorts of wonky – especially no bueno right before bed. I still had them, but I also had some Greek yogurt along with them. (It's kind of my loophole for when I want dessert, haha)
No more blood sugar crashes=regulated hormones=a happier, healthier Paige.
What's the most important diet change you've made for your health?