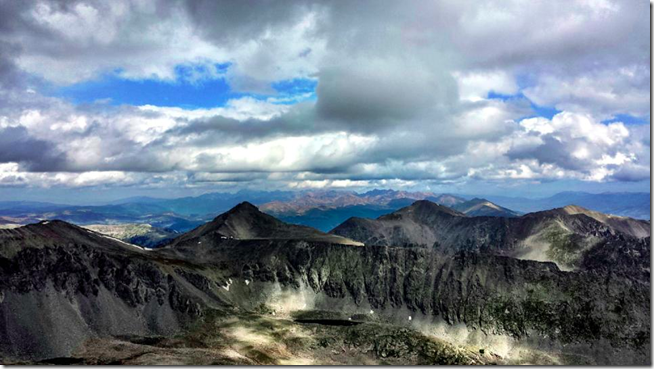 Gosh, where do I even begin?
This weekend, I hiked my first 14er, Quandary Peak, 14,265 feet above sea level, with a 3,500 feet elevation gain (the most I had done before is about 2,500!!) It was really, really hard, especially that last 2,000 ft ascent, but was totally, incredibly, a hundred times over worth it. I suppose I'll start at the beginning.
Friday afternoon, after a busy morning of training clients and a meeting in Denver, Shane and I drove over to Lauren's house in Broomfield to meet up with her and her husband to head out west to Dillon. The trailhead was a good 2.5-3 hours from home, and when you're hiking a 14er (or any hike in the mountains) you definitely don't want to run into afternoon storms. The last thing we wanted to do was get stuck in a storm on the way up, and the second to last thing we wanted was to not make it to the summit because of a storm! So, we headed out there the night before so we could get an early start in the morning.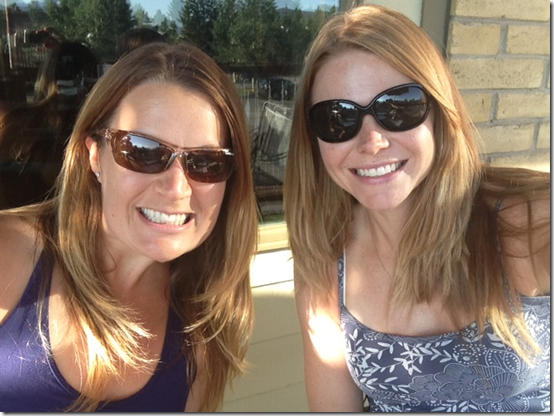 When we got to Dillon, we grabbed some extra supplies for the next day, and then headed to dinner. Burgers and fries and a beer to fuel up for the big day, and then we headed back and played cards for a few before calling it a night. We had an early a.m. wakeup call to be at the trailhead around 6:30.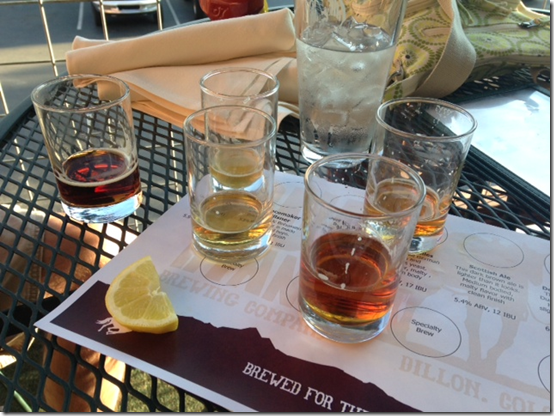 Luckily, Shane and I slept fairly well, and were more excited than anything when the alarm went off at 5:20 a.m. We all met up in the lobby with another couple of Lauren and Greg's friends, and then all piled in the car to head to the trailhead. I kept saying that it felt like we were all going to a big race or something! Early Saturday morning wake up call, nerves and excitement, breakfast in the car – it felt like we were going to run a marathon.
We got started right away, and were surprised at the instant incline. This pretty much set the tone for the entire ascent. Incline, incline, incline.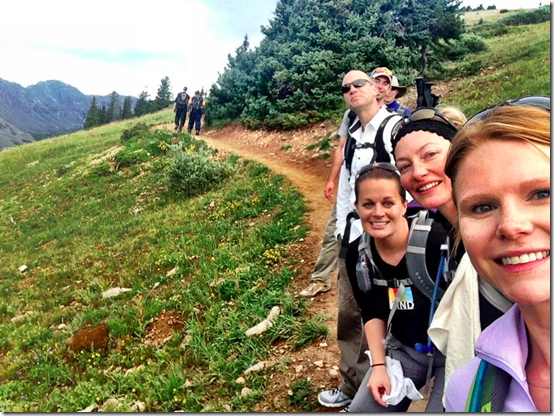 All happy and just a little tired toward the beginning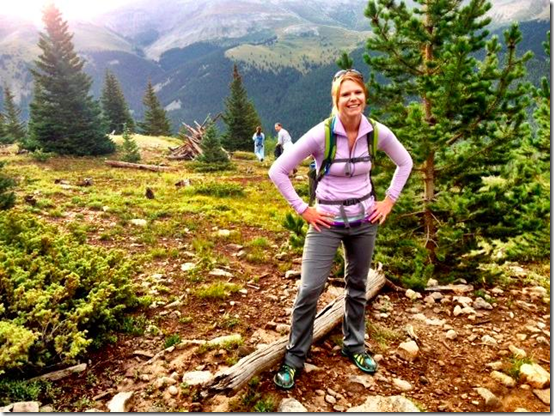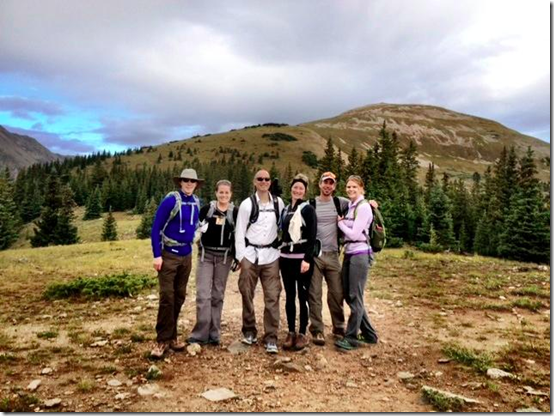 And still smiling for a group shot, about half way.
As we ascended above the tree line, it got a little colder, and a lot windier.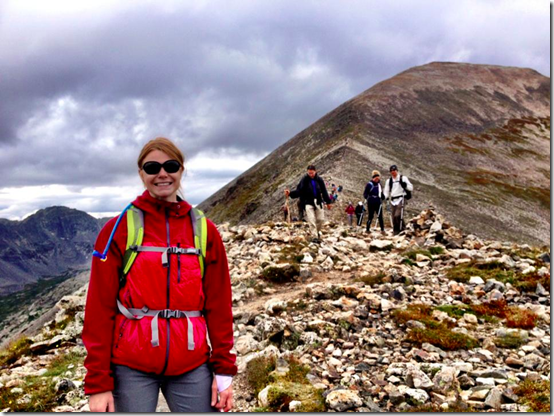 And then…it got hard. Really hard – at least I thought so.
The last ascent was very steep, and once we got past 13,000 feet, it became really tough to get enough oxygen to my muscles. I'd hike for 3 minutes, and then feel like my heart was going to burst out of my chest!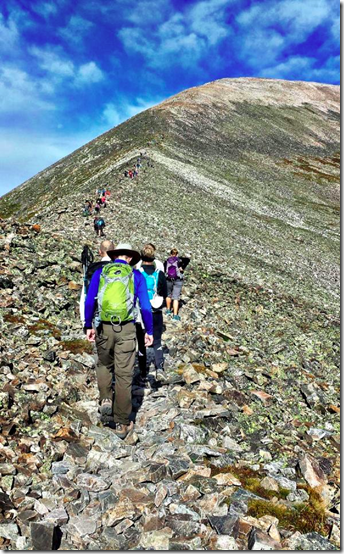 But we would just take little breaks here and there, to let our breathing catch up with our legs. Toward the end, I felt like a zombie, just thinking to myself "put one foot in front of the other."
And the views on the way up were kind of ok, too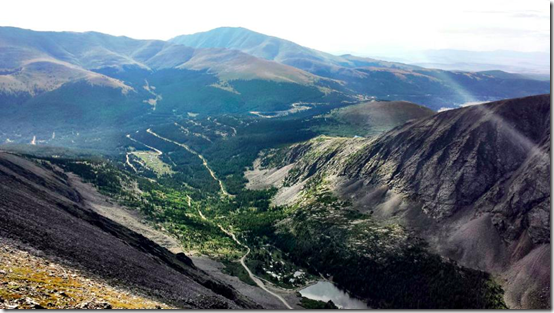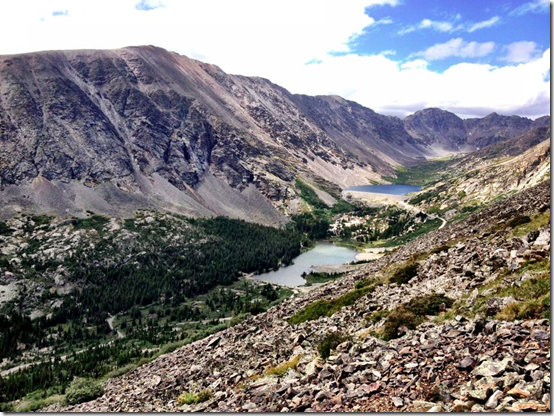 And then finally, we were really, truly, almost there (those two words got thrown around too much before that point! haha) and all of the sudden, I got a burst of energy, and sprinted (which, in reality, was probably a combination of limping and galloping) to the summit.
VICTORY!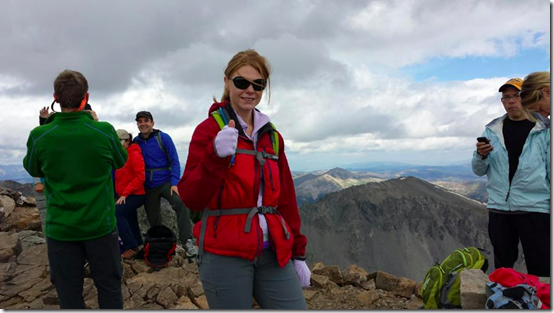 only slightly fatigued, haha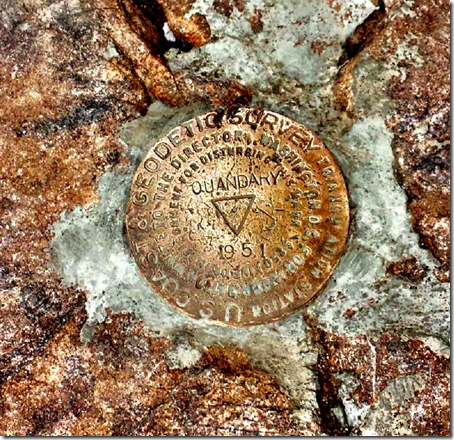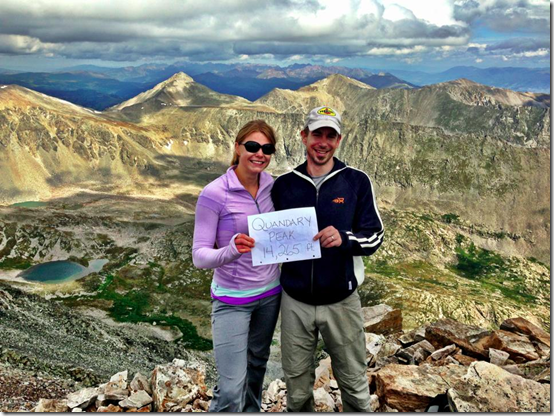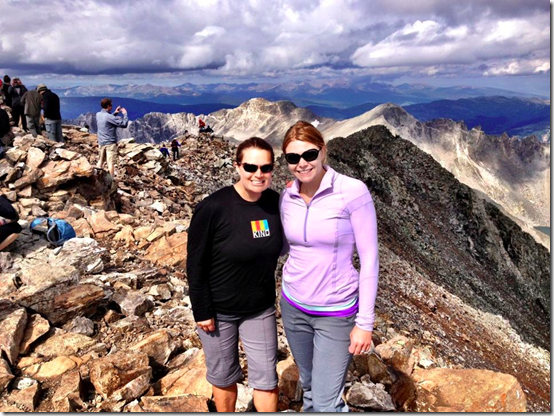 When we got to the top, I was absolutely elated. Shane and I jumped around for a bit, I high-fived everyone, and gave Lauren a great big hug! I probably wouldn't have done it without her!
Once the excitement calmed down a bit, we had out summit meals of PBJ's and a beer.
I think I maybe had two sips of my beer – all I wanted was water at this point – but it's the ritual that makes it great

The way back down was pretty uneventful aside from stepping in some kind of poo while finding a tree as a potty. It's so rocky and steep that I was looking at my feet the entire time, until….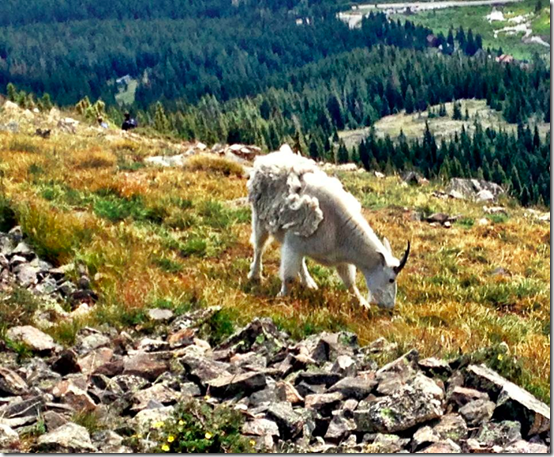 WE SAW MOUNTAIN GOATS!
Shane and I have wanted to see mountain goats for so long, now, and it made the hike THAT much better that we saw them. They were just chillin' next to the trail, calm as can be.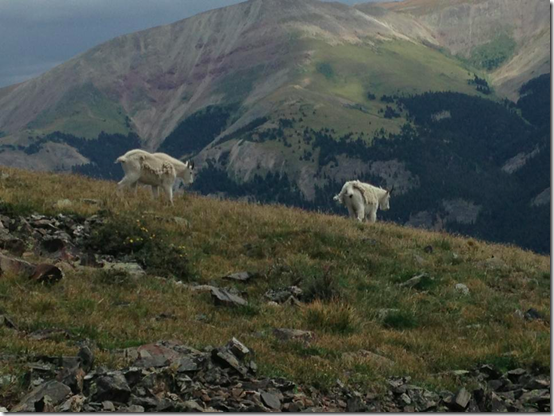 Ahhh-mazing.
And then shortly after, we were making our way back down below tree line, and then finally, back to the trail head. I try not to say epic unless it's totally deserving, and this hike was, indeed, epic.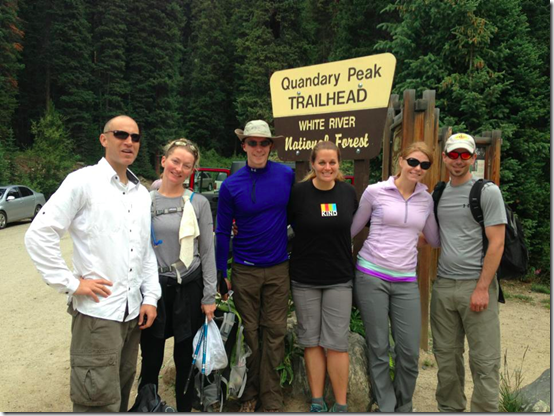 Lauren asked me if this was the most rewarding hike I've done, and the answer to that question is a big, resounding YES. I'm still on a high from it, and Shane and I already planning which 14er we're going to do next, despite feeling like I was hit by a truck all day yesterday

What was the most rewarding and challenging event of your life?