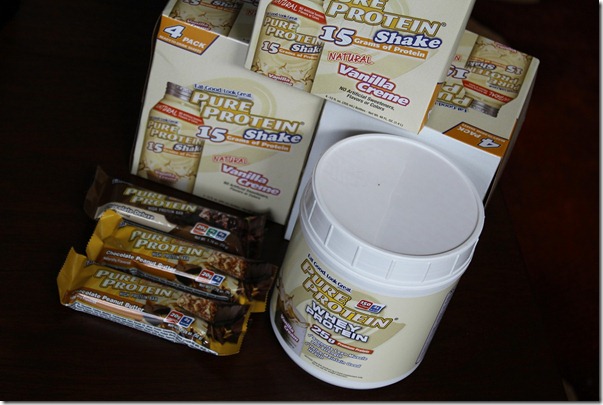 If you've been reading my blog for a while, you know about the changes I've made to my diet fairly recently. for the past few months, I've been following a paleo-ish diet (but I'm FAR from strict…hello chips and salsa and beer!) In order to get my PCOS in control, I've been following a high protein, low sugar diet. I've also cut out gluten, and have drastically increased my intake of healthy fats  – this is not only what my body needs right now, but also helps keep me incredibly satiated. (You can read my latest update here.)
So when the opportunity to work with Pure Protein came up, I jumped at the chance. Here's what originally attracted me to the product: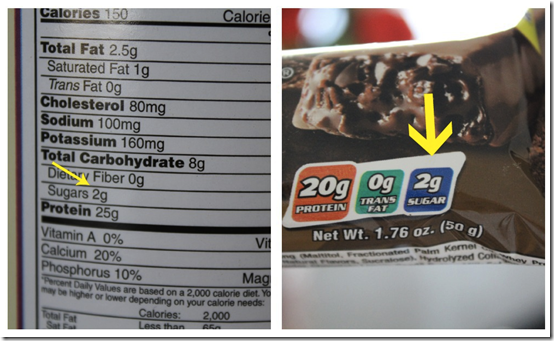 The suga. Pure Protein products have only 1-5 grams of sugar per serving. That's extremely hard to come by in protein bars, shakes, and supplements, so I was down to try it out. Plus, I'd never tried the all-natural Pure Protein, and was intrigued.  Plus, my naturopath recommends that I eat protein at every meal, so having high protein snacks on hand gives me another options besides meat for protein.
I tried out the whey protein this week. Since I teach classes in the morning, and have about a 15 minute drive, breakfast can be tough. I either have to make it and eat it way early, or pack it up and eat it after teaching… Or, I can have breakfast on the drive!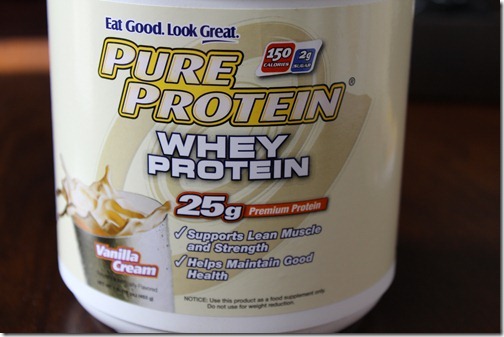 Before my Monday morning interval class, I made a protein shake with the vanilla crème protein powder, ice, and water. I kept it pretty simple since I'd be having a fuller breakfast after, and I didn't want to add in much fruit anyway. I'm always a bit hesitant to mix protein powder with just water and ice, because it can taste pretty chalky. However, I was really impressed with the mix-ability of the powder.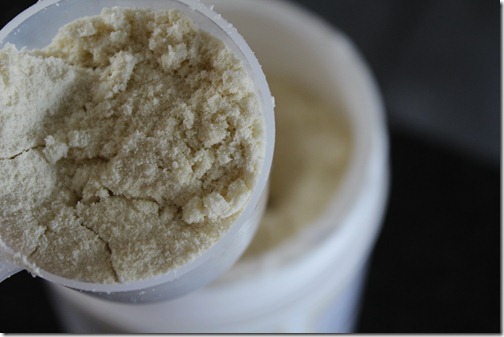 The taste was great, too! This was the vanilla crème flavor, which was very tasty.
I'm a nerd, so I always check out the amino profile on protein powders and BCAA's. Check out this profile. It stacks up with some of the other powders I consume.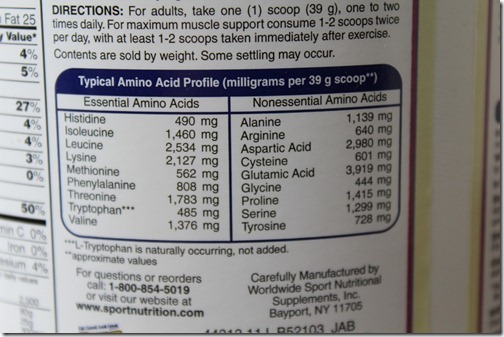 Not too shabby!
I gave the protein bars a try yesterday – I had an errand to run near Denver, and then decided to take a CorePower class (a great one, btw!) afterward. When class was done, I was starving, but knew I wouldn't get to lunch for another hour, so I cracked into the bar I packed in my purse: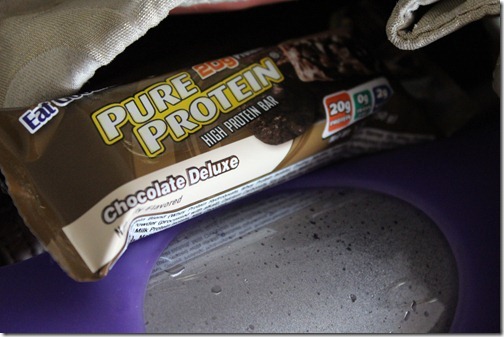 Ha, look at the steam in my water bottle from hot yoga

The protein bars are high protein, low carb, low sugar, so it wasn't your typical crunchy protein/granola combo bar, but more of a chewy nougat center: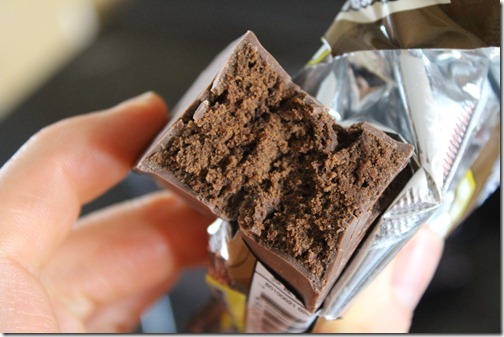 That said, the bars taste nothing like the typical protein bar (you know, with that obvious protein flavor and weird consistency,) but tasted really great! It kind of  reminded me of a Snickers bar. I say "kind of" because really, nothing actually tastes like a Snickers bar except a Snickers bar, right? Anyway, I was impressed. And full. I wasn't even hungry for lunch after my shower, so I waited another hour and had a smaller lunch.
The third product I received to try is the ready to drink shake.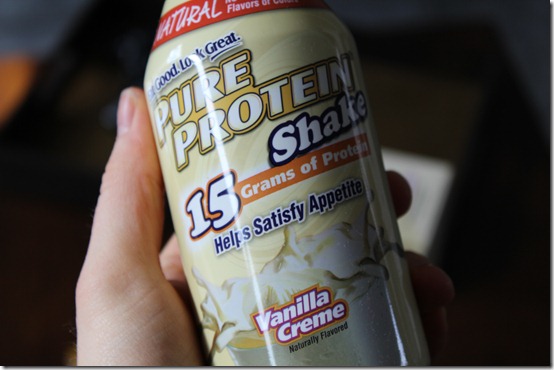 I tried this one a little after lunch yesterday. I was craving something sweet, and this definitely satisfied that craving. The flavor, vanilla crème, tasted like vanilla milk! However, this drink has more than 5 grams of sugar (25 grams per bottle) so I didn't drink the entire bottle. That said, it was tasty, the sugar it is made with is from all natural sugar cane.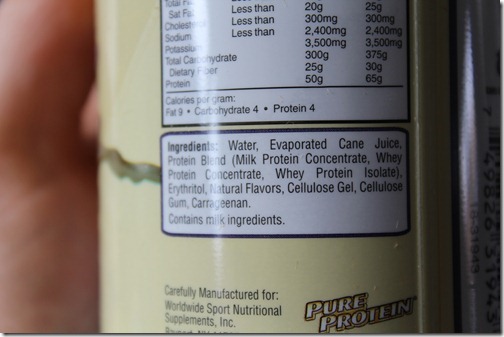 Now here comes the fun part –
Giveaway – One reader will win a Pure Protein package with the following products:
1 1-lb container of Pure Protein whey powder in vanilla crème
3 4-bottle packages of ready-to-drink Pure Protein Shake
3 Pure Protein bars
To Enter: Leave a comment below saying how much protein plays a part in your nutrition!
Giveaway is open to US residents only. I will pick a winner Tuesday, 2/26/13.
This post is sponsored by Pure Protein. Check out great ways to Eat Good and Look Great.