Today's post is about motivation, but first, allow me to tell you a tale. A Valentine's Day tale, if you will.
This year Shane and I agreed not to do anything for each other for Valentine's Day. Our house in Illinois is still on the market, so instead of spending money on jewelry and an expensive dinner, we decided to more wisely spend our dollars on our two mortgages. So you can imagine my surprise when he walked in the door with flowers and a bag.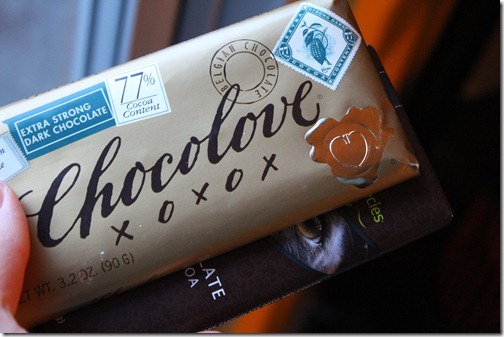 And chocolate. I basically grabbed the chocolate, hid in the corner, and started gnawing. Forget the flowers.
I kid. I love flowers.
Anyway, inside the bag were the contents for the night's dinner. Shane declared, "I'm cooking dinner tonight! Prosciutto and provolone stuffed chicken!!!" Wonderful!

Now, my husband, bless his heart, is pretty much clueless in the kitchen. He never ever ever cooks dinner. Wait, he did once last week, but that was the first time that he has in years. I think he was practicing for V-day.
Anywho, the rules were that I could not hover. So, hover I did not. I stayed in my place in the living room, instgramming about the occasion like a good wife.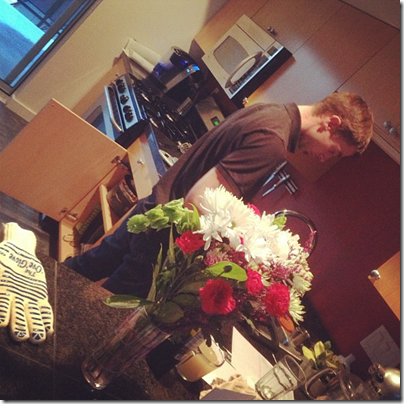 Except, you know, when he asked me where the Italian seasoning was. And the tongs. And when he asked if he should heat the pan before or after putting the butter in (before, dear.) Other than that, I kept my distance.
And except when the smoke alarm went off. I have experience here, so as I ran to grab the rag to fan the alarm, I shouted "OPEN THE SLIDER DOOR!! OPEN THE SLIDER DOOR!!!!" And in less than 2 minutes, we had quiet again. Moving on.
Back at it, I think I may have giggled when I heard him mutter "50 minutes my ass." Yep…welcome to following a recipe, my love.

Alas, in about an hour, we sat down to a delicious-looking dinner…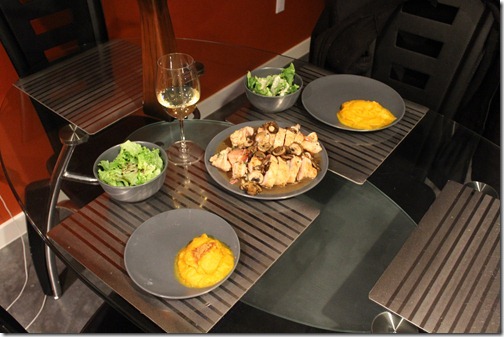 I was salivating as I picked up a piece of my chicken, cut into it….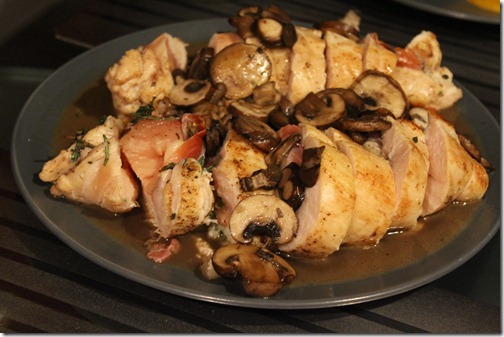 and said, "uhhh babe. I don't think the chicken's done. It's pink on the inside…" Yup. That chicken definitely needed another 5-10 minutes in the oven. So back in it went.
Long story long, we did eventually eat, although not as Shane may have planned it, and it was delicious. And bottom line: if you cook for me, I'll eat it, and I won't complain.
Moral of the story: if you want your husband to appreciate having a home cooked dinner every night, have him cook prosciutto-stuffed chicken.
Now on to that motivation schtuff…
Yesterday I made a video as part of my ambassadorship for Fitmixer. The topic is how I stay motivated to live a healthy lifestyle. While there's a plethora of reasons I try to live my healthiest, I narrowed it down to 5 core reasons:
OK, you got me. The REAL reason behind #5 is I just want to be as badass as Betty White at the age of 90

Happy Friday, folks! I've actually got a pretty exciting day today. I've got to update ya'll on some news next week

Tell me:
What keeps YOU motivated to live a healthy lifestyle?