The Best Weekend I Could Dream Up
Oh my goodness, you guys. This weekend has been pretty darn near perfect. I'm sitting down on this Monday morning, with my (half cup…we'll talk about that soon) mug of coffee by my side, just feeling…blessed.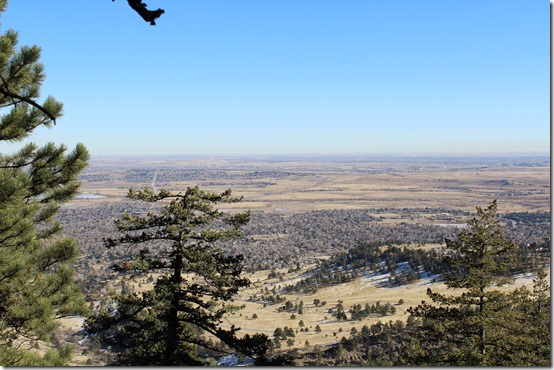 Yes, this post was supposed to be a PCOS update, and that will come tomorrow. This morning I just felt compelled to, if nothing else,  document this day (Saturday, namely) to come back and read on a "rainy day" (which, if we're talking literally, are hard to come by in this state where the sun shines more than 300 days a year.)
So. I guess we'll start on Friday.
Shane and I met Kim and her husband at the Pump House Brewery for some dinner and a beer: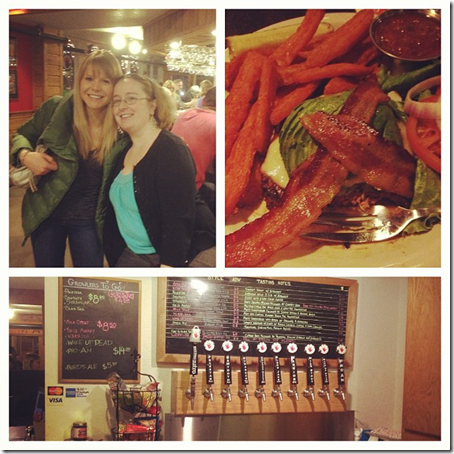 It was Shane's first time meeting Kim's husband, Sean, so we had lots to talk about…like beer. A lot about beer, since Kim and Sean brew their own and are beer aficionados. Especially compared to how much Shane and I know about beer, which is basically which kinds we like
  It's OK, we listened and were intrigued.
It was also Shane and my first time trying the Pumphouse, and we were both very impressed! We each got a burger and fries (I got the baja burger with sweet potato fries) and were super impressed with both the portions and the taste. I don't know about you, but Shane and I like to eat. The worst thing is going to a restaurant, loving the food, but getting tiny little measly portions that leave you hungry an hour later. Our meals left us satisfied the entire evening.
After the Pump House, we all meandered down the block to Left Hand Brewery to have one more beer before calling it a night
And then Saturday…oh, Saturday. If I had to describe my perfect day, it'd go like this past past Saturday did:
Wake up with hubby, laze around with some coffee, cook a delicious (unpictured, but inhaled) breakfast of bacon, eggs, and veggies.
FaceTime with my two besties from home. Perhaps shed a tear at the sight of them cuddling on the couch together without me.
Take Niko for a 30 minute walk on an absolutely gorgeous morning.
Pick a trail head to go hiking on, and get ready to head to Boulder for the hike.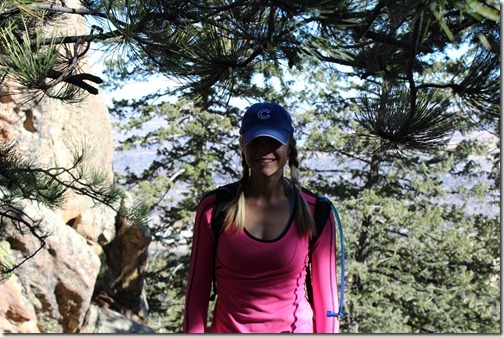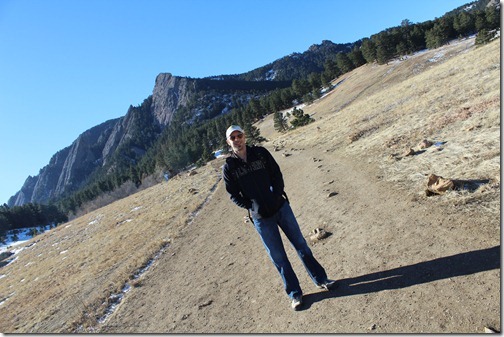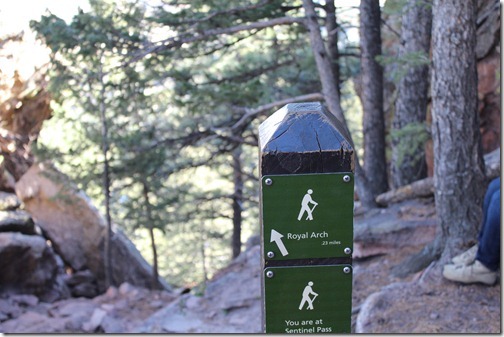 So glad we picked up some coconut water – the hike ended up being a doozy!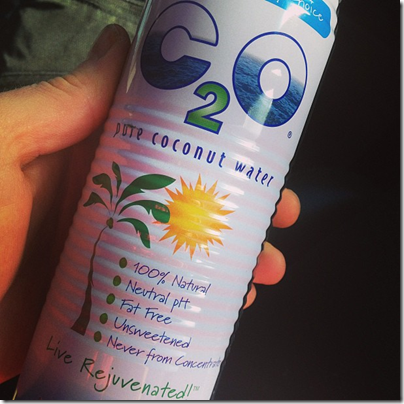 But so, so, SO incredibly worth it.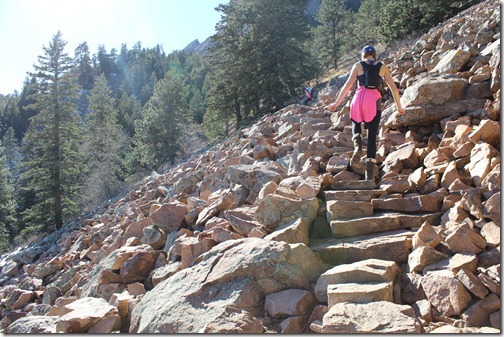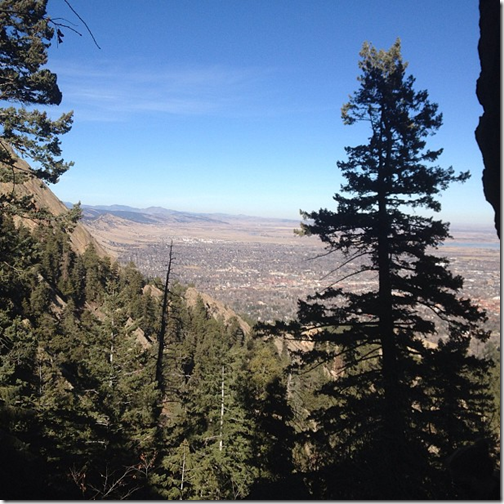 After a couple hours of researching trails around us, we decided to go to Chautauqua. Shane and I aren't too familiar with Chautauqua park, so we headed to the main trailhead, and set out for The Royal Arch. We hiked up about 1-2 miles to the Royal Arch trailhead, and then another 1.1 miles from there.
Fun fact: last year at Blend Retreat, lots of the bloggers hiked to the Royal Arch! I hope to be able to go this year, even though it won't be in my back yard this time around. Darn!
The hike was a tough one! About 20 minutes in, I was getting pretty warm, and was glad I had a tank top on underneath my long sleeved shirt.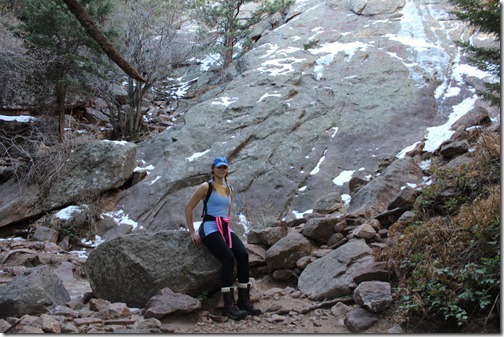 But then after we ascended a few more hundred feet, the wind literally switched to a colder wind, and back on went the shirt.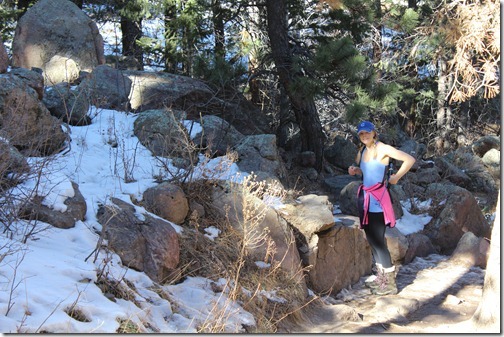 And out popped the absolutely breathtaking views: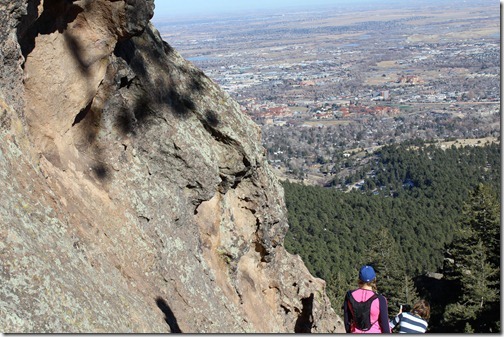 (I ventured out to the ledge, and although Shane was a little peeved at my daredevilness, still took a picture
)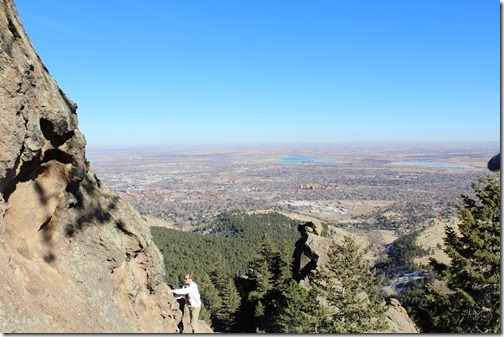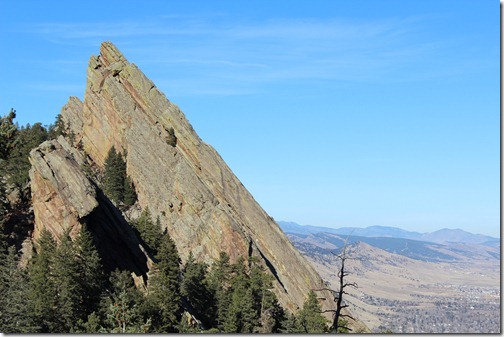 The actual Royal Arch: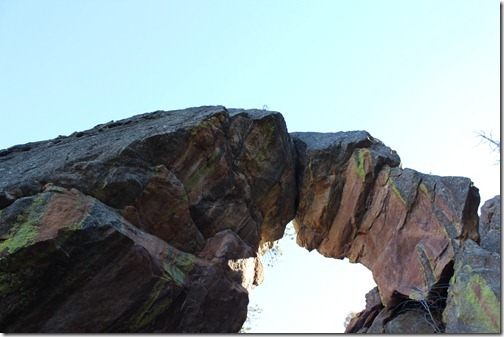 Our hike took about 3 hours, and I think we covered 4-5 miles total, and maybe 1500 (ish?) feet in elevation. Good times!
We were happy and beat afterward, and my glutes and calves are sore today. Can't wait to go again to a new trail!
At the top of the mountain, we munched on trail mix, which ended up being lunch. But then after we went home, showered, and lay around for a few, we headed back out – and witnessed a breathtaking Colorado sunset: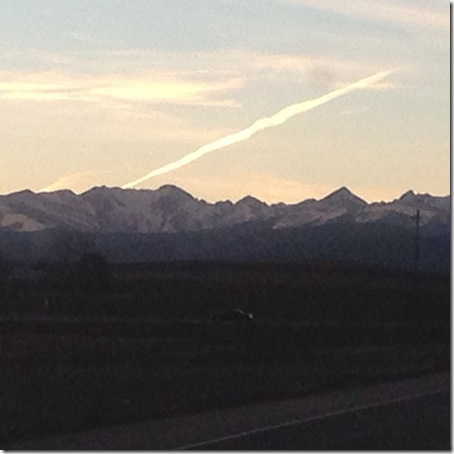 and went to Beau Jo's for dinner: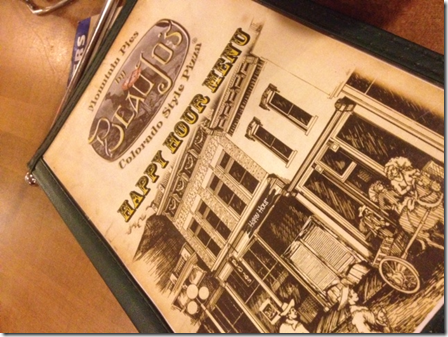 A legendary dinner.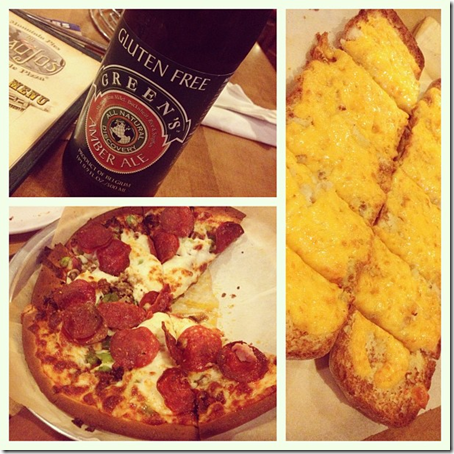 Do you guys know how long it's been since I've had pizza, beer, and cheesy breadsticks?! Way too long.
Saturday we went to Beau Jo's, which had been recommended to me from a lovely client of mine who used to live in Colorado. The pizza has honey crust and is out of this world good. We split the (GF) honey cheese breadsticks, I got a mama mia (GF) pizza, and drank a beer. Good times.
And I slept like a baby.
Sunday after we woke up, I made some breakfast (pumpkin pancakes) and then we headed to church.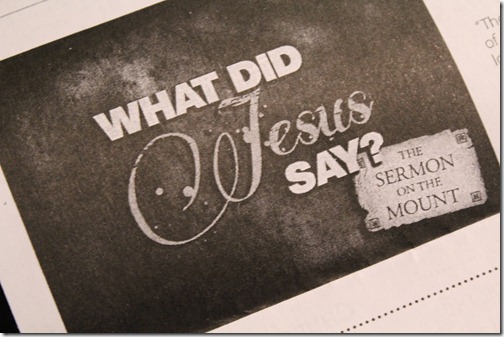 I'm so freaking excited because I think we found THE church. Back in Normal, Shane and I had such a hard time finding a church that really fit us. But…this one – we both felt like we clicked with the church, the pastor, and the entire vibe of the church. I'm already excited to go back next Sunday!
And then…5 hours of furniture shopping.
Five furniture stores.
One overpriced lunch from Panera.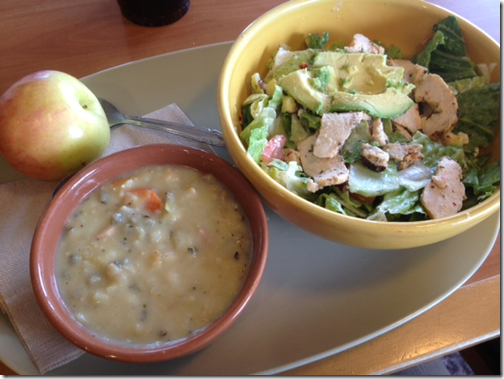 One unnecessary bicker.
Oy. I'm horrible at this. I'm just way too picky and get in a horrible mood while shopping for furniture. Alas, we came out successful this time! With THREE new pieces of furniture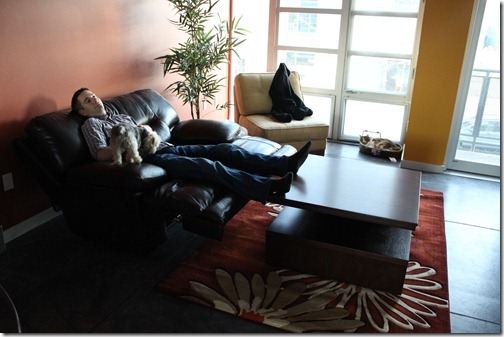 We bought a couch, a rug, and a coffee table. At least it's a start. We still have one more fun chair and an entertainment system to get. And we also have to put up our fire place. But it's a good start
I spent the rest of what was left of the day cranking out training programs, cleaning, and then cooking an absolutely amazing dinner.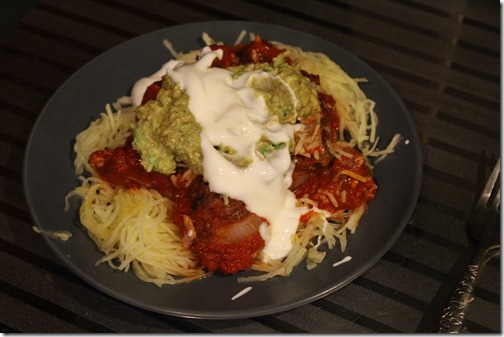 I gotta say I've been sucking it up at creating my own recipes lately, but I've been straight up owning it at trying out other peoples'. This one I added to the weekly meal plan after seeing Tara recommend Erica's green chile taco meatballs. Except I used ground beef instead of chicken.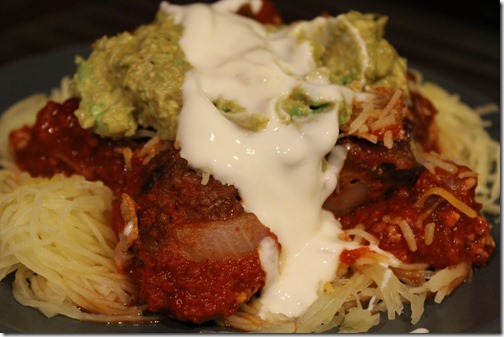 On my plate: spaghetti squash>meatballs> shredded cheese>mound o' guac>full fat plain yogurt
I should have taken a picture before I added all of the toppings; it was so pretty! It's got looks and taste. It was a winner winner meatball dinner. Although the recipe involved dirtying more dishes than I typically prefer (4) Shane and I both agreed this one needs to stay in the rotation
Yep. A perfect weekend. And now it's Monday. Back to the grind. Make the most of the week! For me that means heading to the gym to get people to sign up for my small group training this morning!
Now you tell me!
How was your weekend?
Have you tried any new recipes lately?
---