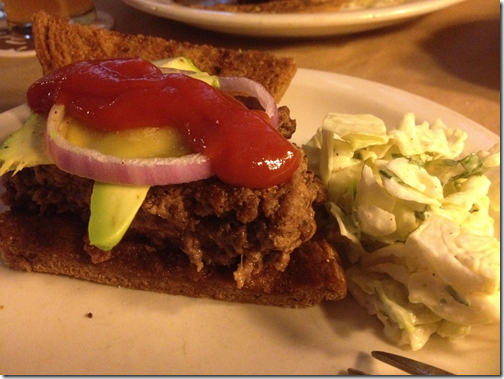 That's actually from this day (and such a fun day, at that!) Although now I could really go for a good burger
Hiiii, my friends! I hope you're having a fantastic weekend
My weekend has been pretty low key, but at the same time, there's lots going on! Let's catch up.
New PT job
Yesterday I had to go into the gym for a meeting and to go over some paperwork. I have to admit that any time I start at a new job, I have a pretty hefty amount of nerves, and that's no different with this job. However, I've learned over the years that you can tell a lot about a job by the overall vibe or energy I feel when at the actual place. Luckily, I find that when I'm in this gym, I don't feel anxious – or like I want to turn around and leave. I feel like I want to take my coat off and stay a while! (And yes, I've most definitely had jobs of the former before.)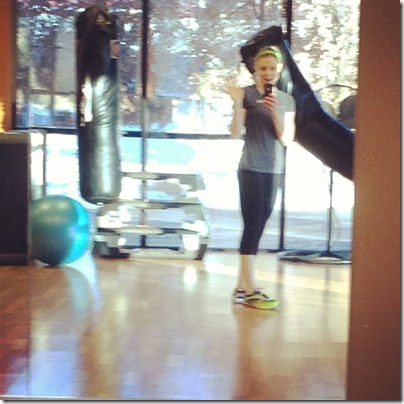 Good sign? I hope so!
Online PT
Although I'm just getting started training clients 1-on-1, I've been incredibly busy writing training programs for my online clients! I'm not sure what the deal is, and am not complaining (AT ALL) but I've had so many new clients sign up for online programming lately! (OK, maybe it's that I'm offering the second month free right now
– PS you have until tomorrow morning to enter my giveaway for a free program! OK, done promoting shamelessly) It makes me so happy, especially since for the past 5 or 6 weeks I have been working on designing a new and improved program design. I'm so excited to launch it and start using it in my clients' plans. (Current clients, I'll be rolling it out in your next program.)
Eats
As far as eats go, after Shane and my week of eat-every-single-meal out, we've been switching it up and playing eat-every-single-meal in. It feels so good to use a kitchen again!
Some of my meals from this eat-in-meal-week:
Breakfasts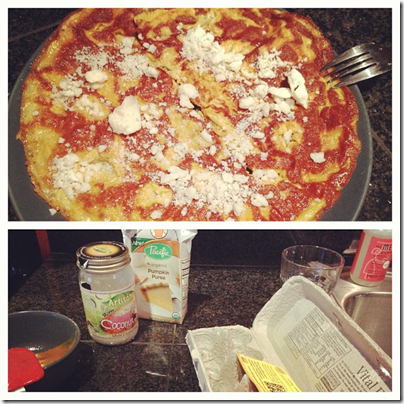 A "pancake" made with three eggs, a scoop of pumpkin, vanilla, salt, and cinnamon, cooked in coconut oil, and topped with gobs of coconut butter. Delicious.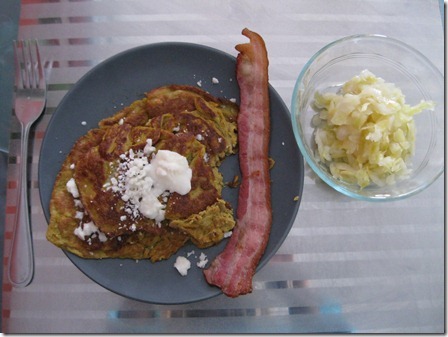 Another pancake, strip of bacon, and sauerkraut.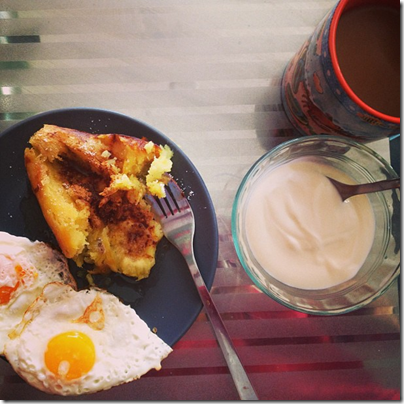 Two eggs over medium, cooked in buttah, served up with a sweet potato topped with cinnamon and buttah, with some full fat plain organic yogurt (and coffee – obviously) on the side.
Post-hot yoga breakfast of a sweet potato, coconut butter, aforementioned yogurt (my new favorite! And no, it's not Greek!)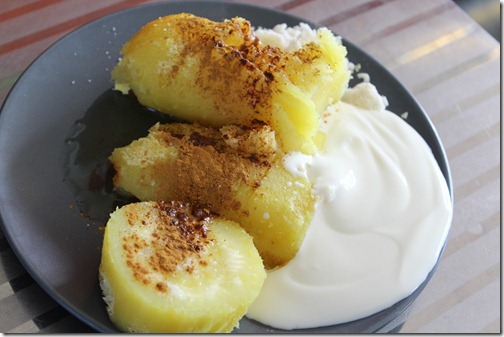 And this morning's breakfast, which has been the best yet!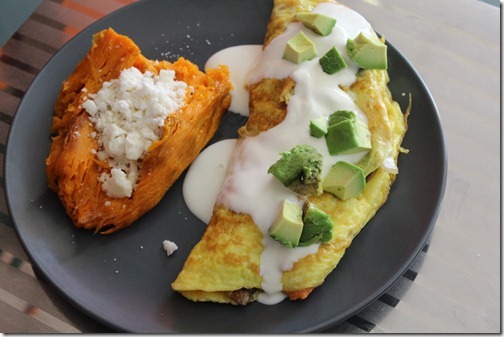 A 3-egg omelet with mushrooms, onion, and smoked salmon, topped with yogurt obsession and avocado, and a side of sweet potato and coconut butter. This was eaten after a 30 minute upper body workout this morning.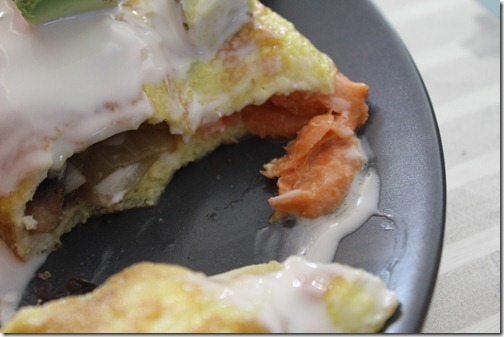 Lookathat!
Lunch:
When lunch hasn't been leftovers of dinner, it's been canned or smoked salmon with veggies: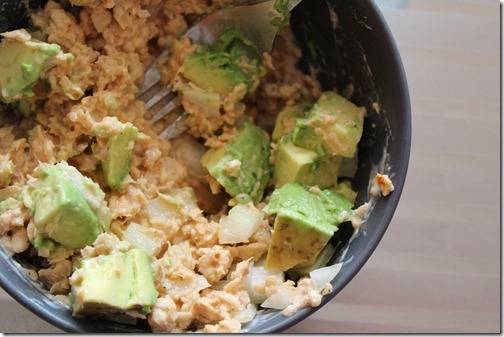 Dinner:
Dinner's usually been some form of ground meat (beef, pork, lamb) with some veggies and potatoes.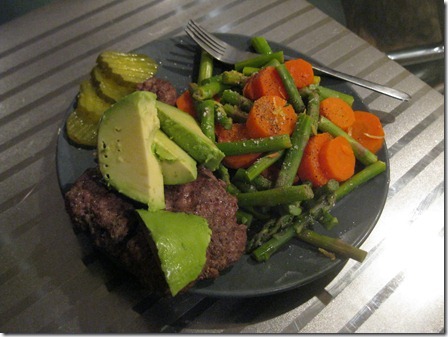 Big ol' burger with avocado, and veggies drenched in butter, salt, and pepper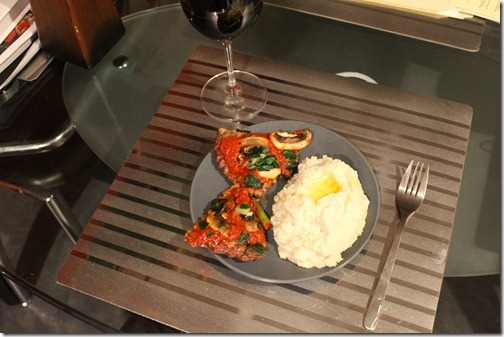 Ground beef with marinara and veggies, with mashed cauliflower and wine. Also in the mix was a curry, some grilled chicken legs, and ummmm anything else I've lost in this big ol' brain of mine.
Fitness
On the fitness front, I've been enjoying exploring my new gym, doing what can be loosely interpreted as an upper/lower/full body split. So much fun!
But what I've really been enjoying have been Niko walks (I still can't get over a view of the mountains after a view of, well, corn fields, for the past 26 years) – as well as totally digging the hot yoga (and regular-temperature yoga.) In the past 5 days, I've gone to three classes!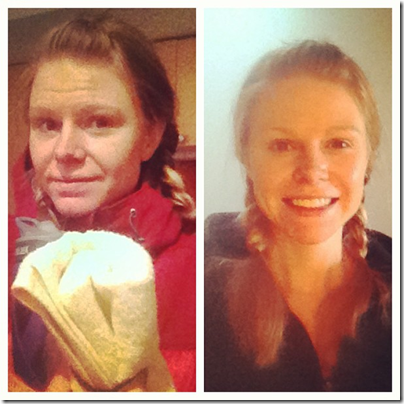 Instagram picture of my before (scurred) and after (blissed) of my first hot yoga class. I've also officially dubbed the braids my "yoga hair."
Social
In addition to work, cooking, and yoga, I've also been trying to be more social lately. One regret I had when living in Normal was that I totally did not try at all to meet my neighbors, and I really didn't try all that hard to make new friends. I'm the type of person who is fine with having a few really good friends rather than a big group of pretty good friends. I've always been that way. But that doesn't mean I can't be open to meeting new people and welcoming more friends into my life, right? Right.
My bff's from home. Love.these.girls. more than the world!
Although I haven't gotten past the awkward smile/hi, how are you/I'm great conversation with my neighbors (you know what I mean, right?) I have reached out to some fellow Colorado bloggers (much thanks to Lauren!) and have a blogger date planned with Kim and will be meeting up for a hike this afternoon with some other lovely Colorado ladies
Shane and I are also on the hunt for a good church and a good brewery nearby…hrm, maybe I shouldn't put those two together in the same sentence. While they may not go well together, they're both establishments we're quite fond of, and are both great for meeting other like-minded Colorado peeps!
On that note, I've got a couple more programs to send out for this week before I head out to hike. Then I plan on tuning in for the premier of Biggest Loser tonight. I've never ever been a BL fan, but I just have to watch tonight. I mean, Jillian's back!
Have a great rest of your Sunday, friends
Your turn: catch me up!
What workouts have you been loving lately?
Any new food combo's you're loving?
Will you be tuning into Biggest Loser tonight?