Happy Halloween!
How about a freaky fast fat-burning circuit workout to do before you begin your Halloween festivities??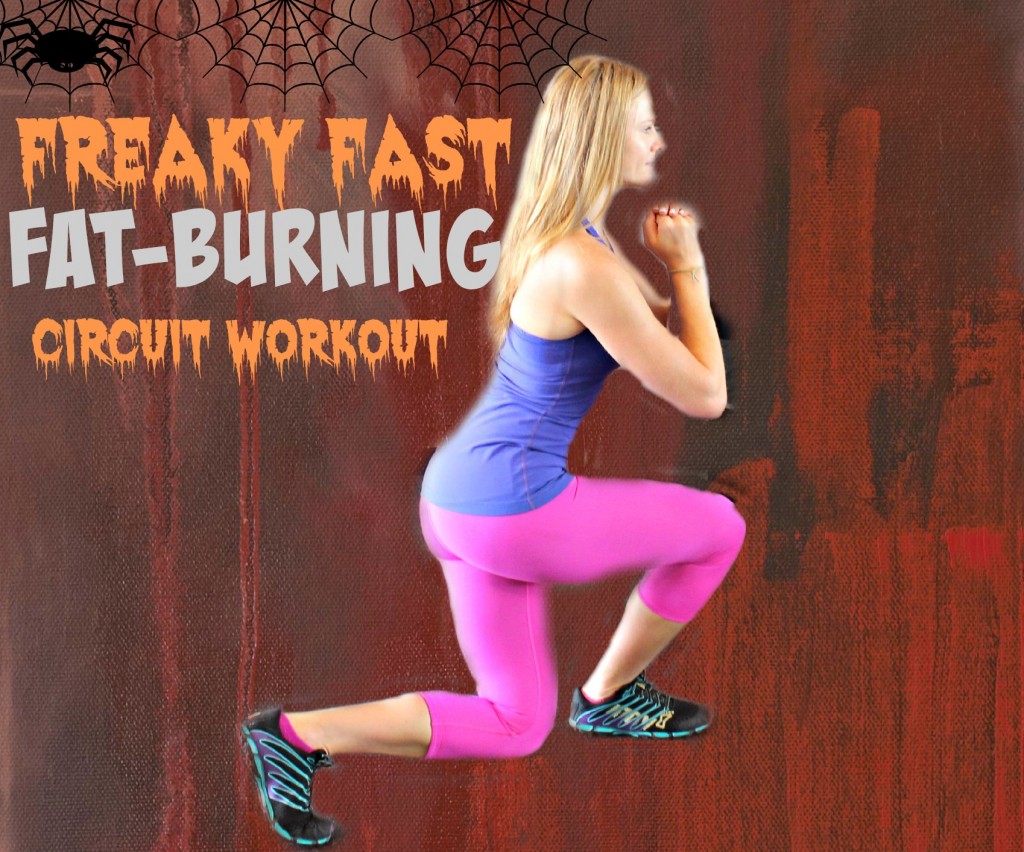 Or, if you're like me, before your quiet, small gathering with friends. Personally, I've never been into Halloween all that much. Even in college (part of my wild days) I would throw together a half-ass costume at the very last minute as I was getting ready to go out that night. It's just been one of those holidays that I wish I were into, but I'm just not. Kind of like how I wish I were into painting my nails, but am just horrible at it (thank goodness for shellac manicures!)
Regardless of whether you're dressing up in a costume and hitting up the town or shutting yourself in your house and shutting off your porch light, you have time for this workout. Because a) it only takes 16 minutes, and b) you don't need any kind of equipment!

Notes:
The first three moves are unilateral. Complete :30 on each side before resting and moving on
If you feel like using some equipment, you can try my KILLER Kettlebell Workout! muahahaha
Have fun with this workout! Happy Halloween
The Monster Moves:
Boo! Bowler's Lunge: From a standing position, take a big step back, sweeping your leg back and across the body, pushing your hips back as your front knee bends to 90 degrees. Push through the front heel to push explosively back to standing
Spooky Single-Leg Glute Bridge: Lying on your back with your knees bent and feet flat on the ground. Lift one leg in the air. Brace the abs and contract the glutes of the leg on the ground, and push into the heel to press the hips off the ground. Hold for :01 then bring the hips back down and go into your next rep.
Halloween Hop Overs: Stand to the right of a bench or step (or just the ground!) Place your left foot on the bench and press into it to lift yourself up and over the bench. Lightly touch the ground with your right foot before pushing into the left leg (on the bench) again to push yourself back up and over to starting position. Repeat.
Scary Skater Jumps: From a standing position, drive your right foot behind you to get momentum and hop to your right off of your left foot. Land softly on your right foot, and repeat on the other side.
Try it out….if you dare

Halloween: how do you feel about it? Do you love getting dressed up in costumes? Or could take it or leave it?
Are you doing anything fun tonight?
Find me on Facebook, Instagram, Twitter, and Pinterest for workout and exercise videos, training tips, and inspiration! And don't forget to sign up for my newsletter for weekly emails with workouts, tips, information, and inspiration!
If you're interested in 1-on-1 personal coaching or training programs, you can learn more here.