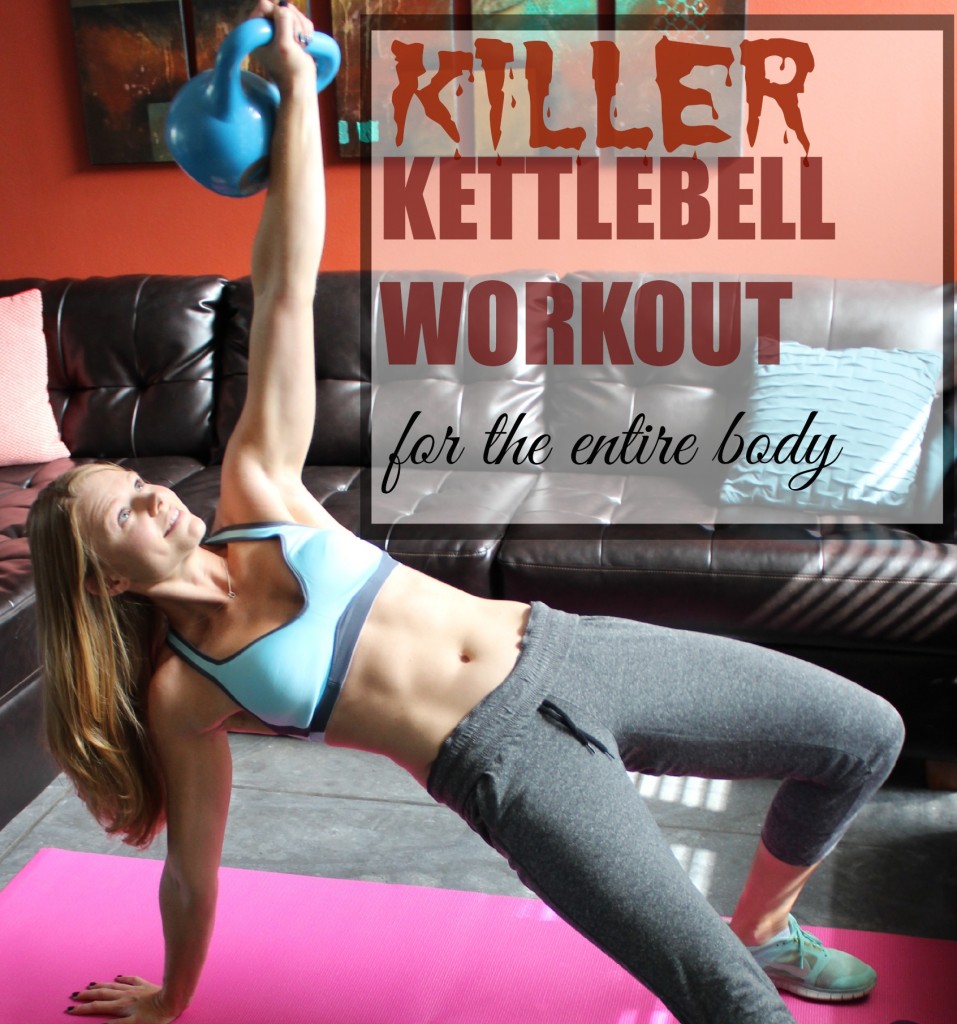 If you told me I could only have one tool in my fitness arsenal, I'd probably choose the kettlebell. Closely followed by TRX, then bands, barbells, and dumbbells. But yes, the kettlebell would be first on that list. It's such a versatile tool that can be the vessel to perform a wide variety of workouts. In fact, I am working with a client right now who only has access to kettlebells, and it's the sole tool upon which I wrote her program!
You want cardio? Do some swings. Low body strength? Bust out some KB pistols or heavy offset goblet squats. Upper body strength? How about a bent press? And don't even get me started about core strength and those damn getups. The kettlebell can do it all, and last week in my living room, I did just that with this Killer (insert Halloween reference here) Kettlebell Workout for the total body.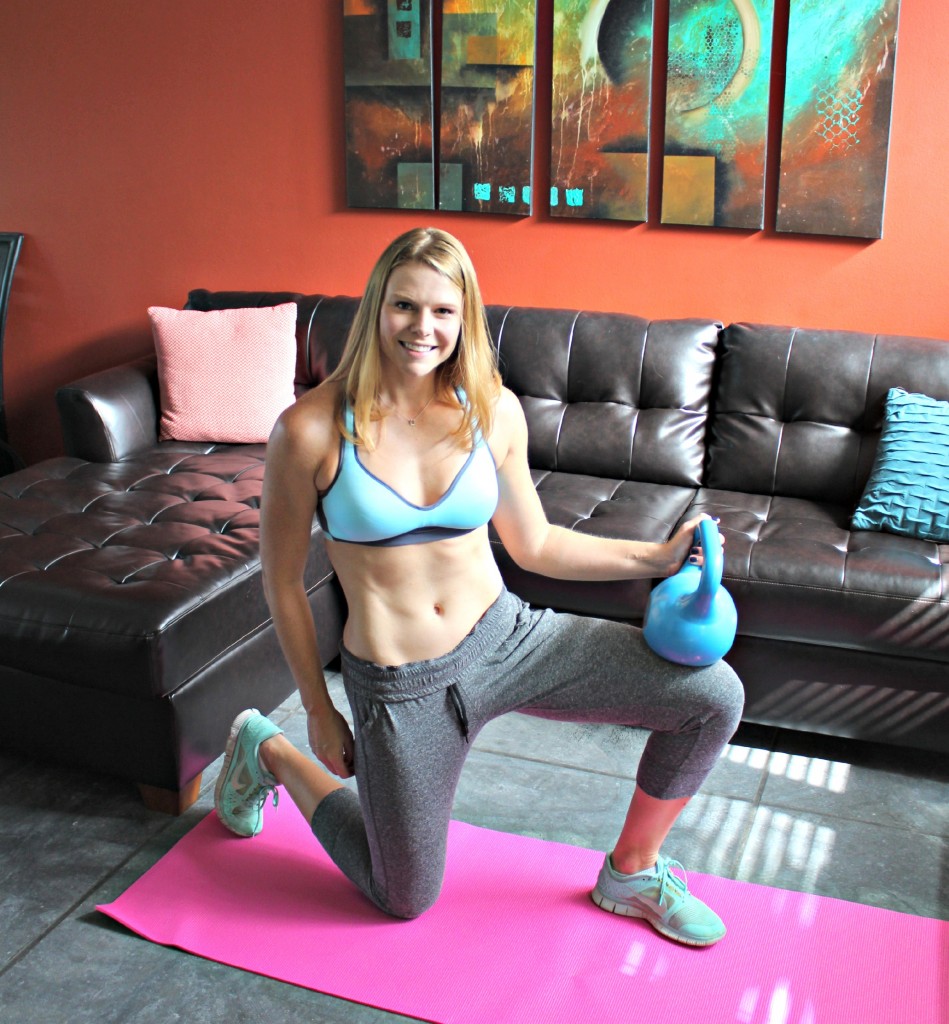 Disclosure: This post was sponsored by Target® C9 through their partnership with POPSUGAR Select. While I was compensated to write a post about Target® C9, all opinions are my own.
Before we get into the actual workout, let's talk about those workout clothes for a minute though. When I was shopping at Target® in their athletic section, I noticed an array of sports bras. Now, when it comes to sports bras, for me, they really only need to do 2 things:
1) provide enough support for the activity at hand, and
2) not give me uniboob
I grabbed the Women's Medium Support Molded Cup Sports Bra w/ Mesh because of the V-neck molded cup and the promise of medium support.
Another thing I love are sweats that double as athletic pants. These C9 by Champion Women's Sweat Pants will be perfect not only for gym workouts, but also for training clients – all done in the comfort of the sweat pant. It's kind of like having those shoes that really feel like you're wearing warm fuzzy slippers all day. It's just our own little secret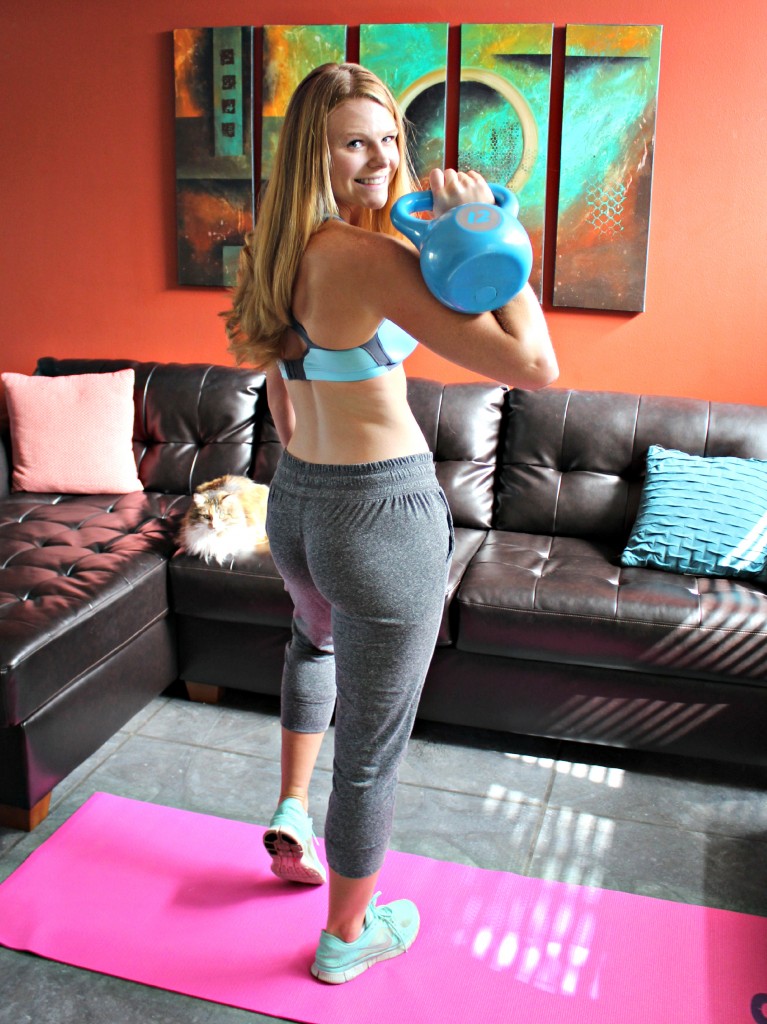 These pants are also flattering! Often sweat pants will be too baggy and look sloppy, but these have the balance of being comfortable, while also being neat and clean enough to wear in public.
Both of these items passed my own little tests with this workout. Comfort factor? Check! Flattering? Check! Functional and fun? Check check!
Killer Kettlebell Workout for the Total Body
Complete each exercise for :40, resting for :20 before moving on to the next exercise. If it's a unilateral exercise, complete :40 on one side, then :40 on the second. Complete 2-4 rounds for a metabolic, strength-building workout for the entire body. I would choose a moderately heavy KB for this workout, since you'll be using it for both single leg deadlifts and turkish sit ups. However, if you have the option, you could use a heavier KB for the lower and upper body moves and a lighter one for the core moves.

The Moves:
Single Leg Deadlift: Hold the kettlebell square in front of the hips with both hands. Standing on one leg, push the hips back and bend at the knee of the standing leg and tap/rest the bell on the ground. Contract the glutes and push the hips forward to stand. Make sure to keep a neutral spine and keep the hips square to the ground. If the ground is too far away, bring a step in front of you and rest the KB on the step.
Push Press: Hold the kettlebell at shoulder height with your elbow bent to 90 degrees. Dip at the knees and "boost" the KB overhead. Pause, and slowly return before dipping the knees again.
Kettlebell Swing: Root the heels into the ground. Push the hips back as you chase them with the bell, swinging it high between the legs – making sure to keep a neutral spine. With braced abs, thrust hips forward to swing the KB into the air.
Single Arm Row: In a bent over position with knees soft and your spine neutral, brace the abs and glutes, and hold the KB extended at your side. Contract the upper back as you pull the bell to the rib cage, retracting the shoulder blades as you do so.
Offset Squat: Hold the KB at rack position and extend your opposite arm. Push your hips back and bend at the knees to descend into your squat. Keep your knees over your ankles as you push back to standing.
Figure 8 Reverse Lunge: Hold the KB in front of you with both hands and take a big step back into a reverse lunge. As both knees bend to 90 degrees, bring the KB behind the front knee, and as you push back to standing, bring it back around to the front of the hips.
Turkish Sit Up: In a lying down position, hold the KB in your left hand directly over your shoulder with your left leg bent, and heel on the ground. Your right arm and leg should be extended at a 45 degree angle from the body. Keeping your eyes on the bell, lean onto your right elbow, and then push to your right hand as you come into a seated position. Push into the left heel and right hand into the ground to push the hips into the air. Lower them back down, and return to a lying position in the reverse order.
Seated Russian Twist: In a seated position, with your knees bent and feet on the ground, lean back slightly with the kettlebell extended slightly from the chest. Twist left and right, using your abs to brace and move you. Make it harder by extended the arms and making bigger, faster motions.
I really like this workout because a) it includes one of my favorite tools and b) it includes some of my favorite exercises like the swing and SL deadlift. Talk about booty builders!
If you had to choose ONE tool in YOUR fitness arsenal, what would it be?
Find me on Facebook, Instagram, Twitter, and Pinterest for workout and exercise videos, training tips, and inspiration! And don't forget to sign up for my newsletter for weekly emails with workouts, tips, information, and inspiration!