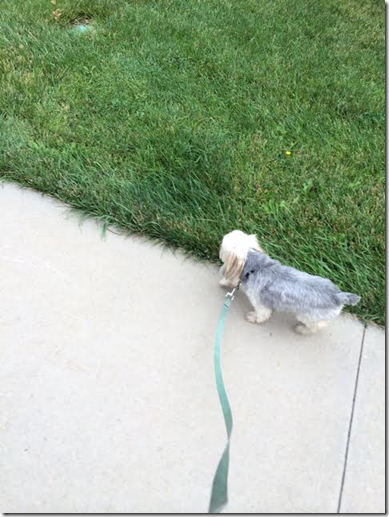 Hi guys! Happy Friday

I'm kind of digging these Friday posts where we just catch up about what's gone down during the week. I mainly blog about fitness, body image, and Colorado stuff these days, so it's fun to take a moment and talk about life on the daily.
1. Rewinding way back to Sunday, it was a great day of spontaneous fun. I was taking Niko for a morning walk, when I got a text message from my friend, Heidi.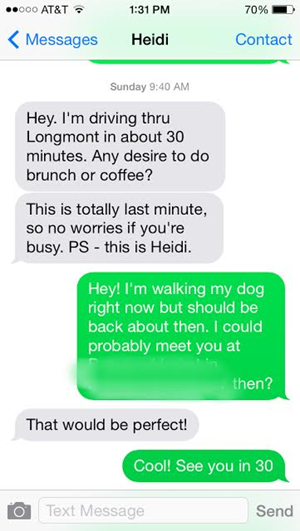 We met for some chai tea lattes in my neighborhood coffee shop, which then turned into a hike, which then turned into an ice cream date.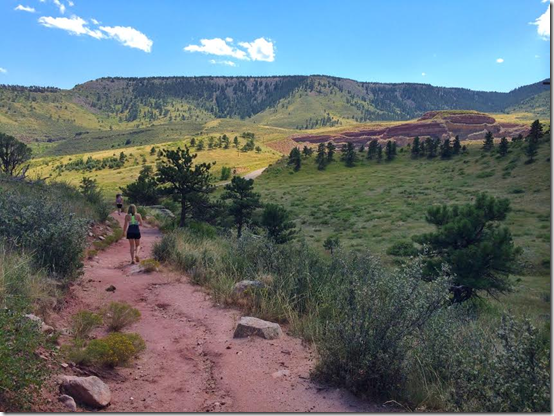 Lovely. What I thought was going to be a boring day of work turned out to be a spontaneous day of fun! And I'm a big proponent of spontaneous fun. Even more so than planned fun.
2. I was able to get out on the trails and run a couple times this week, and will also do that again today. Monday I headed to Marshall Mesa for one of my favorite loops, and Wednesday I met Amy at Dowdy Draw, as I mentioned in yesterday's post.
We've been having random cloudy and rainy weather this week, which is odd, but not necessarily a bad thing. I mean, look how GREEN the picture from my hike with Heidi is. This morning I think I'm going to do a couple rest-based hill sprints before meeting my hiking partner in crime for an easy hike.
3. I still work for KIND (a couple people have asked,) and in fact, before or after nearly every trail run or hike, I hand out bars to people gearing up to hit the trails or just finishing them. It's not so bad to call this my job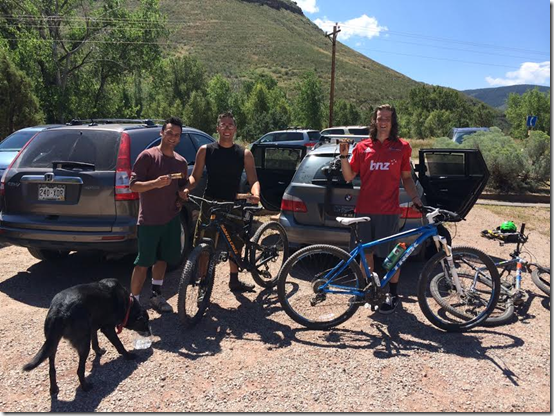 4. I've been continuing my ritual of having a green smoothie for (first) lunch every day after my morning workout, too. For the next few weeks, however, I'm taking a break from Whey protein powder. I love whey powder (Whey Cool is my favorite with isolate from New Zealand grass-fed cow's <—NOT an affiliate link) but every once in a while I like to take a break from it – about every 2 months, I'd say. The only problem is that most vegan protein powders aren't very tasty.
Well, I finally found one that satisfies my taste buds and my health!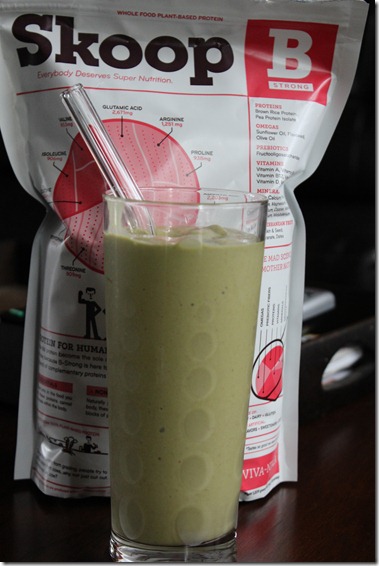 Healthy Skoop's Viva-Nilla's brown rice and pea-based protein isolate. First let me put it out there that I received this for free. The company is here in Boulder County, and I stopped by the office the other day. I've been searching high and low for a great tasting non-gmo protein powder made from whole ingredients, and they gave me a bag of it, as well as their A-Game supergreens (which is also one of the best supergreens powders I've tasted – AKA, it doesn't make me gag) and their B-Lovely supplement for the skin, which I have not tried yet.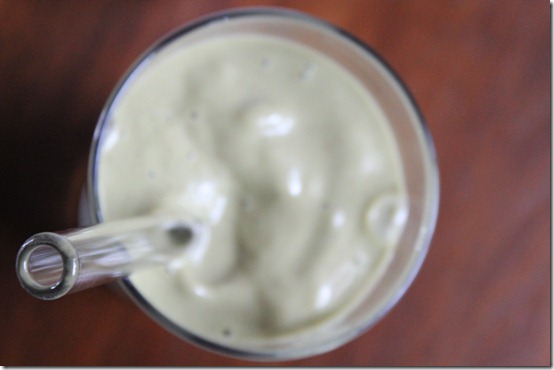 Anyway, you can see the entire list of omegas, prebiotics, vitamins, miderals, and fruits in their protein powder on their website, but I want to share why I like it so much:
-it actually tastes really good….no, seriously
-it's non gmo
-there's no crap in it (soy, artificial flavors, sweeteners or colors)
and that's really it. However, HS adds a lot of good stuff to make even their protein powder more of a superfood, which I know a lot of people love. Plus, without naming names, it's less expensive than another popular protein + superfood product out there on the market – and just as tasty.  You can learn more about that here.
With my protein shake, which contained almond milk + healthy skoop + strawberries and bananas + pb + spinach, I also had a glass of hot chai made from almond milk + bhakti concentrate + honey.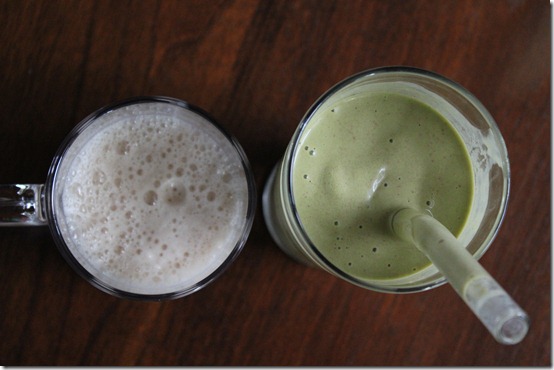 I made both of these with the Vitamix….which actually leads me into a funny story to share with you.
5. My husband works a LOT. Like, a lot a lot. He is nothing if not a hard worker, and he truly cares and takes pride in what he accomplishes, and I think that's honorable. Sometimes I have to remind myself that it's honorable when it's 2:00 pm on a Saturday or 7pm on a Wednesday and he's working, but that's neither here or there. Annnnyway, he primarily works from home, so when he's not out meeting with a client or business partner at an office or restaurant, he's on the phone a lot for meetings. Well, I learned realquick that using the Vitamix when he's on a business call is a big no-no. So now, about every other day, I'm out on our back patio making my green smoothies.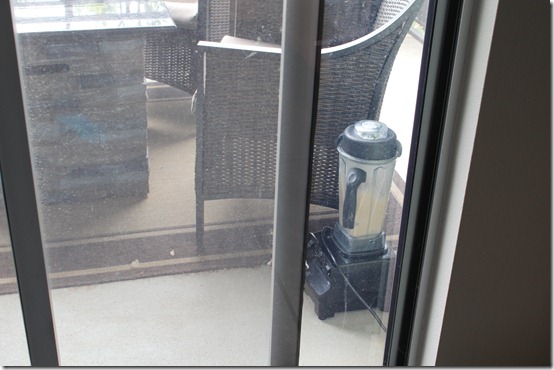 I'm sure the neighbors wonder wtf is going on, but that's likely a common thought having myself as their neighbor. It's ok, they like my kind of crazy. Or at least they pretend to, which is just as well.
6. I wanted to share some of the delicious food I've been eating throughout the week, too, but as I look back on my camera, there's nothing. Well, except this breakfast I had yesterday, which is half eaten and taken with bad lighting.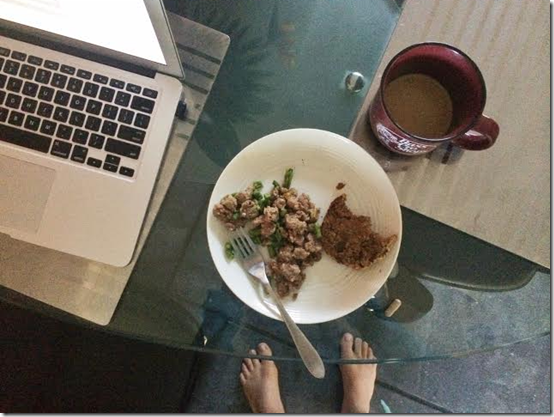 An Ezekiel cinnamon raisin English muffin with WF breakfast sausage + asparagus. I was actually going to slip a pretty placemat under it and manipulate the lighting, but then I figured I'd just be real with ya'll. This is what breakfast looks like during the week at our house. Mornings are my most productive time, so I'm usually multi-tasking breakfast with online clients.
7. I've also been eating the crap out of some animal crackers. I had a hankering for some one day at Whole Foods, and it just might be my best purchase of the week.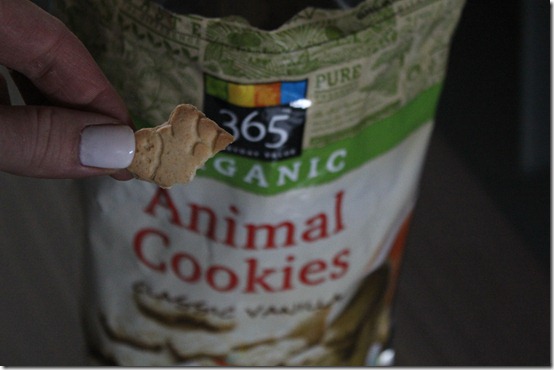 8. As far as drinks go, I've been on an herbal tea KICK.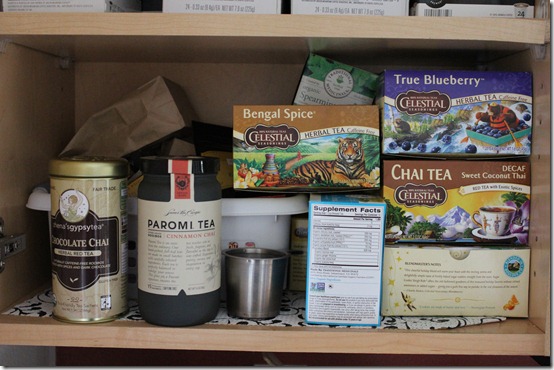 Remember a few weeks ago when Shane and I went to that wine pairing dinner? Well, apparently I'd had too many glasses of wine, and just felt so sluggish the next day. It really had an impact on me. I typically have a glass of wine every other night, but I've only had one glass since that night. I don't really miss it at all, either.
9. Lifting workouts this week have been good…consistent…but nothing to write home about, really. My goals are to just stay strong, mobile, balanced, and have my clothes fit well. I can't wait for boot camp to start!!
10. Hm, it seems incomplete to end on #9, so I'll share which TV show Shane and I have been watching every.single.night.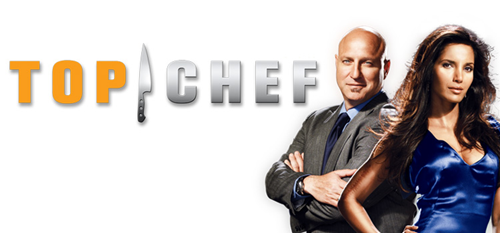 Top Chef! One night we ran out of good shows to watch (seriously, is there nothing good on TV anymore?) so we watched the latest season On Demand. Well, we bulldozed through that season, and then started on Season 1. We're on season 3 now, and it puts a smile on my face to know we won't run out for another 7 seasons.
Have a great weekend, friends! Any plans for long weekend celebrations? We've got plans for a longer hike in RMNP, and hanging out with friends. Just the usual weekend over here.
Your turn! Share a couple of snippets from your week!
What TV show are you currently loving? Anything I'm missing out there?