Time for the second (and final) recap for the Blend Retreat!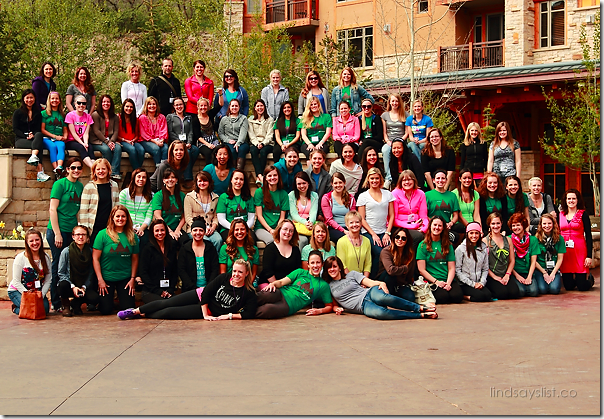 I feel like I'm still riding a high from the weekend, but that could also be because some other great things have been happening this week. But more on that next week. Today's all about the rest of Blend…which was pretty awesome!
I left off as we were crashing after dinner and drinks on Friday night. Saturday, after a surprisingly not so bad night of sleep (despite my child-sized pillow and stiff back) I begrudgingly woke up to Lauren's alarm for boot camp. I tend to hate the world until I have coffee, and luckily I somehow found time to make a cup in the 15 minutes from the time the alarm went off to the time boot camp started to make a cup.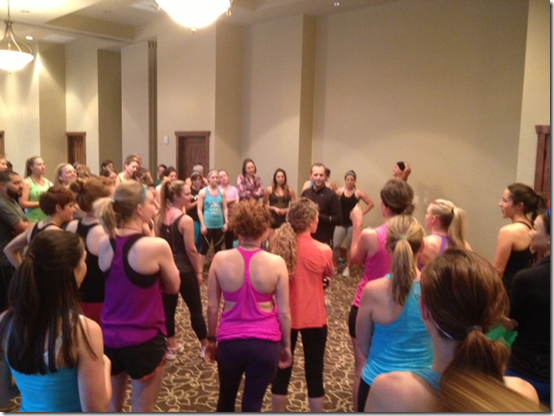 After getting my first cup of caffeine (well, drinking it on the way down, more accurately) we joined 50 something other blends for a boot camp put on by GPP Fitness.

(photo ℅  Lindsay  )
The workout was a lot of fun – and pretty tough – and included sprints, burpees, squats, push ups, and sit ups, and that's it. Yep – 1 hour of just those 5 exercises, but it seemed to kick everyone's ass! Neil (the instructor) went through a card deck, and assigned the 4 suites to the 4 body weight exercises, with the face value being the amount we did (ace=15, face=…10? 15? I lost count…)
After boot camp, I headed back to my room to meet back up with all of my awesome roommates, and relaxed (and stretched – oh hi, hip flexors) before heading down to breakfast.
Breakfast was sponsored by laughing cow. I ended up going with a couple cups of muesli, which I'd never had before, and I'm not sure why because it's the best thing ever. EVER! I also had a bagel and cream cheese and some fruit.
While all that digested, we decided what to do next. On the Blend agenda was a hike, but it was raining, cloudy, and cold outside, so when someone suggested yoga instead, everyone was game.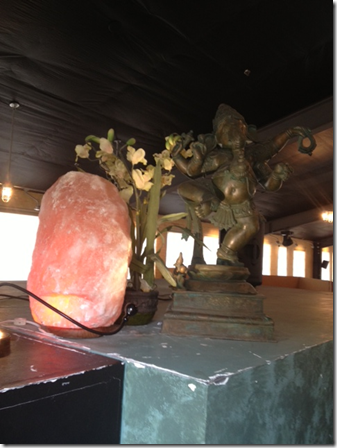 So the roomies, Heather, Christa, Ashley, and I headed to a gentle yoga class at The Shop in Park City for a goooooood stretch. It was seriously exactly what I needed right then. We contemplated going to a vinyasa class, but I'm so glad we chose a more gentle class instead.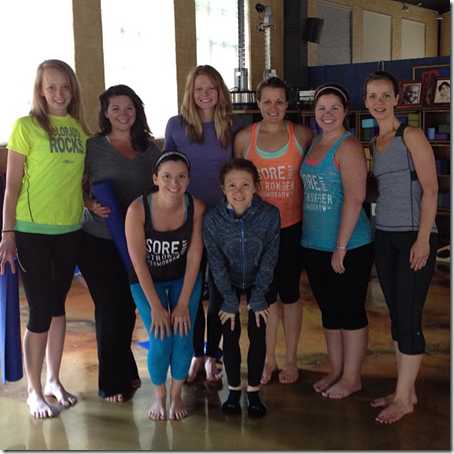 After yoga, our big group split up-  a bunch of bloggers went to Whole Foods for lunch – while the roomies and I headed to Squatters instead, for burgers and beer.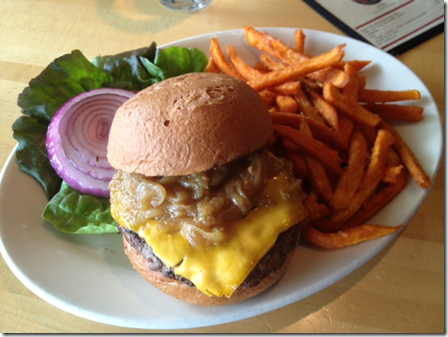 I wish it tasted as good as it looks here, but the burger was OK and the fries were meh. I somehow managed to clean my plate, though.
We headed back to the resort after lunch, where we went to a snack time (but I was so full!) and then went back and relaxed for a while. Afternoon plans involved scoping out down town Park City!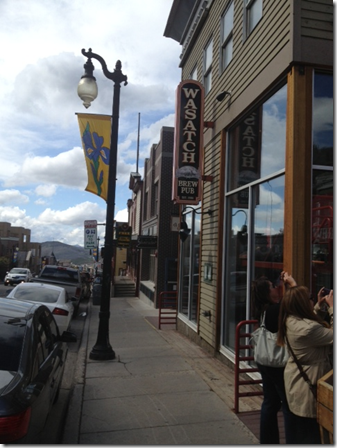 First stop was a brewery! Wasatch brewery. In Utah, they can't brew beers with more than 3.2% alcohol, which explains why all of the beer we tasted was was incredibly watered down.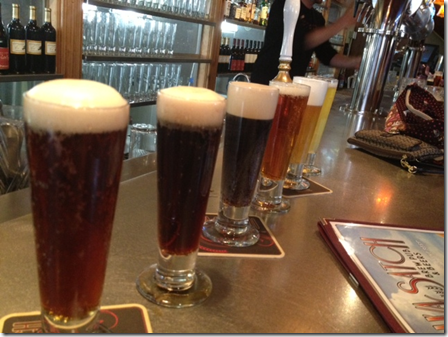 Don't worry, we were troopers and still managed to try a couple flights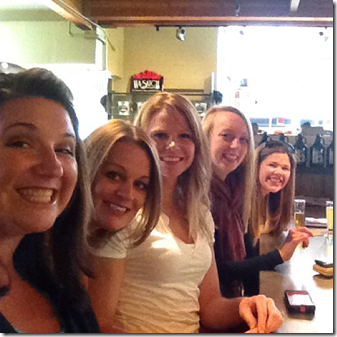 (photo c/o Lauren's instagram)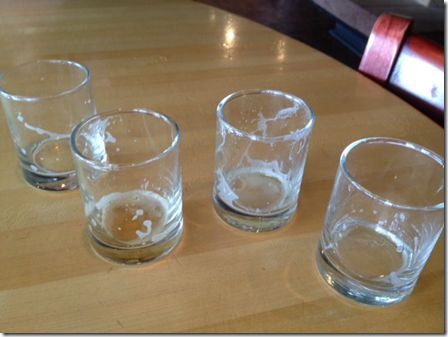 There was a larger group of us, which kind of made it hard to stick together and make plans, so after the brewery we split up and headed to dinner. Dinner was back at a restaurant at the resort, and at this point, I was exhausted. I pretty much inhaled my carnitas nachos, while chatting up with Sarena (who I finally got to meet, and have been blends with for so long,) Ashley, and Lauren.
Dinner left me pretty stuffed, but never….ever too full for what else, but Momma B's Utah scones!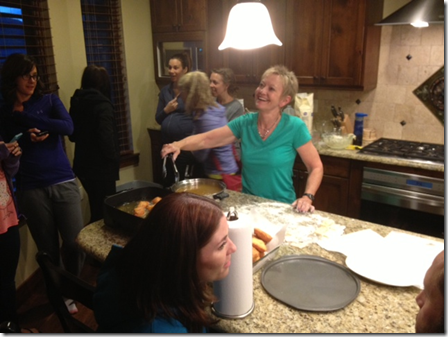 A bunch of us reconvened in Momma B's room for Utah scones (which are more like donuts, and are incredibly delicious. I want one. Right now.) which we slathered with honey butter and jam.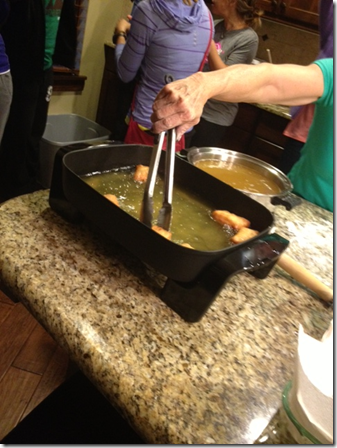 Out of this. world.
I hung out here for about an hour, and got to hang out and chat with Bonnie, Lindsay, and Lindsay for a good amount of time. I loved hanging out with these ladies, and have been so excited to meet them for months! We got to talking training, which was fun because I'm always super interested to hear what other trainers have to say about their style, workout format, etc.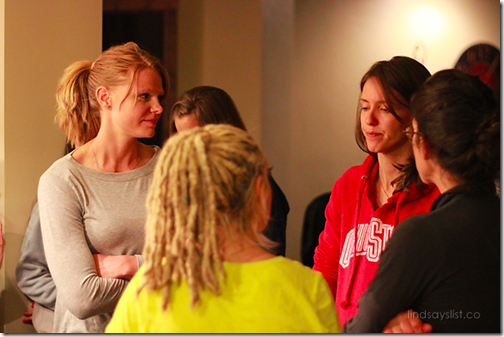 again  – pic from Lindsay
When everyone had their fill of scones and fellowship, I hung out a little bit more with Lindsay, Janetha, (and their hubbies!) Katie, and Lauren and then promptly passed out in exhaustion and slept beautifully.
Oh! Mentioning Janetha, that reminds me that I also finally got to meet Randy and Penny!!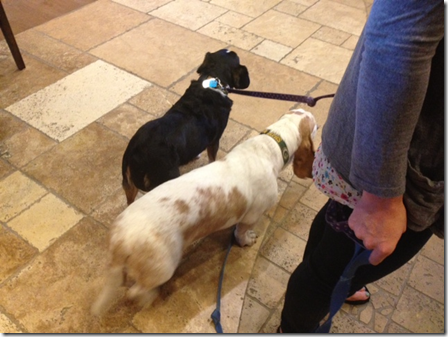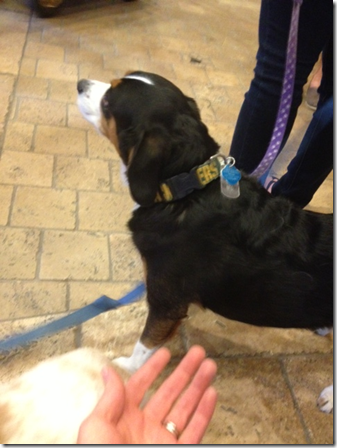 I love Janetha's dogs almost as much as I love her, and although they were a little overwhelmed at all of the attention, they were abso-freaking-lutely adorable. I came thisclose to taking Penny with me

On Sunday I woke up both tired and sad. I can't believe how the weekend sped by so quickly! I kept saying that I could have used one more day. We missed the alarm on Sunday, so we had a bit of leisure time before heading down to an epic breakfast, sponsored by the official Blend sponsor, Chobani!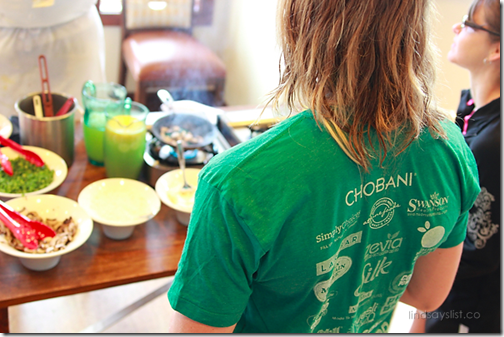 (c/o Lindsay)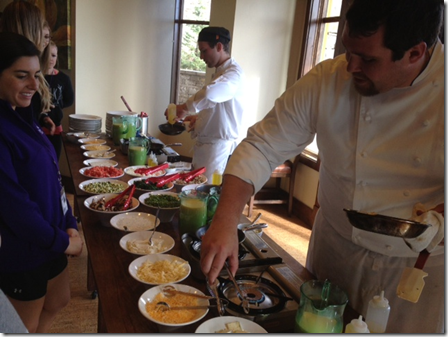 Omelet bar – the best thing ever.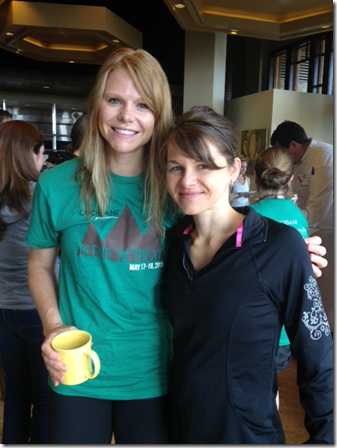 Chatting with Sarena in the line for the ever-popular omelet bar. My fillings were gouda, spinach, mushrooms, and chicken sausage. I also had two containers or steel cut oats and some fruit. It was a delicious breakfast!
AS breakfast was ending, we were saying our goodbyes before the raffle. The raffle was the last part of Blend, where all of (or nearly all of) the sponsors + others donated a product to be raffled off to a Blend attendee. I usually have horrible luck with raffles, but the good thing about this one? Everyone wins something!! I won a prize from Silk!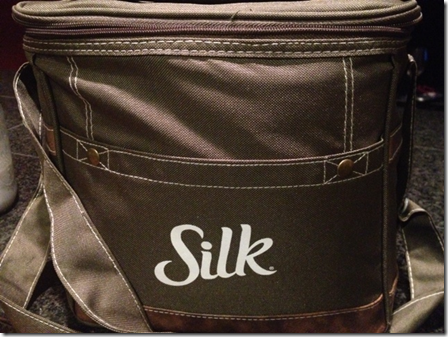 Silk sponsored the cocktail hour (and was represented by Lauren!!) and I got a sweet lunch box, Silk gift certificates, and a tumbler

I also got a blog header or business card design from the lovely Calee.
After the raffle, we rushed to pack the last of our things, pack up the car, and headed back to the airport, but not before taking one last group shot.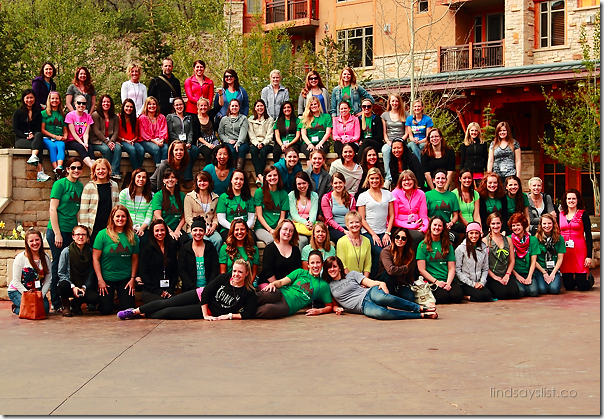 In my eyes, this event was a HUGE success. Janetha, Lindsay, and Katie did such a great job of organizing a kickass weekend of fun, fitness, fellowship, and food, and I can't wait until next year.
Wow. I just wrote a book – or at least it sure feels like it. Sorry if this post was rambly and going on forever, but I had a lot to say, apparently! And now I'm headed to teach a core class and train a client. Have a happy Thursday