Coconut Chocolate Chip Bars, Carnitas, and The #1 Question I've Been Asked Since Moving to CO
Gooooood morning!
Yesterday turned out to be a lovely Sunday. It was absolutely gorgeous in Colorado – sunny and upper 50's, and we took advantage of it with a long walk with Niko. The rest of the day a lot of relaxing happened while dinner was cooking away for us:
Carnitas! Local, organic pork from a farm about an hour south of here in the slow cooker. I love how available sustainably raised meat is here <—among one of the reasons I am so glad we moved here.
Other reasons:
-the mountains
-hiking
-the weather
-an adventure!
But do you want to know one of the #1 questions I've been asked since we moved here?
Sooo, did you move to Colorado because of Prop 64 (legalization of marijuana in Colorado)?
Usually this question is asked with a nod and couple winks
I moved to Colorado for the mountains and the weather, thankyouverymuch! However, it has been a pretty big news item that marijuana has been legalized here, and on almost every newscast, there's some story on how the marijuana task force is going to regulate it, how it's going to be taxed, and so on. Definitely different than the news I'm used to back in Illinois, which were mainly either fluffy stories, fires, town scandals, or, erm, shootings.
Annnyway – back to the carnitas.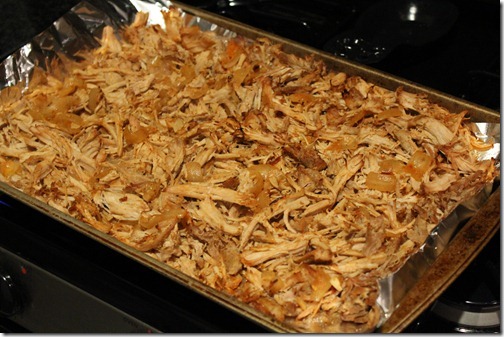 Guys, these were so delicious – and super easy. I basically combined these two recipes to make the following:
Rub down the pork loin with Erica's rub
Then:
place the porkloin in the slow cooker
add half a chopped onion
squeeze the juice of 1 orange over the pork and place the two halves in the pot
squeeze the juice of 1 lime into the mix
Add just about a 1/4 c. chicken broth to the bottom
Cook on low for 6-8 hours
Shred, and then place under the broiler on a baking sheet for 5 minutes
Pour excess juices from the slow cooker on top. Eat.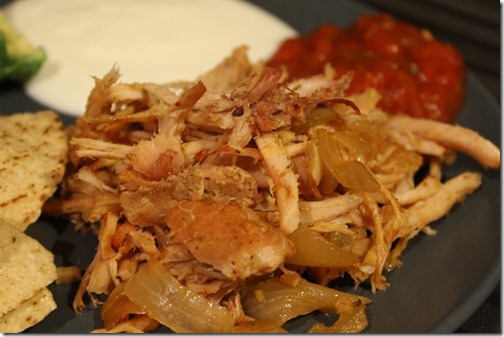 Yum.
But this, my friends, is not the main event of today's post. The main even is brought to you by a rumbly in my tummy after dinner on Saturday night: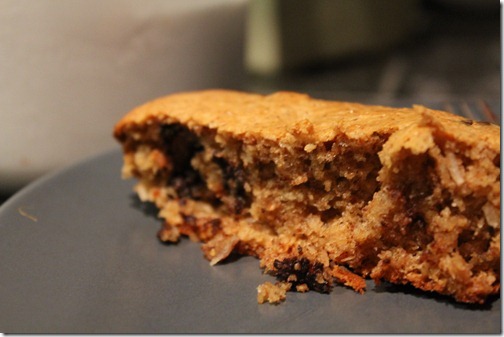 These are the almond butter bars I referenced in yesterday's post! Time for the recipe. They're amazing. Get ready.
Coconut Chocolate Chip Bars
1/2 c. creamy almond butter
1 egg
1 tsp. vanilla
2 tbsp. honey
1/2 c. unsweetened, shredded coconut
1/4 tsp. sea salt
1/4 tsp. baking soda
1/2 c. chocolate chips (I broke apart a dark chocolate bar)
Preheat the oven to 350 degrees. Combine all the ingredients into a bowl and mix well. Spread into a greased 8×8 baking pan and cook for 20-25 minutes (check with a toothpick to come clean.)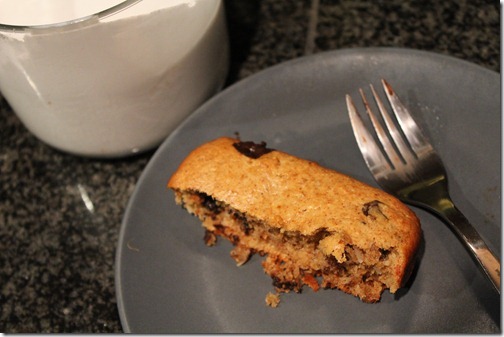 Devour.
Time for the gym! Going to get in a full body workout before working for a bit.
What's the biggest story on your local news lately?
---