---
Take a look at what others are saying.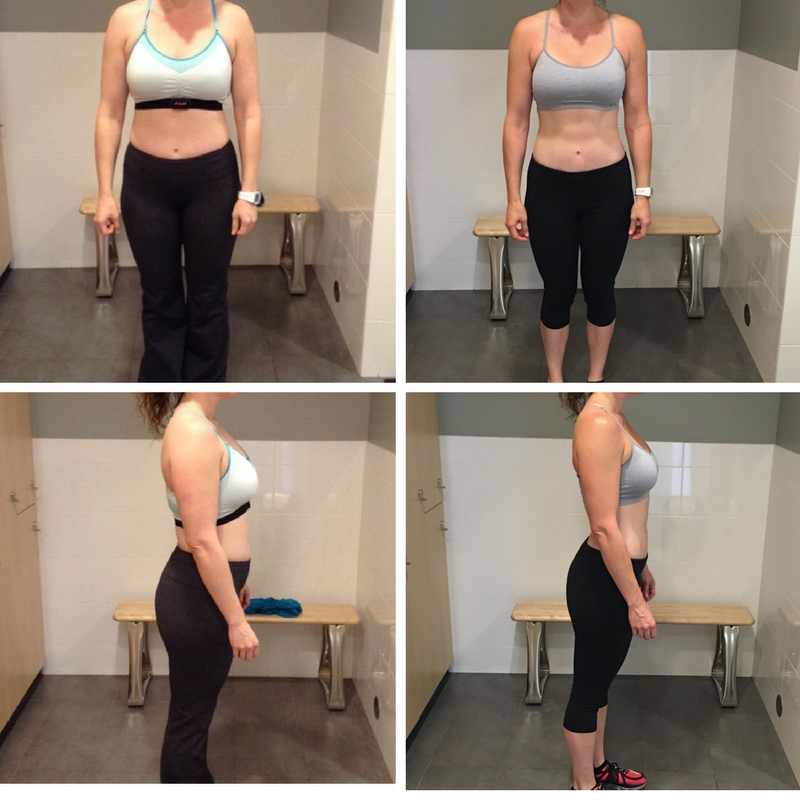 "I wore a bikini all day on the beach – and wasn't worried about my body!"
---
---
"I can't believe how my body is changing, both in the way I feel, and for the first time (and two babies later) I have some stomach muscles!!! I'm really loving the finishers after the end of the workouts." – Bridget G.
---
"I found the workouts to be exhilarating and exciting each day! It was also a huge bonus to really see results in inches lost. I felt like the toning and strength gains were amazing for just a 6 week camp!! Also, the support from the online group was very motivating and helpful to know we were in it together!!"
– Natalie E
---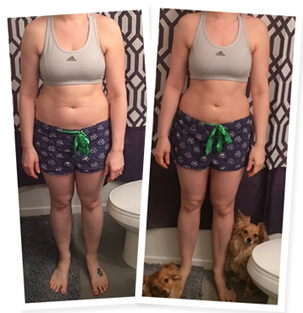 "I loved working with Paige. My biggest problem with other workout programs I've done was that they were never sustainable.
The meal plans weren't realistic for me, and I found them to generally be too all or nothing.
This bootcamp fit into my life without any extra stress. The meal planning was realistic and not at all restricting. I never felt like I was missing out, and I saw fantastic results.
This is something I could easily keep up for the rest of my life, and I think that's the most important part."
---
"I was fairly active at the gym prior to the start of this program but with minimal results. With Paige's guidance through proper nutritional planning along with workouts that kept me motivated I saw new definition in my arms and legs while losing the bloated belly I had. I lost inches and dropped my body fat percentage significantly. I would work with Paige again in a heartbeat."
– Elissa P.
---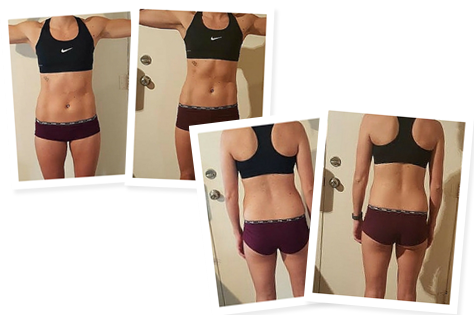 "Seriously—this is EXACTLY what I needed to get on track and be successful for here on out.
I have already recommended you to 2 different people, and I am so thankful for this opportunity!!
I have learned so much to take in to the future with me about my body, nutrition, and exercises.
I loved all the different workouts—the differentiation was fantastic and kept me truly looking forward to my new workouts every single day."
– Elissa P.
---
"Another awesome week. It's amazing what following the plan can do… I feel fantastic! Saw some great strength gains and body changes this week!"
– Megan K.
---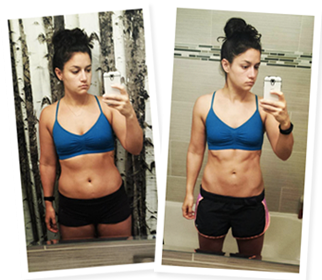 "I wore a size 4 skirt on Tuesday and it was a wee loose!
My gym capris are starting to feel not so tight and my shorts are back to fitting loose!
AND I have been on the hunt for a dress for my bridal shower and remembered I bought a dress, but it was a size 4 and did not fit.
WELL slipped that bad boy on, fits like a glove, and I will be wearing it for the shower!"
– Megan K.
---
"I am having SO MUCH FUN on this bootcamp! About 50% of the time, I really dread doing the workout, wanting to go home and be lazyinstead. But always after the workouts, I feel so great…I'm noticing good progress as well, so this is very motivating to continue. My legs and arms seem more toned and my legs looked so strong!" – Mary L.
---
"I am so happy you had me take measurements.  I lost 2 inches in the waist and 1 inch in the thighs [this week,] so after seeing that I was very happy!"
– Suzanne A.
---
"Holy abs batman! I'm just trying to figure out how to make bikinis work for fall weather to show off my abs" – Kaelin S.
---
"My body has never responded quickly to workout programs or nutrition changes so I'm super happy with that progress in just 4 weeks!" – Christina D.
---
"I was trying on some clothes and I really noticed some changes in the mirror…my ab definition is coming and my shoulders and back – I can for sure see some muscle gain; my legs are learning out too.  I can not say thank you enough as you helped me learn how to be more flexible with myself. You have helped free my mind which has in turn allowed me to feel better about myself and make some progress – finally!! And I love that this is a tool I can continue to use on my own." – Guida S.
---
"Money is something that we have to be careful with and…it was WORTH every single penny. I lost inches all around! I have changed not only my working out and nutrition habits, but also my mindset." – Erika R.
---
"Six weeks of consistency =  inches lost and strength gained! Thank you Paige and to the other ladies in our group for guidance and motivation!" – Katie L.
---
"Paige helped me break free from being chained to my food journal and now fueling my body for training is the normal. I was so impressed with my results, I signed up for Paige's one-on-one training!" – Kaelin S.