---
Lose inches, drop pants sizes,
and see new muscles every week!
Are the workouts you're doing now truly working for you? Do you see progress from week to week, or have a solidly designed program written to get you results?
Are you 100% satisfied with your nutrition? Is the way you're currently eating fueling your workouts, keeping you satisfied, and getting results?
You could be a great fit for my Lean Body training & nutrition program that starts in January, and I would be happy to work with you to help you look and feel your best this year.
Many of the clients who come to me before signing up for this program are overtrained, under eating, or eating the wrong foods at the wrong times.
Through making some changes to their macronutrients and their nutrient timing, or the timing at which you eat your protein, carbs, and fat, my clients often see results after just 1-2 weeks.
I designed Lean Body Training & Nutrition Boot Camp as a sustainable training and nutrition program that you can implement into your lifestyle.
My current clients in this program are losing inches, decreasing sizes, and seeing new muscles every week. They're also satisfied and satiated with their meals, excited for each workout, and have high energy levels.
The next Lean Body Training and Nutrition Boot Camp starts on January 2nd or January 8th. You'll get customized macronutrient coaching, specific carb cycling and nutrient timing strategies, as well as and sample meal plans, grocery lists, and more. However, if tracking macronutrients isn't your thing, I never require clients to track anything. While tracking the amount of protein, carbs, and fat you're eating is a great tool for some, it can lead to obsession for others.
It truly wasn't until I dove head first into nutrient timing, macronutrients, and macro-cycling research that it all finally clicked for me, and I saw my body transform. After 2 years of researching, working with highly qualified nutrition coaches, and lots of scientific journal reading, I can now say that I'm able to maintain a lean physique I'm comfortable with (that's still very healthy for me) fairly easily, and help my clients do the same.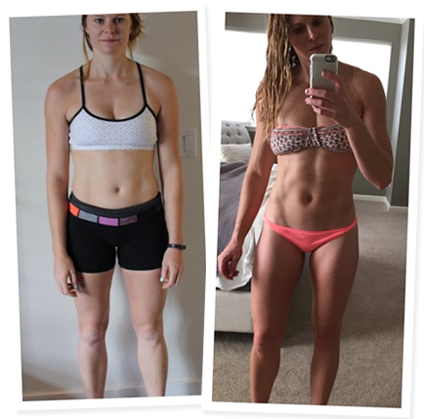 Before, it was either "on a diet" or in relaxed mode, but from making positive changed with three concepts: macronutrient cycling, nutrient timing, and effective training programming, I have been able to literally change my body composition – and how it builds muscle and burns fat. (Also, I'm nearly the exact same weight in the two pictures above, but my body fat percentage is lower in the second picture.)
The training program consists of  a 6-week strength training and HIIT workout program. I can assure you that this is NOT a cookie cutter program, and it is my best program yet. You won't see another training program out there like this. It will focus on strength training, with 3-4 lifting days, and 2 conditioning days. You'll be working out 5 days a week, and I'll  be sending you new workouts every single week to get you the results you're after.
What you get in Lean Body Boot Camp:
Customized macronutrients (or estimating portions,) with adjustments every 2-3 weeks
nutrient timing and carbohydrate cycling guidelines and strategies to follow
Grocery lists, sample meal plans, my meal prep guide, and my travel guide
Access to your own training platform, that's accessible from your computer and mobile phone, with your workouts, video demos, training plans, macros, progress, and more (I pay a premium for this program, and my clients absolutely LOVE the app)
6 weeks of workouts, with new workouts every week (you will have the choice between the At-Home and In-the-Gym track)
Daily accountability check-ins, weekly challenges, and bi-weekly in-depth check-ins
My commitment, coaching, and expertise as a trainer and nutrition coach to help you succeed in your goals
After signing up, you'll receive an email from me with the next steps. The week before the program begins, you will receive all of the information, your custom nutrition guidelines, and get acquainted with the framework.
The price for this program is $179 for the 6 weeks — and I always offer a satisfaction guarantee.
You can register below. In order to be able to give individual attention to all participants, I am capping registration at 20 participants. After signing up, I'll be in touch shortly with the next steps to secure your spot! Please let me know if you have any questions.
Custom macronutrients with periodic adjustments
Carbohydrate cycling
Nutrient timing
Sample meal plans
Meal prep guide
Travel guide
---
Access to the very active and supportive accountability group
Bi-weekly in-depth check-ins
Real time workout check-ins
3-4 lifting workouts a week
Multi-muscle group splits
2 HIIT conditioning workouts a week
Mobility & foam rolling routines
New workouts every week
All accessible on your own training platform (accessed via your computer or mobile phone!)
Exercise video demonstrations for every exercise including form cues
At-home or In-the-Gym track
Modifications available
"I lost weight, gained muscle definition, and lost inches. I feel stronger, more confident, and more secure about my eating habits. I really enjoyed having a personalized food and fitness plan – it's really great knowing Paige has taken the time to figure out what would work best for me and my goals. Paige gave me guidance and confidence with meal planning, fueling my body properly, and optimizing my weight lifting workouts and recovery."
Caroline L.
I lost 7 lbs, almost 2% body fat, and over 10 inches TOTAL! I also gained confidence and strength. I honestly didn't know what to expect when I started this program, having started many before. I felt the six weeks was set up perfectly to increase my knowledge on nutrition and nutrient timing, the workouts built upon each other, and the facebook group was amazing support, information and encouragement.
Angela V.
"After 2 weeks, I am down 3 pounds. It's been an amazing how I've noticed I'm not hungry in between meals. Also, I'm not getting my ~3pm sugar/snack cravings because of a higher protein lunch which is when I would snack the most."
Tara D.
Lean Body Boot Camp has provided answers to questions I didn't know I had. How can I lose weight and not be hungry? How can I get stronger but not spend my life working out? How can I feel better about this body I've been given but not be a slave to it? I am so much more empowered than I've been in forever. The time in the gym is such a gift and Paige's workouts fly by. Once you get started the workout is over before I know it. You will not be disappointed.
Jennifer J.
I lost a few inches (hooray!) and saw major strength gains! I tackled chin up's and am SO close to getting my first pull up. Working with Paige and the online bootcamp format couldn't be more seamless! She's their to support you along the way and the programming and nutrition information is so helpful.
Katie L.
I got way more than expected working with Paige in her Lean Body Boot Camp! I absolutely loved the kick-butt workouts, flexibility and accountability for the workouts and nutrition. Using the app made doing the workouts very convenient and I loved how Paige was always available to answer questions. I can't wait to continue working with her!
Anna G.
Read more testimonials HERE!
If your goal is to lean out, get stronger, and you're ready to participate in an effective, sustainable, results-driven program, please register below.
The next boot camp starts on January 2nd (or January 8th — two start dates to choose from,) is $179 for the 6-week program, with a satisfaction, money-back guarantee. If you're ready to make some positive changes and see results, you can secure your spot below.