Dirty 30 At Home Workout (with Video!)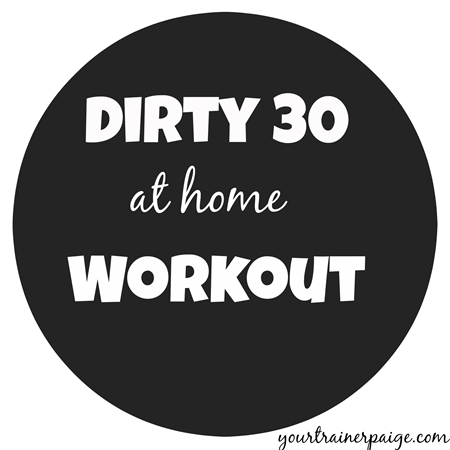 Happy Thursday to ya!
It's been real rainy over here in Colorado, which is a rarity. While I've missed my trail time this week, my house is benefitting – I spent nearly four hours cleaning it yesterday! I took the time I had available to do all of the nitty gritty jobs that don't typically get done on a regular basis – washed the floor boards, cleaned the inside of the fridge, the stove, etc.
I was able  to sneak out for a mid-morning run yesterday in between rain drops…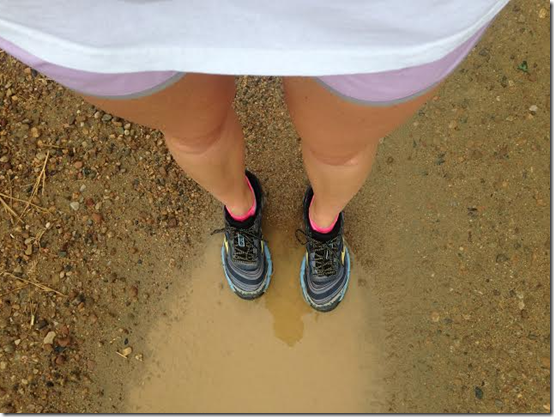 and only managed to get slightly poured on mid-way through – ha!
Other workouts this week have included:
Sunday: 5.5 mile trail run
Monday: Glute camp strength workout
Tuesday: Taught spin
Wednesday: Run + Dirty 30 At Home Workout (see below)
And on the books for the rest of the week is…
Thursday (today:) teach spin + potentially a GC workout
Friday: nothing – but a FUN adventure is planned

Saturday – probably a long hike or trail run
Since it was pretty much raining cats and dogs (crossing my fingers and toes for no flooding like last year) I did this all body weight living room workout, and thought I'd share it all with you. It's full body – upper, lower, and core – and will take you somewhere around 30-45 minutes to complete. It's the Dirty 30 At Home Workout!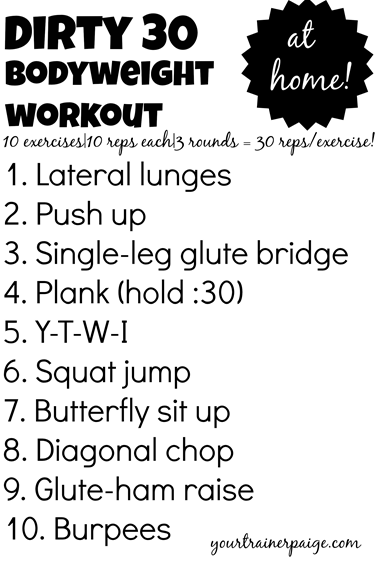 When I wrote it out, I noticed that with 10 exercise done for 10 reps, 3 times through meant we'll be doing each exercise for 30 reps. This is quite fitting for today because one of my best friends in the entire world, Destinty (whoa – throwback post there – makes me miss my old gym!) turns the DIRTY THIRTY today! So, I thought I'd name it the dirty 30, just for you, Dest

I also made a little video to go along, too, in case you need some cueing on correct form.
Have a great Thursday! Mine starts early with clients and classes all throughout the morning and into the afternoon

How are you moving this week? What's been your favorite workout so far?
---