Chasm Lake: The Hike with the Scary Snow Ledge
Gosh, I've been meaning to write this post for two weeks now! I'm not really sure where the time goes…
A couple weekends ago, I hopped in the truck with Shane, and our friends David and Jamie to make the 45-minute drive up from our house to Rocky Mountain National Park's Longs Peak trailhead.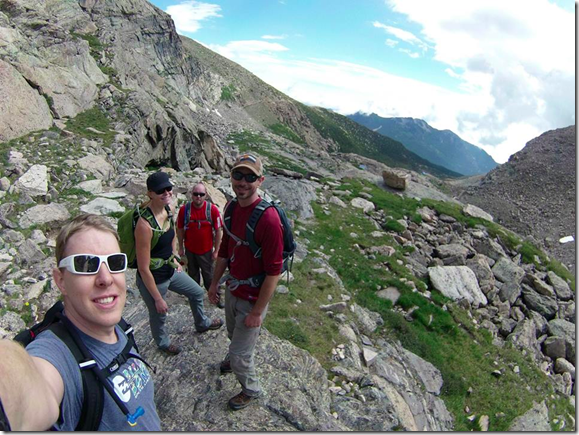 We had a quest to hike to Chasm Lake, or what will forever be known in my mind as the hike-with-the-scary-snow-ledge.
We knew we were in for some beautiful views along the 9 mile out-and-back trail with an elevation gain of 2,800 feet along the way. It was classified as a moderate-strenuous hike, along with a decent amount of exposure (which means watch out for quick-changing weather and wind) so we were prepared with packs full of water, fuel, and rain jackets.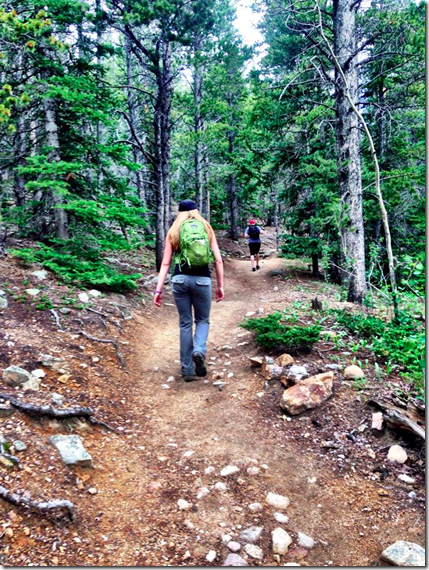 The bulk of the hike, while quite a workout, wasn't too tough cardiovascular-wise. Sure, we were huffing and puffing, but the scenery was simply beautiful the entire route. There were a couple spots where we had to climb/scramble up some rocks, but for the most part, the entire hike was on a trail. It starts out with a steady incline up the side of the mountain in the trees with lots and lots of switch backs. We came across multiple waterfalls, great views, and beautiful wildflowers.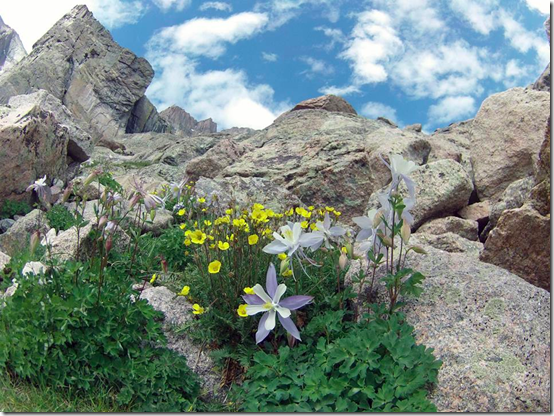 Pretty soon though, we were above the tree-line, subjected to the windy and rocky nature of the Rockies. It still wasn't too bad, but still quite an incline, and if the elevation wasn't taking our breath away, the views sure were.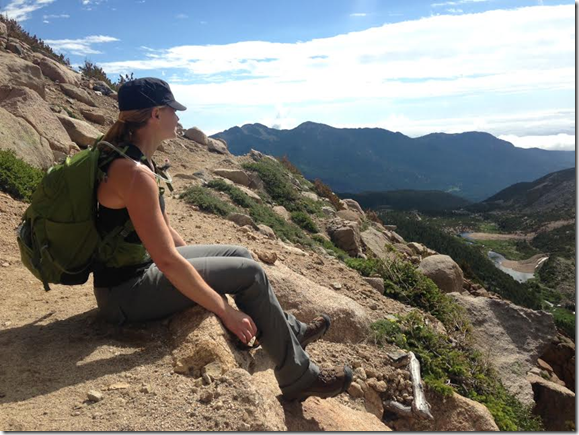 And then…after we passed peacock lake, and entered into a breathtakingly beautiful oasis, I saw it – way up there in the distance.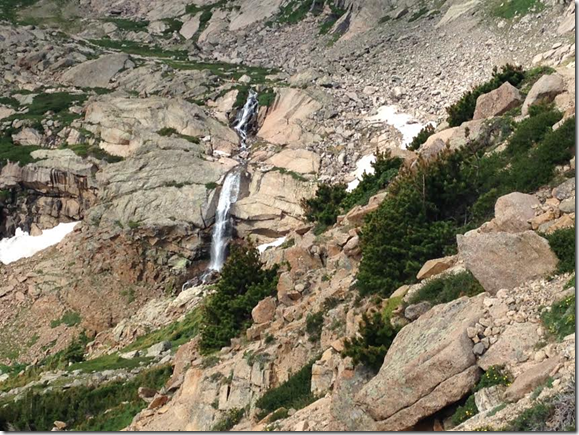 A 50-foot long tiny little narrow ledge – made out of snow – that we had to cross. If one should happen to slip on this 8-inch wide ledge, they would fall/slide down the mountain, where rocks and the Peacock Lake were plentiful. It was a little unnerving coming up to it, but we had seen a few people inch across it just fine, so I felt confident we'd make it across.
Until I stepped out onto it.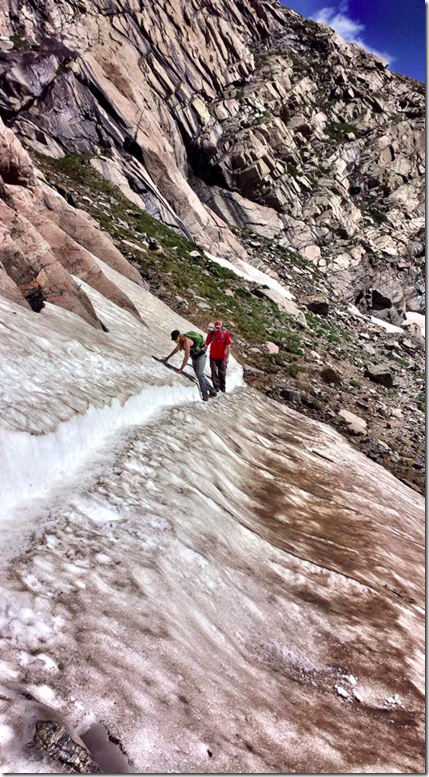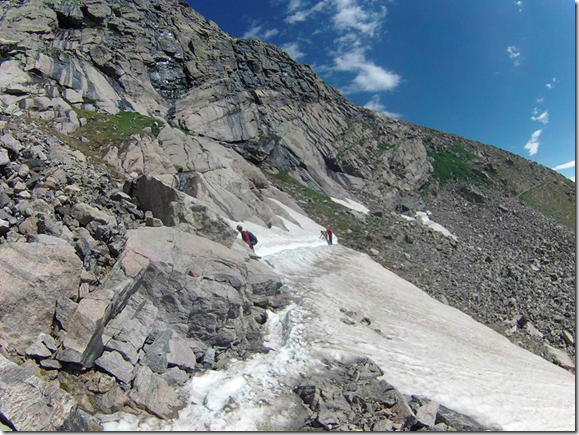 Now, if you know me well, you know I don't really like snow. Give me a rocky mountain, a scary ledge, or a scramble and I'm fine. Confident, even. But put me on snow? And I'm like bambi when I walk (unless I have my beloved snow shoes on) or drive on it, and I immediately freaked out. Every third or fourth step, my outside foot started to slip, and I tried to picture myself successfully making it across, rather than sliding and falling. I had both hands gripped into the snow mass behind me, my fingers like ice picks gripping for dear life. And then, about half way through, I realized I was only half way across, and my hands were burning cold. It felt like I had my hand on a hot stove.
Thank God for the guys I was with, encouraging me across, and helping behind me. Once I finally inched my way to the other side, I felt extremely proud, a little embarrassed – and a lot scared. The trail is an out and back, so that meant I'd have to do it all over again on the way back!
I tried to push that out of my memory for the final scramble to Chasm Lake – and then enjoy the views once we got there. Because they were amazing. Chasm Lake is at the base of a huge mass of granite, known as the Diamond of Long's Peak. We ate PBJ's, lay in the sun, and just loved life.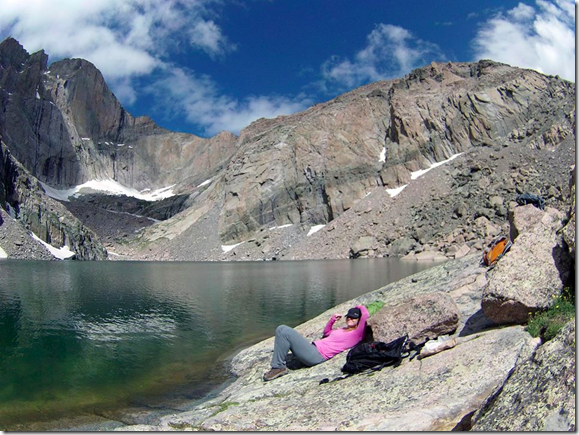 And then we headed back.
This time around, I was better prepared for the snow ledge, and put on the gloves I had brought, and used a pointy rock as an ice pick to help me across to spare my fingers(thanks for that tip, Jamie

) While it was a small feat (but still unnerving) for some, it was a huge feat for me, and it was one of the best feelings ever after crossing it. Mostly because I didn't die (ha!) but also because I'd overcome something that scared to bejeezus out of me.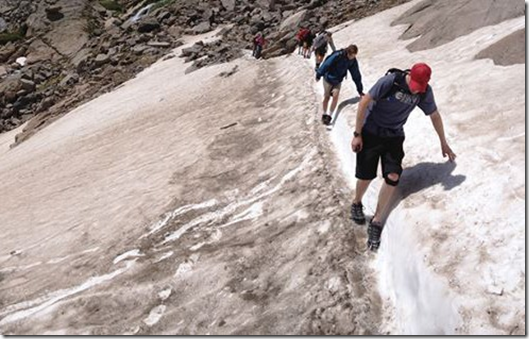 The rest of the hike was easy breezy, and we even got to hike through a cloud (and some rain.)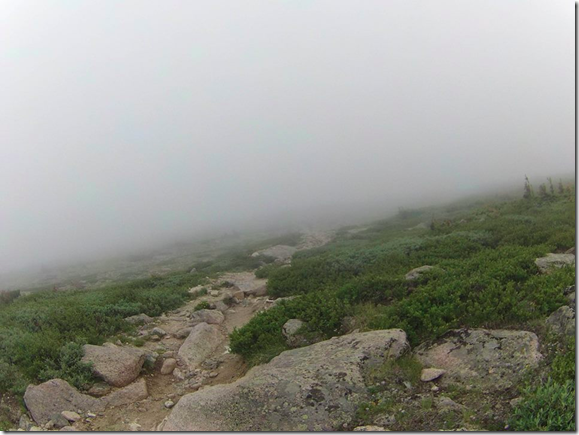 I most definitely want to do this hike again, but probably in August after the snow has melted

Oh, and when we got to the back to the trailhead, we learned someone did fall off the snow ledge the day before. I'm sure glad I learned that after we were done!
What's one of the scariest feats you've accomplished?
---