I probably spend 1.5-2 hours every week putting together playlists. Half of that time goes toward building playlists for the three spin classes I teach each week, and half goes toward searching for new artists, new music, and putting together playlists for my own enjoyment on Spotify.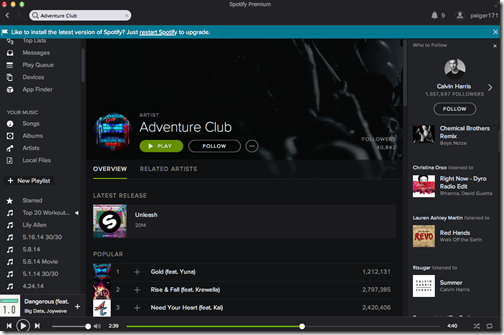 Two artists I'm loving lately: Lindsey Sterling and Adventure Club. These are great ride-in-the car artists, and I just love Lindsey Sterling's remake of songs – I used her version of Starships during a spin class the other day

I wouldn't call myself a music aficionado. I'm not die-hard about any certain group (although I do love me some Jason Mraz, Robin Thicke, and Justin Timberlake,) and I've only been to a handful of concerts in my life. However, I do like to think I know a thing or two about choosing a good beat for a workout.
I posted my top 20 workout songs for 2014 in the beginning of the year, and I thought I'd do another one for the summer. Yes, I do know it's not summer yet, but it sure feels like it here in Colorado, and I'm sure not complaining about it. Plus, it's right around the corner

I have several "go-to" playlists that I listen to when I bust out some outdoor workouts (more techno-y and stuff with a beat) and completely different ones when I'm lifting in the weight room (gangster rap – ha.) I'd call the playlist I'm sharing today more in the former category, with a focus on songs you can bust a move to while you're getting your cardio on, too.
So without further adieu, here's my top 10 workout songs for summer 2014.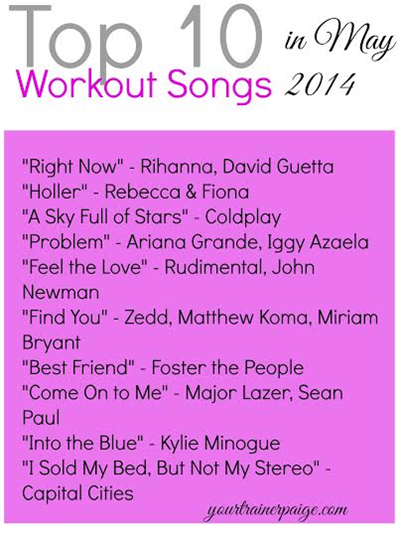 And for those of you with a spotify account, here's the playlist on there, plus a few extras.
What are some songs you're grooving to in your workouts lately?
---