Spring Fit Fashion with PUMA Fitness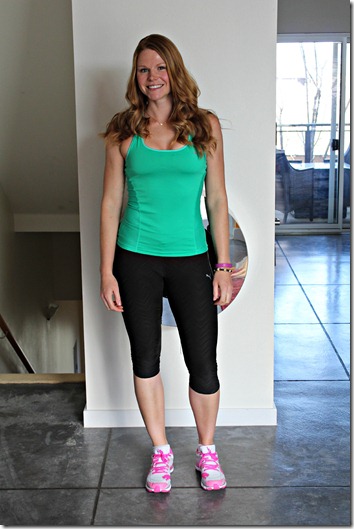 The following post is is sponsored by Fitfluential LLC on behalf of PUMA.
It's April 4th, and I think Mother Nature has finally realized it's spring in most of the country.
In Colorado, the weather's funny. I can experience what feels like 4 different seasons in the month of January. One day I'll be wearing flip flops and a tank, and the next I'll be in snow boots and my winter jacket. It keeps things fun

However, the past few days have been a rarity here in what should be called the sunshine state. Did you know that Colorado gets more than 300 days of sunshine a year? Well, 3 of the 65 that aren't sunny were all this week. Naturally, when spring seems a bit stuck, I try and bring it on back with my outfit.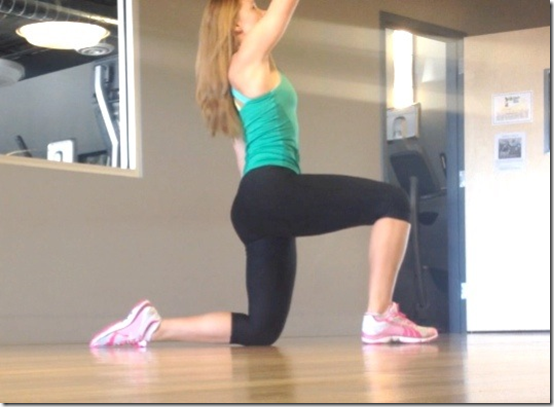 I've gotten told that I look "springy" 3 separate times this week, by clients, class participants, or passersby. I'm all right with looking springy

The brighter the better, in my opinion. That's why I was very excited to don the outfit in this shipment from Puma.
Now I've said before that while bright colors and cool designs definitely scores points with me, it's how functional and comfortable the clothes are that's the most important.
So, I tested out those two functions with a conditioning workout that put my body in all three planes of movement, all forces, and all directions:
I did a 10 minute AMRAP workout of the following:
25 battling ropes
40 yds "sled" pushes
8 single arm sand bell snatches R&L
And I'm pretty sure you can tell from the smile at the end of it, the clothes didn't detract at all from the high one gets from a good heart-pumping sweat sesh.
Now, let's get down to the deets.
I just love the back of this top. THREE different colors of springy green? Love. It's got a built in bra, that's surprisingly supportive, and fits close to the body. The only caution on this top is that it seemed to run fairly small, so if you get one for yourself, I'd think about sizing up one size.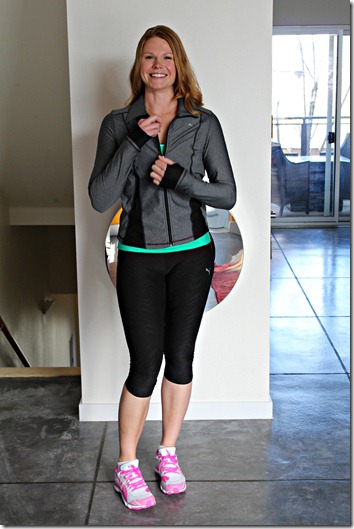 I found this jacket was perfect to wear through the dynamic warm up and mobility work that I did before my workout. It moved with my body, didn't bunch up, and was super comfortable. Plus, this color is very versatile.
Out of the entire outfit, I received the most compliments on the pants. They're black, but they have a zig zag textural design to make them versatile, but still fun at the same time. Plus, these are some of THE most comfortable capris I've work in the gym. I just love 'em.
I love a good white gym shoe, and they're hard to come by. I loved that these just had a pop of pink, part of that being a puma on the medial side of the shoe. I put these shoes to the test in the sled pushes, as well as some sprints, and they had just enough support for me. They were made just for women, and the shoe is supposed to adapt to the foot, expanding and contracting as the foot strides. Pretty cool, right?
How do you brighten up your workout outfit?
What move/sport/exercise you think is the ultimate test for the level of comfortableness of workout apparel?
---