Bodyweight Circuit: a Workout You Can Do at Home with No Equipment
I'm a big fan of working out at home. Not only for myself, but for my clients, too!
A lot of my online clients don't belong to a gym for one reason or another – whether it's just preference to workout in the privacy of their own home, or their a mom to a little one, and can only fit in their workout with the baby happily playing nearby.
For myself, it's the former. I train clients in my main gym, and teach classes in two other gyms. And to be truthful, sometimes I just want to get through an entire workout without being interrupted to talk about clients/training things. I guess I could get a different gym membership, but then that'd be yet another gym I'd visit during the week, and for me, three is just right. So I work out at home!
I actually thrive on being creative with my workout surroundings and how to use every day objects as tools. This is evidenced in Florida, when Shane and I used the beach, a park bench, and a tree for our entire gym for three days.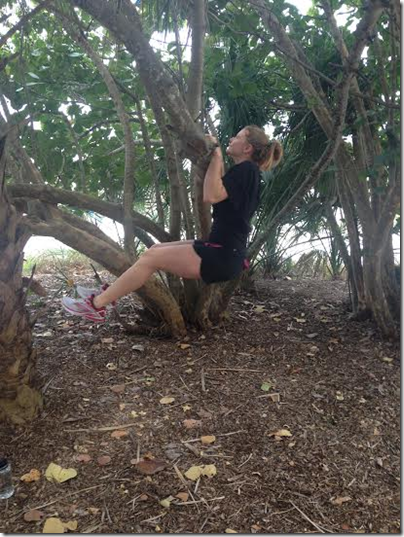 Make with do!
This week, I've started to tame back my workouts (more on this in tomorrow's post. Yes – four posts in one week!) and I've done a couple of them in home. I do have a few workout tools here at home – a kettlebell, band, some dumbbells, a TRX, a medicine ball, etc. But we live in  small condo, and workout space is slim to none. So for yesterday's workout I just used the furniture in my space.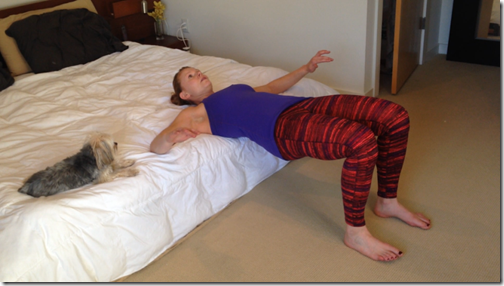 I did a strength circuit that consisted of 5 exercise, but kept my heart rate high, so I still got metabolic. All you need is a sturdy surface like a bed, a doorway, and a sheet. Let's get to it!
I really enjoyed this workout – and not just because it contained one of my favorite at-home exercises for the back, inverted sheet rows. I did this circuit 5 times through, and I think it took me right around 25 minutes (Niko curls are a bonus

,) which was perfect for the amount of time I had in my day.
While I wouldn't do bodyweight workouts every day, I love it for maintaining any progress I have made, if you've taken some time off and need to get back into it, need a change, or if you need a break from heavy lifting (my case right now.) It's also nice to be uninterrupted (aside from the occasional Niko snuggle during rest-breaks.)
Now I'm off to go play on the TRX to try out the workout I plan on teaching my TRX class this morning!
More bodyweight workouts:
Full Body Workout with a Resistance Band
How often do you workout at home?
---