Hi guys! Merry Christmas Eve Eve

I think the holiday spirit has finally and completely sunken in. For the past 72 hours, I've immersed myself in Christmas music, wrapping presents, and just feeling merry and bright. Joy.
This weekend was a pretty good one. Although it was the third weekend that I didn't make it out for a hike (or snow shoe) I did spend a bit of time out doors, and laughed my joyful ass off with friends all weekend.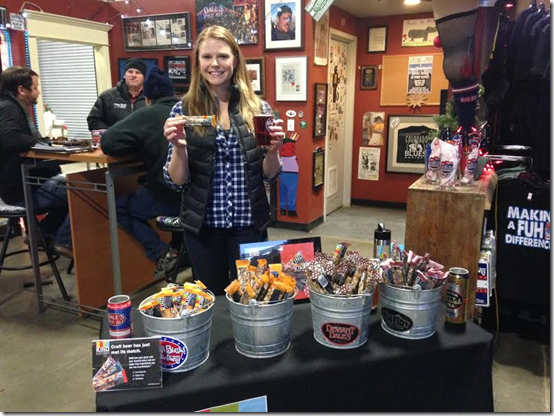 On Friday night, Lauren and I worked at Oskar Blues for KIND during happy hour. I think I could do this more often

The crew over at the Tasty Weasel brewery are so great, and we had a blast while working, and afterward joined our friends for a night of food and drink. It was pretty great. Oh, and I did some shopping.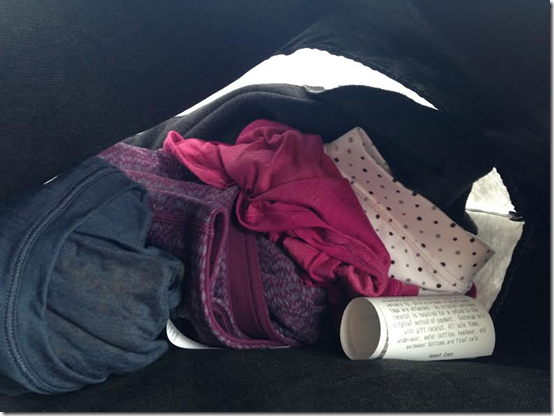 In the midst of Christmas shopping, I had a huge hankering for some "work clothes" that I had to take care of.
I also got in a great workout on Saturday morning. Once we made the decision that it was too cold to snow shoe (really, just me being a huge wuss,) I walked over to the gym for a workout. It looked a little like this:
-warm up, activation work, etc.
1. Chin ups
2. Heavy single-leg deadlifts
3a. offset reverse lunges
3b. push ups
3c. single leg elevated glute bridges
3d. Inverted row on smith
3e. pallof press
metabolic conditioning: RBT (rest based training) of alternating battle ropes and KB swings
It took me a while to get myself to the gym, but once I got there and started working out, I felt great!
I also got another workout in on Sunday after my client in the form of sprints on the treadmill. I started off doing equal work:rest ratio, and then switched to a work:rest ratio of 1:2. Either way, I left feeling great! I've actually been dealing with a little knee pain for the past few weeks. At first it was in my right only, and I thought it was from an overzealous hike. Then, when it started showing up in my left knee, too, I knew something was up. I've never had any knee pain in my life!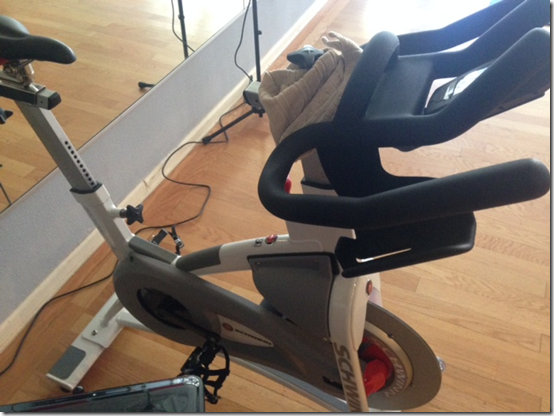 The only other change I've made to my fitness is the addition of teaching two spin classes a week. Since I'm somewhat new at teaching, I just set up the bike how they taught us in the Mad Dog Spinning certification course. Turns out, I need my seat just a wee bit higher, and my seat more forward. I tried this on Friday, and then confirmed it with the indoor cycling pro

Lo and behold, my knees felt so much better the days following. Woot!
So, on to the topic du jour today. You might have noticed that it's been a little bit…quieter around here. I've gone from posting every day during the week, to only posting a few times a week. It was actually unintentional at first. A couple weeks ago, I was so busy I just didn't have time to post every day. And then the next week, I decided I liked not writing a post every day. It's NOT because I'm getting sick of blogging – I still love it. It's really just about two basic reasons.
1. I can dedicate more time and energy to my posts, and hopefully make them a little better quality.
2. There's already so much NOISE out there on the interwebz, and it can be hard sometimes, to wade our way through the crap noise to get to the good stuff.  If I'm posting just for the sake of putting a post up, I feel like I'm just adding to all of that noise.
Who knows, I might go back to blogging more frequently, but for now, I'm digging the few-blog-posts-a-week thang. And if you enjoyed my noise, don't worry, I'm still plenty loud over on instagram

Happy Monday! I'm one class and three clients away from being on Christmas break! If the weather stays nice, I think I'm going to kick it off this afternoon with a hike and/or trail run

PS – the winner of the 34 Degrees giveaway is Christina! Congrats, girl

Shoot me an email at yourtrainerpaige at gmail with your info and I'll pass it along to Jennifer at 34 Degrees!
If you blog, how often do you write posts?
If you read blogs, what posting frequency do you prefer?
---