Hi guys!
Oops, it's Tuesday. Blogging totally slipped away from me yesterday! I usually start writing my posts the night before, and then finish it the next morning and publish. However, Sunday completely got away from me! I spent the first part of the day walking Niko, gallivanting around parks in Boulder, and shopping it up at Lululemon, and the latter part of the day preparing for a cycling class, and going to a Breaking Bad series finale party!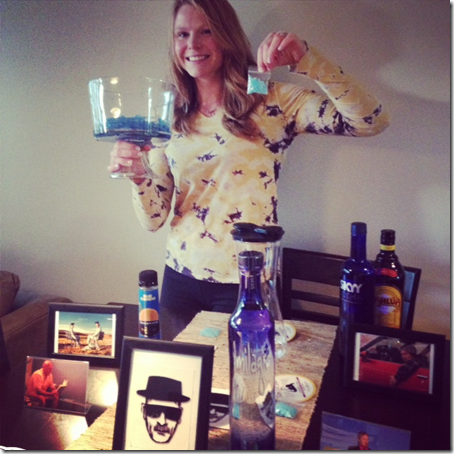 My friend, Susie, went all out. She had blue sugar (blue meth,) pictures of scenes, games, blue margaritas, Skylar white russians, and authentic New Mexican cuisine. It ended up being a lot of fun! And oh man…the finale. I personally loved it, but I love ALL episodes of Breaking Bad. I'm so sad it's over!
Anyway, it's been quite a while since I've updated you on some life things. I was going to write a post on sleep (which I'm a pro at, anymore!) but I figured if I didn't update you soon, I'd forget all that's happened. So grab a cup of coffee and pull up a chair. Let's catch up.
So, the first, and most prominent update is…
1. I got a new job!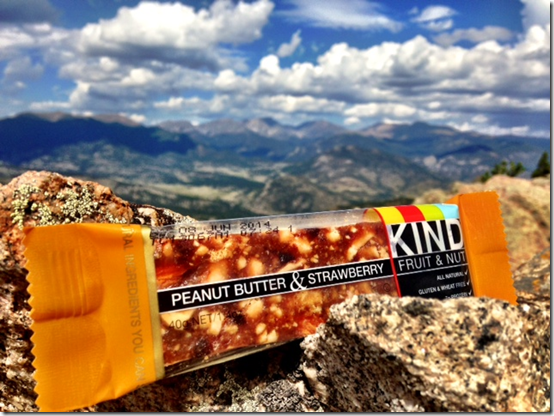 Well, I guess it's technically another job. I'm still training and teaching, but I'm also KIND's newest employee on the field marketing team in Colorado! It's been about two weeks, and I'm loving it so far. People love KIND bars, so everyone is happy to see me with bars in tote. It's FUN to put smiles  on peoples' faces

Bonus: I get to work with my Colorado bestie!
2. Trails have opened back up in Boulder!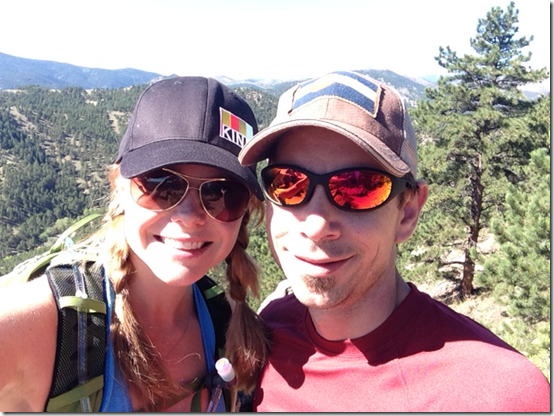 I hadn't hiked since the start of the flood, three weeks ago. It's been a long three weeks! I typically go hiking twice a week, once during the week and once on the weekend, and boy did I miss it! Saturday Shane and I hit up Mount Sanitas, and then grabbed beer and lunch at Avery.
3. I haven't cooked a decent dinner in…months.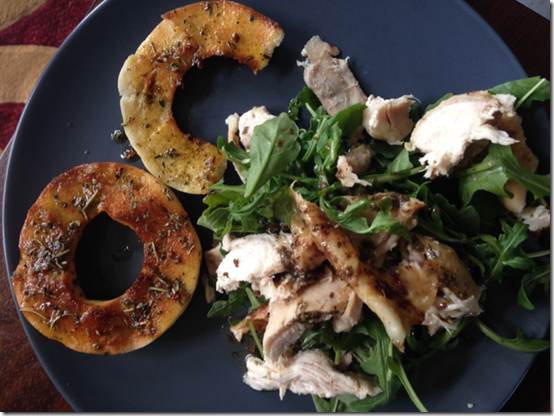 Rotisserie chicken a top arugula with a bagel…olive oil over everything – that's about as gourmet as I get anymore. Maybe it's grill season, maybe it's my schedule picking up, but I haven't put much thought into my meals in SO long. We pretty much rotate between burgers, chicken sausage, tacos, and spaghetti. Every now and then we'll cook a frozen pizza. I just don't has cares for elaborate meals!
4. It's weird, but I'm SO excited for skiing season. For our anniversary, Shane got us lessons, and a gift card to REI for helmets and pants, and I'm just so freaking excited to try it. Mostly, I'm excited because I've always hated winter. I liked it slightly more last winter when I discovered snowshoeing, and I think that skiing will, dare I say, make me a fan of winter.
5. I'm taking on new online clients! I've recently streamlined my programming (by completing a task I should have done MONTHS ago. Organization is key, my friends…) and can now take on more clients at a time. If you or anyone you know is interested, give me a shout.
6. October is going to be c-r-a-z-y. The only weekend I have "free" is the last weekend, and that's Halloween, so I'm sure it won't be free for long. Shane and I are going to Durango next weekend, the following weekend is Great American Beer Fest, which I'll be working at, and then the weekend after that I'll be in Chicago. Crazy town!
7. Niko is slowly, but surely getting back to her spunky, spazzed out self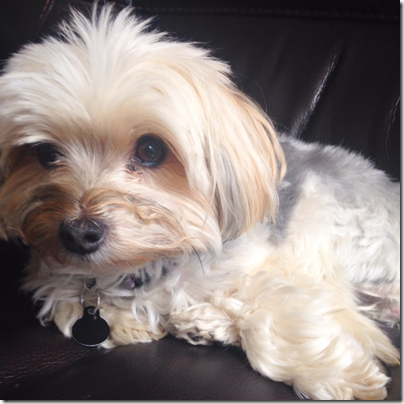 Sure, she might need a hair cut, but it's so good to see her energy back. Plus, she is one spoiled dog right now. Apparently, to get us to succumb to every one of her demands, she just had to scare the living daylights out of us

So that's what I've been up to!
What about you?? What's one new thing in your life lately?