Happy Tuesday, everyone!

I checked out yesterday from posting, because of the long weekend here, and I'm guessing many of you did, too! Actually, aside from sending out my online clients' programs, I didn't touch my laptop once. It's nice to unplug on the weekends, and unplug I did!
Shane and I found ourselves with no plans for the long weekend – most of our friends were out of town, or had out-of-towners in town – and knew we wanted to go do some exploring on our own. Since moving to Colorado, we've made such good friends, which really is great, but we never really have a chance to go do stuff on our own. And I like spending time with just my hubby every now on then

This weekend, we did just that.
We knew we wanted to find a new trail to hike, and Saturday morning after waking up, we did a little researching, and decided to drive out to Brainard Lake to hike the trails there. We planned on hitting Long Lake, Lake Isabel, and Isabel Glacier.
We didn't get to the trailhead until around 8:30, so the closest trailhead parking lot was closed. We parked at the next lot, hiked around Brainard Lake over, and got going.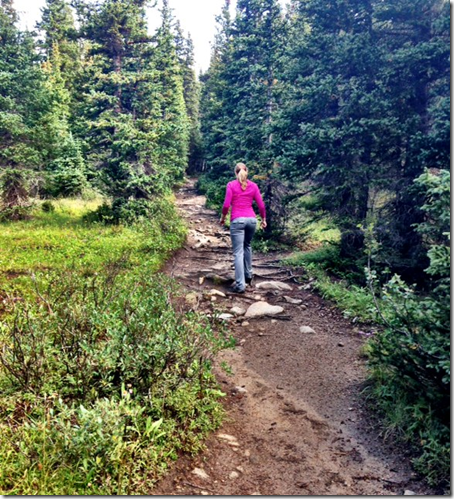 I instantly loved this hike. Shane and I both enjoy hikes that provide a good amount of time hiking through the woods. I love seeing the vast, mountainous peaks, like we did on our 14er, but I'm in love with everything about hiking through the forest – the scent, the scenery, the feeling – everything! There's just something that makes me really appreciate nature, and become so in tune with myself, while passing through the trees. I can't wait to sleep among them while camping soon…
Actually, the best hikes combine both mountainous peak views and hiking through the woods – and this one did.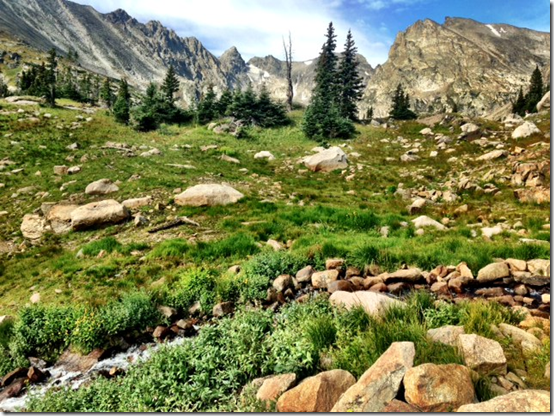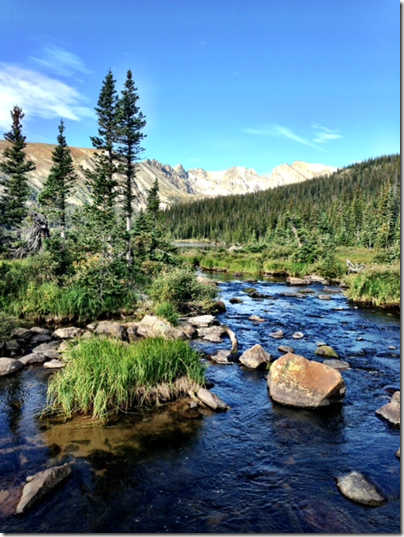 It was also a good difficulty-level for my mood that day. From our trailhead, it was about 7 miles of slow, steady incline without a lot of stairs – I'm seriously in love with this hike! It's a bummer Brainard Lake closes in mid-September because of snow.
About a couple miles in, we came to Lake Isabel, and decided it was a great spot to take in the views and break for a snack – PBJ sandwiches.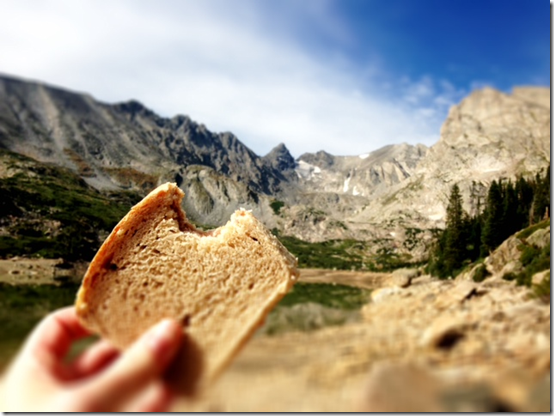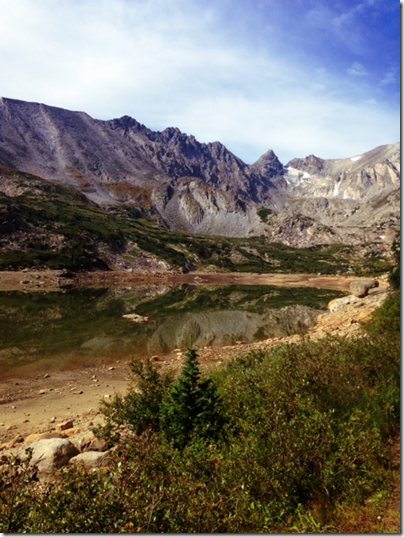 We kept on going after that, but unfortunately didn't make it all the way up to the glacier. We made it pretty close, though – we could see it pretty close, and it's just this huge snow and ice field! We did make it to this absolutely gorgeous waterfall, though.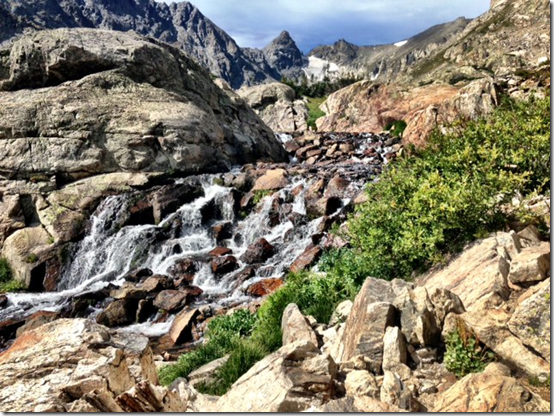 We stayed here and played for a bit, but unfortunately had to head back because Niko was at home. That's the only thing about having a small dog here in Colorado – we can't bring her hiking with us! Also, we can't just drop her off at my parents, and I feel bad always asking neighbors to watch her. I've never boarded her, and really don't want to, but I'm afraid that we might eventually have to.
Anyway, as we were heading back, we saw some backcountry snow boarders heading to the glacier to snowboard and ski! I wish I could have seen that.
We took advantage of the long weekend and great weather the rest of the weekend, too. Saturday night, I went out with some girlfriends for martinis. Sunday, Shane and I got sucked into the REI, and walked out $700 poorer (but ready to camp!! woot!!) And Monday after getting a workout in at the gym we drove up to Rocky Mountain National Park to drive Trail Ridge Road, and do a small hike on one of the pull offs.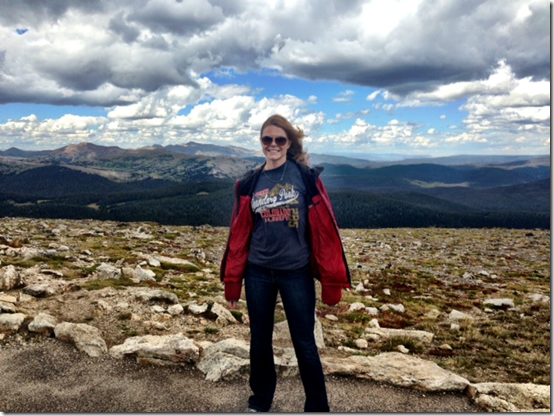 We munched on KIND bars during the drive, but by the time we made it back to Estes Park, we decided to stop for a late lunch at Estes Park Brewery.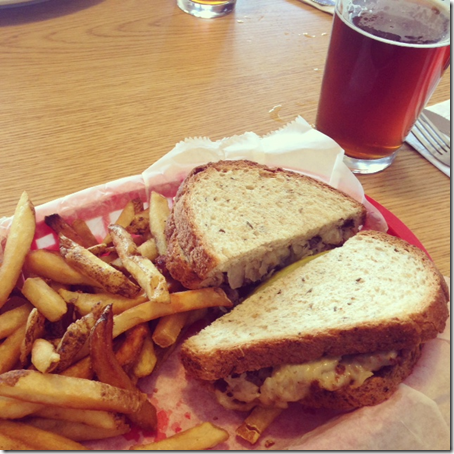 I got a Rueben and fries, with a Red Rum ale. The beer was good, while the food was meh. Win some, lose some!
After this weekend, I feel physically refreshed and mentally rejuvenated. I'm ready to tackle the week

PS – I'm updating my Favorites tab, and just did a re-haul on my Fitness Favorites! if you care to check it out!
Have you ever boarded your dog? What was your experienced?
What's your favorite snack while hiking or for a picnic?