Mornin'

Today I'm starting out my morning training a client, and then getting in my own resistance workout in. I love training morning clients! Not only do I have most of my energy in the morning, but chances are, if someone's waking up before work to get their workout in, they're motivated and excited about their workouts. Makes my job more fun

Before we get into What I Ate Wedneday, let me tell you, I'm SO glad yesterday was a rest day (aside form teaching a class.) Monday afternoon I banged my knee on the corner of the dresser – enough to the point that it started bleeding and immediately bruising. I swear, as soon as one bruise on my leg clears up, I get another one. There's a reason my husband gets freaked out whenever I climb out to a ledge when hiking. I'z clumsy.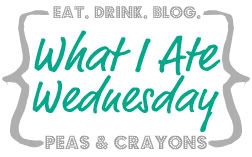 Anyway, I needed that rest day yesterday, as walking down the stairs even agitated my knee. Hopefully this morning's workout feels OK.
All right, on to rest day eats!
Breakfast – 8:00 a.m.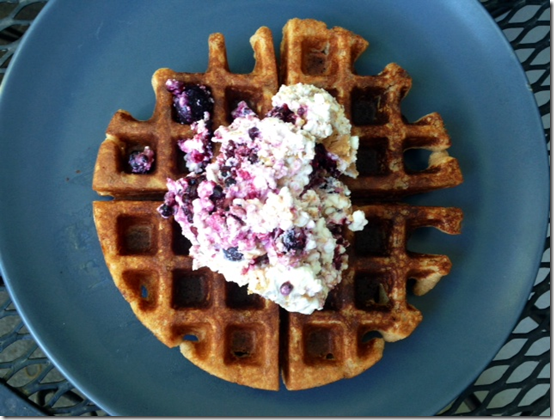 I mentioned yesterday that I finally got to sleep in, and sleep in I did! I woke up and walked downstairs and couldn't believe my eyes when I looked at the clock.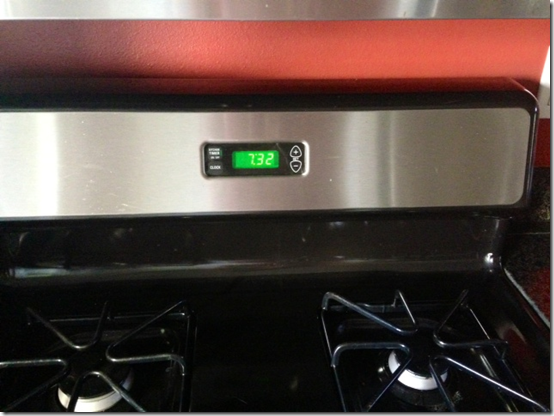 With a 9:30 sleep time, I clocked in almost 10 hours of sleep! Crazy! And glorious. Anyway, that meant for a later than usual breakfast, which was a flapJacked protein pancake in cinnamon apple, topped with a mash of cottage cheese, peanut butter, and frozen berries. Yummy. With coffee, of course

Lunch – 12:30 p.m.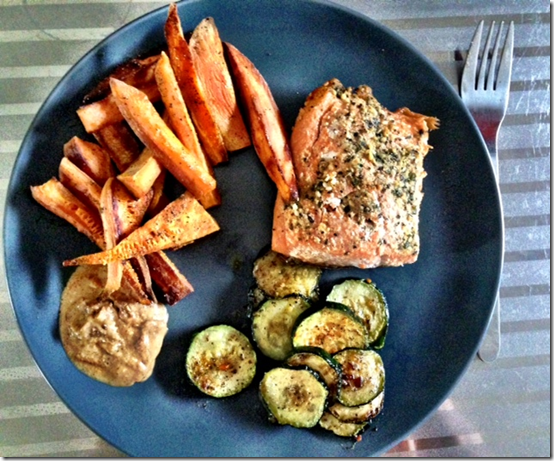 I had to teach a class around 2:00, and this might have been a wee heavy on my tummy. Was delicious, though! Salmon, sweet potato fries, almond butter, and zucchini.
Snack – 3:30 p.m.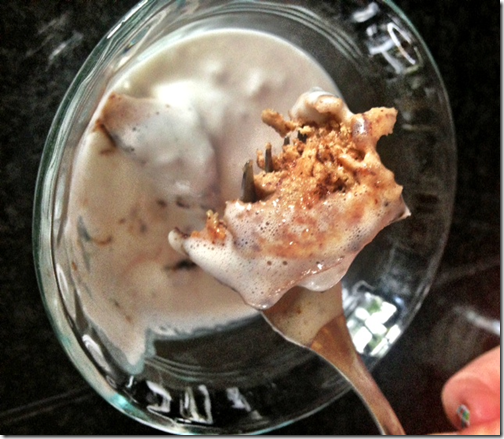 Quest bar, which I heated up per your recommendations, and then topped with coconut cream. Yep, it's amazing. I'm going to have to restrain myself from eating this every day!
Dinner – 6:30 p.m.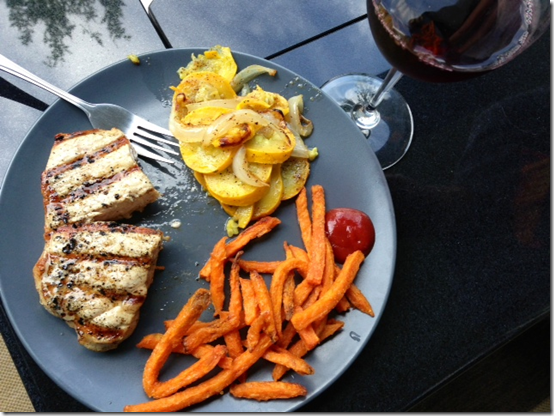 A dinner very similar to my lunch! Thick-cut pork chops, grilled summer squat and onions, and sweet potato fries with ketchup. Such a quintessential summer grillin' meal

I love.
Snack – 8:30 p.m.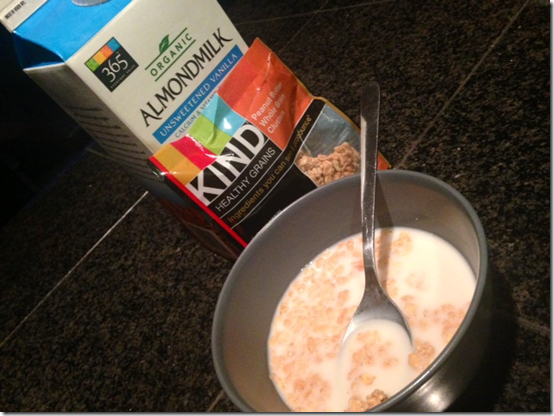 Almond milk + granola. Standard. I'm normally not an almond milk type of person, but Whole Food's brand is amazing!
Do you consider yourself clumsy or graceful?
I've never been what you would call graceful

What's your favorite brand of almond milk?