Where to Find Strength Workouts
Good morning

It was a pretty low key weekend around these parts. I'm pretty sure Saturday was the first Saturday that I didn't have plans in…months! We were supposed to go up to the park, but then plans got cancelled. I kind of didn't know what to do with myself!
Finally around 3:00, Shane and I took matters into our own hands, and debated whether to go see a movie (my choice – The Heat) or walk over to the Tasty Weasel (Oskar Blues brewery.)
Shane won. (but then again, didn't we kinda both win?) We had a great time – just us two –  hanging out and playing the guessing game. We first played this at Breckinridge. One of us closes our eyes while the other one circles a round of tasters until the person with their eyes closed says stop. Then that person guesses which beer they're drinking. I suck at this game, for the record.
Then we came home and grilled out. Story of the summer. And then it all balanced out, because on Sunday we went to go see The Heat.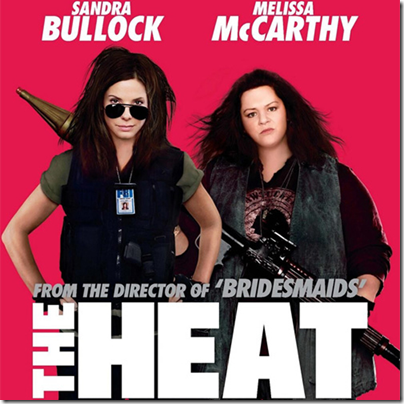 Verdict? It was hilarious.And I'm a pretty hard movie critic. Go see it!
Anyway – on to today's post topic!
As a trainer, I pride myself on the programs that I write for my clients. For my in-person clients, I go through an extensive question and answer consultation, fitness assessment, and body fat/measurements/etc assessment before taking all of that information, and analyzing it to write a program that fits their goals and abilities. For my online clients, I use several questionnaires, and back and forth questioning via email or phone before developing their plan.
I've said this before, but one of my personal training pet peeves is when I see other trainers taking their clients through willy nilly workouts, changing it up every session, without a plan, goal, program formulation in mine. It's really tough to get results if you don't keep some sort of track of programming – reps, weigh, sets, volume, intensity, exercise selection etc.
That said, it can be difficult for anyone who wants to do some sort of resistance training, but a) isn't quite sure how to put a program together, and/or b) isn't able to hire a personal trainer. Of course, that doesn't mean he or she just shouldn't be strength training at all. There's actually a multitude of websites and resources out there that give out sound information.
Here's some of my favorite resources for resistance workouts and exercise selection: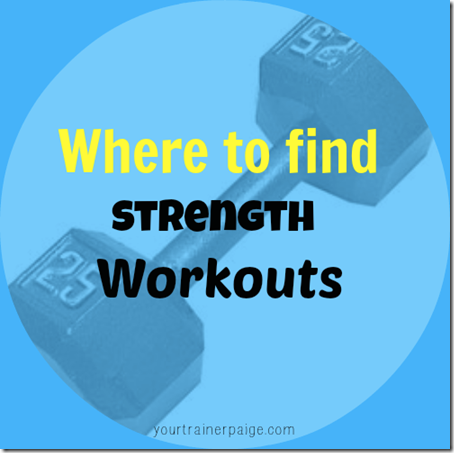 Online Resources
Acefitness.org – aside from my own youtube exercise demo library, I use the exercise demos and descriptions on ACE the most. Very helpful, thorough, and comprehensive. You can find both individual exercises as well as workout programs here!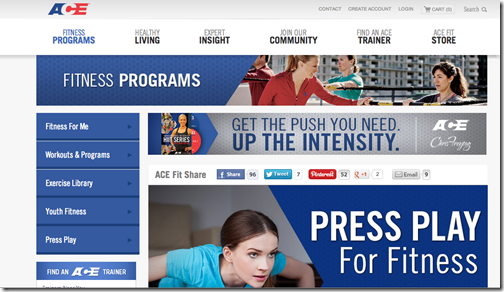 EXRX.net Exercise prescription is a great source for both exercise demos, as well as workout programs. It even gets as detailed as splits – upper/lower/full/push/pull and so on! You can select exercises by body part or muscle.
Turnstep I also really like turnstep.com for boot camp and group fitness class ideas. If you're looking for circuit workouts with minimal equipment, you might find some great ideas here.
GPPFit.com GPP Fitness provided the boot camp workouts at Blend this year! They're a gym out of Utah that focuses on functional training, and posts their workouts online every single day. Complete with links to demonstrations for each exercise, it can also be a great training tool.
ZWow Although very intense, and not meant for every single day, you can find some higher intensity body weight (and minimal equipment) workouts from Zuska and her ZWOW's (workout of the week.) I don't typically borrow any exercises (that I don't already know) from here with clients, as they're pretty complex, but I'll take bits and pieces at times for a good metabolic finisher at the end.
Books
New Rules of Lifting – any. I love Alwyn Cosgrove and his workout programming. I think, for the most part, he writes very sound programs designed to get results. I've done NROL, NROL for Women, NROL for abs, NROL for Life and now NROL Supercharged. Out of them all, I prefer Abs, and have definitely borrowed some of Alwyn's techniques for my own training.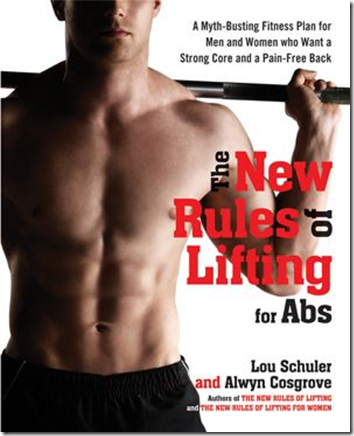 Men's Health Big Book of Exercises I suppose you could also go for the Women's Health version of this, but seriously. Any exercise a man is doing a woman can be doing, too. It's a great resource broken down by muscle group, and gives variations from regressions to progressions.
Blogs
There are TONS of great bloggers who are personal trainers, as well. Here are some of my favorites (and I know I'm forgetting some, please forgive me, and list in the comments!)
Of course I'd be remiss if I didn't point you to my own. I haven't updated my workouts page in a while, but you can find a lot there! You can also find them by clicking on the "workouts" category on the sidebar.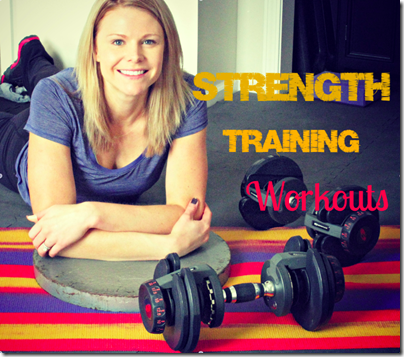 Sweat Like a Pig Personal Trainers are a very opinionated group, and I'd have to say there's not a single blogger out there who replicates my training style and philosophy to a T, but I find myself agreeing with Tara much more often than not, as we share a lot of the same philosophies when it comes to training. Regardless, her blog is a wealth of knowledge when it comes to lifting – for both beginners and advanced. I implore you to check it out!
Follow My Fitsteps Natalie is a personal trainer out of Denver (and one of my good friends!) and posts great functional workouts on her blog. She's got great workouts for boot camp workouts, too. Check out her workouts page!
Best Body Fitness Tina is a certified trainer who creates and posts some great workouts on her blog. Her strength tab has a mix of upper, lower, and full body training – as well as some ab workouts.
1 Fit Foodie Naomi is a certified personal trainer – as well as many other certifications – in Boston and creates some really great workouts, as well! She's one I also often find myself agreeing with as far as workouts go.
PurelyFit If you workout at home and have minimal equipment, Michelle and Lori can give you some great body weight, functional-style workouts to use! Get ready to master the plank in all variations.
And although I couldn't find a "workout" page on a couple, here are several other bloggers who post some great workouts (and workout videos!) BonnieLangFitness, Cotter Crunch – geez, I know I'm forgetting some. Again, link in the comments!
Share! Where do you go to find workouts or workout ideas?
---