True story:
the other night I was out with my friend/neighbor/boot camp participant for drinks, and I was drinking a "margarita." I put margarita in quotes because the definition of the drink is debatable – it's a shot of Hornitos tequila, club soda, and two lime wedges.
When my friend asked me about my drink, I told her about it, and how it's super low in sugar and calories. She then proclaimed that she was ordering that next, especially since she was taking a boot camp class I'd be teaching in the park the next morning.  I warned her, saying that is wasn't sweet at all! With my warning, she ordered one up from the bartender, proceeded to take a sip, and then yelped, "ooohhh mamacita!!!"
I was all: I told you it wasn't sweet!! To which she was all: Yeah, but you didn't tell me it tasted like shit!
The bartender overheard, so we had to tell him that boot camp was in the morning, and we were trying to be healthy. And now there's a margarita named "Boot Camp" at our favorite little cantina in the neighborhood

haha
So I got to thinking how I could make this drink taste better while still keeping it healthy and low sugar. A splash of cranberry juice would work nicely. A splash of cranberry juice light would work even better!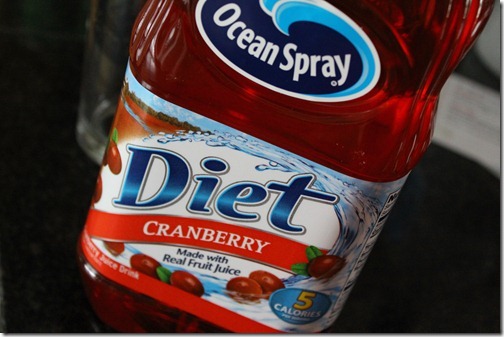 Ocean Spray sent me its Diet Cranberry to try out, and I immediately thought of the boot camp margarita. Once it was happy hour on Friday, I cracked open the bottle, and made myself a little cocktail: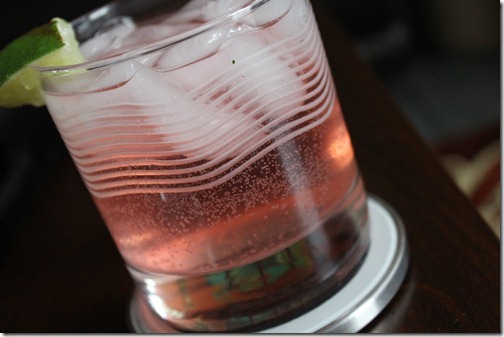 The Cranberry Boot Camp
1 shot of Hornitos blano tequila (or tequila of choice; that's my choice)
3 ounces club soda
splash of Ocean Spray Diet cranberry
2 lime wedges
Yum! The small splash of cranberry really cranked up the flavor – with no added sugar and only an additional 5 cals. Pretty sweet (pun intended

)
Not one to drink alone, (ok that's a lie) I looked to the recipe that Ocean Spray sent along with the juice to make Shane's Friday happy hour cocktail, the 5-0 Cosmo: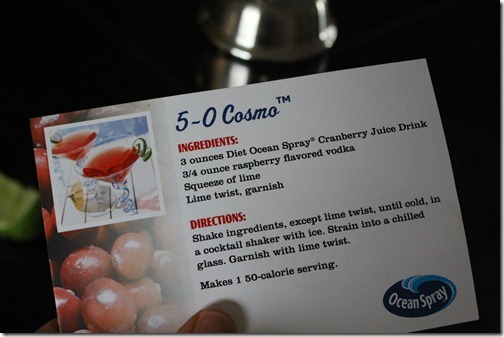 5-0 because it's only 50 calories per serving.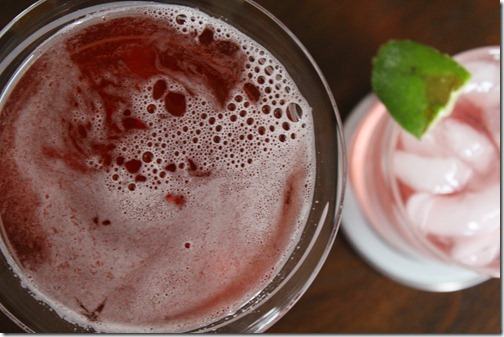 I wasn't sure how Shane would feel about the drink – but he really loved it! So much that he made himself a second, haha.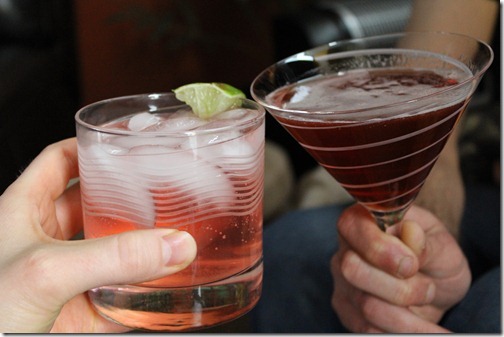 Cheers!
Then yesterday when lunchtime rolled around, I tried the recipe on the flip side of the card – no, no alcohol this time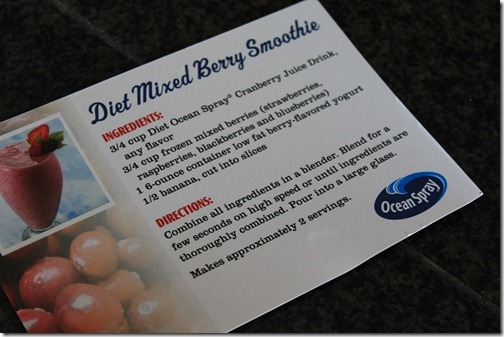 I had to tweak the recipe a bit. My alterations included 1/2 c. frozen strawberries instead of mixed berries, no yogurt, a whole, frozen banana, and a handful of spinach.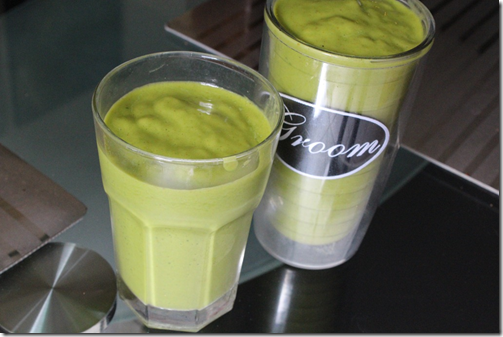 This time both glasses were mine. No sharing for Shane, who's actually been enjoying drinking the cranberry juice on its own.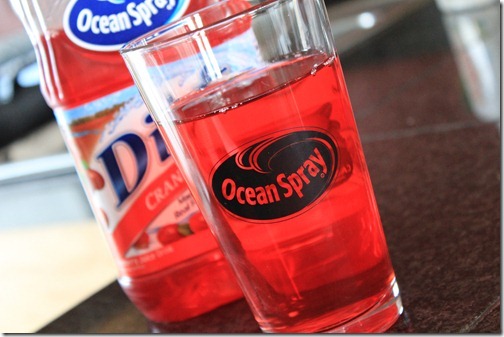 What do you drink when trying to stick with healthier cocktails?
I'm a big fan of the SkinnyGirl margaritas, too! But ya gotta have a big squeeze of lime in the mix.
I have partnered with Ocean Spray through DailyBuzz to help promote their new Ocean Spray Diet product. I have been compensated for my time commitment to work with this product, however my opinions are entirely my own and I have not been paid to publish positive comments.