Heyyyy, it's a weekend post on a Monday! I decided to forgo blogging my typical weekend post yesterday because earlier last week I made a declaration to Shane:
I'm going to not open my laptop on Sundays anymore.
Quite the declaration, eh? Well, for me it is. Actually, first I declared that I was going to forgo all technology on Sundays, but then I realized that also meant no instagramming or lazing around the couch watching TV. I'm cool with both of those things on a Sunday. But I needs me a break from the ol' lap top and what a better day to do it than Sunday, the day of rest?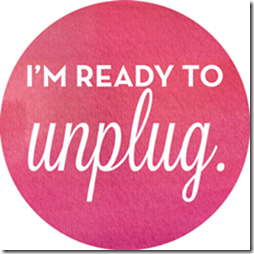 I'm constantly logging on to check and respond to client emails, send out reminders, check on the blog, and get lost in the interwebz in general. So, I took the day to go to church enjoy the company of others (more on that in a sec.) watch endless episodes of Glee, and clean the house.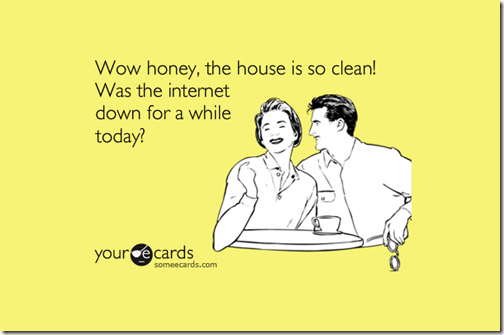 Yep, pretty much sums it up. And today the house is clean!
On Friday, Saturday, AND Sunday, I met up with friends, whom before I only knew on the interwebz!
On Friday, Shane and I went to a neighborhood happy hour. How does this tie into the world wide web? Well, I'm on our neighborhood emailing list (and yahoo! group…which apparently do still exist) and was invited to said happy hour through an e-vite! Shane and I were both unsure of how it would go, but we had an absolute blast! We knew no one going in (aside from our next door neighbor, who's such a sweetie!) and met so many people, leaving 4 hours later. Plus, the hostess had an amazing spread of meatballs, bacon wrapped dates, shrimp, dolma, and tons of veggies. Since I ate dinner beforehand (I never know what I can eat at these things) I got to eat TWO dinners that night

Win.
On Saturday, I made the drive down to Denver to meet up with Natalie to go to a Core Power Yoga on Grant for some hot yoga class.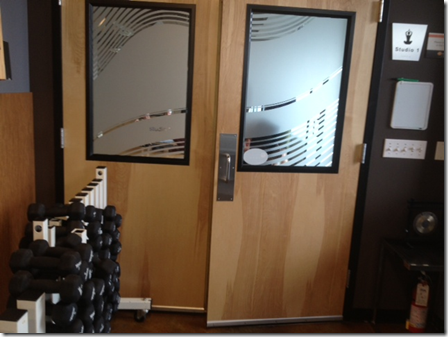 Aaaand I'm hooked. Class was awesome. The heat was perfect, the instructor made class FLY by, and succeeded in turning our mats into puddles.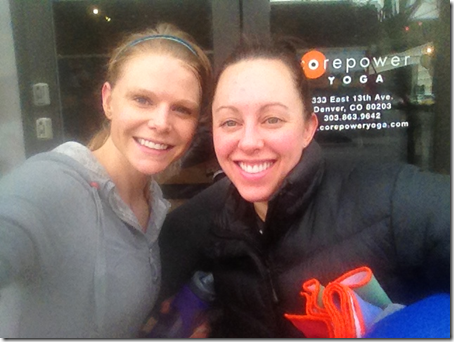 Good times

And even better? I have a first-time pass for the next week! I think I'm going to meet up with Natalie again tonight for a SUPER FUN class. When Natalie asked if I wanted to go with her, I immediately said OMGYES!

If it works out, I'll be sure to tell ya'll about it tomorrow

After yoga, we decided to grab lunch at True Food: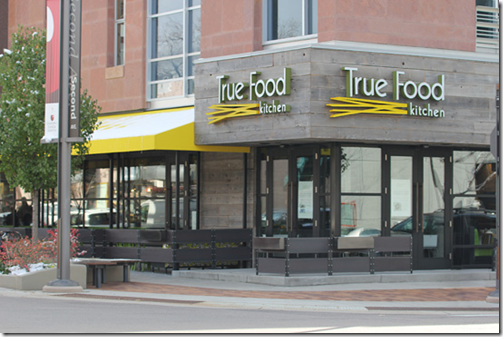 I'd never heard of it before, but apparently it'ss Dr. Andrew Weil's restaurant, an author, and well, a doctor. I guess the menu is considered an anti-inflammatory menu and everything is pretty much created to be healthy, delicious, and make whoever eats it live longer. Pretty cool! The food was, indeed, delicious, too.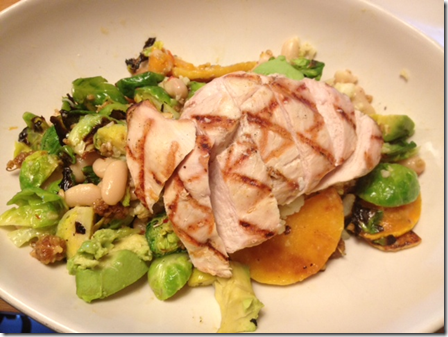 We both got the exact same thing (lolz) – the winter salad with brussels sprouts, cannelini beans, mulberries, squash, chicken, avocado, in a Worchester (I think?) vinaigrette. And I got a coconut water. Delish.
Natalie and I have actually been reading each other's blogs for a few years now (she guest posted for me while I was in Dominican Republic!) and have SO much in common. We chatted so much I think our waitress had to come back four separate times to actually get our order – ha! And then I saw big snow flakes falling from the sky out the window, and bolted, since I'm a baby and hate driving on the highway in the snow. (The roads were fine. I'm just a baby!)
Then on Sunday, the blend fun continued, as I had date with Kelly for lunch!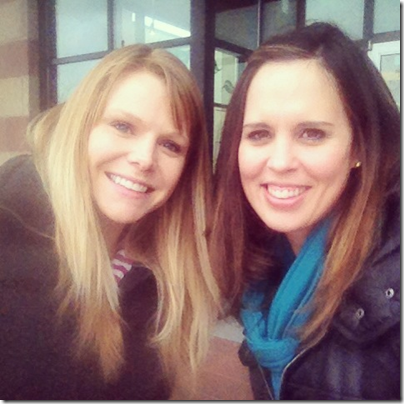 We had actually intended on going to The Boulder Tea House, which sounded delicious. Unfortunately, the wait was 45 minutes long, so we decided to swing over to Mad Greens to grab some lunch instead.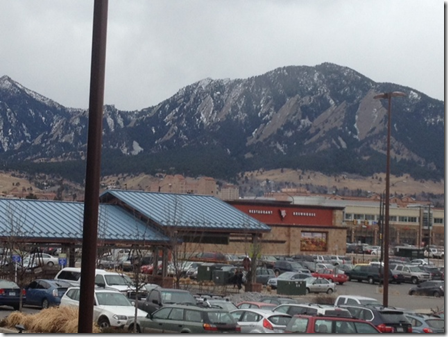 Great view of the flatirons from here!
Lunch: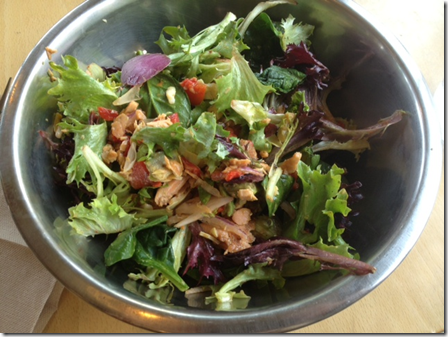 Weird, I had two salads in two weekends, and I hardly ever order salad while out! This salad proved to be delicious, too, and it was so much fun getting to know Kelly. I'd just started reading her blog (and drooling over her recipes) when I moved to Colorado, so it was really nice to get to know her better

After lunch, we did a little shopping. Well, I guess I shopped vicariously through Kelly, since I have myself on a budget

I even managed to keep my debit card in my purse in lululemon – not an easy feat!
What a fun weekend! It ended on a pretty good note, too. Something happened that hasn't happened since I don't even know when. Shane…..cooked dinner!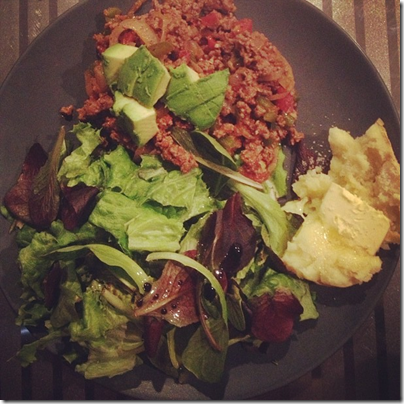 I guess I can be a control freak in the kitchen? Not me!

haha Anyway, he made deconstructed stuffed peppers, a big green salad, and baked potato. Delish.
What a weekend! Now it's back to the week. I hope to accomplish some major tasks in the way of job-related schtuff. Wish me luck.
Your turn:
Have you met up with another blogger or blog reader near you before?
I swear, there are SO many bloggers here in Colorado. I love it!
Do you have any "lap top bans" to make sure you're not on the web 24/7?