Hey all!
Guess what I did last night? I hung out with Natalie – again!

But guess who I also hung out with…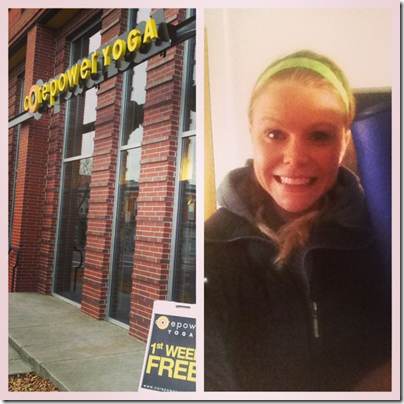 (or just read the title of this post….ha)
Dave Farmar!!! I was a wee bit  excited, as you can tell from that picture

And by "hang out," I mean, being instructed through a hot, power yoga class. And by Dave Farmar, I mean THE Dave Farmar – the guy in my computer who I used to curse at as I would follow along to his baptiste-style yoga podcasts.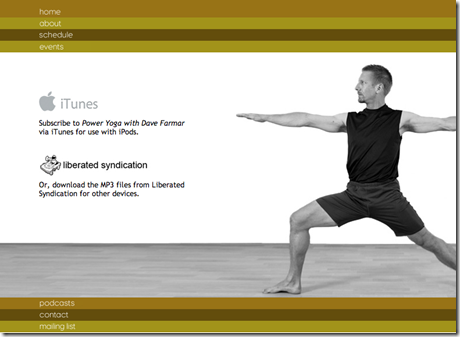 Except this time, I took one of his classes in person!! *Cue inner fan girl going nuttzo*
I had to tell said inner fan girl to pipe down, and refrained from both bringing my phone/camara into the class, and asking him to take a picture with me.
But notsomuch as to resist taking a papparazi style picture from outside once we were finished. bahaha!
Ahem.
But back to the class.
I made the drive back down to Denver again, and I'm so glad I did – I didn't even realize Dave Farmar taught classes in Denver (and here in Boulder I thnk!) so I was pretty stoked to try it out. I almost backed out because the class was at 5:15, and Devner traffic, while not Chicago traffic, can still get bad.  But, after hemming and hawing, I realized I have the free Core Power Yoga class pass this week so I might as well take advantage of the opportunity.
Some things about the class:
Yes, DF is chatty in his live classes, too.
Yes, I laughed several times throughout the class.
I may have cried, too. But that might have also been sweat dripping into my eyes making them burn.
Yes, I may have wanted to throw my water bottle at him while holding warrior II about 5 breaths too long and then doing it again on the other side right away.
Yes, the class was awesome, probably the best – or close to the best – that I've ever taken, and I can't wait to go back.
Plus, it was awesome to see Natalie again

The traffic wasn't even bad at all – thank goodness I drove in Chicago traffic a couple times a month – this was nothing! However, I didn't get home until around 7:30, so I was starving when I walked in the door. Luckily, this was waiting for me: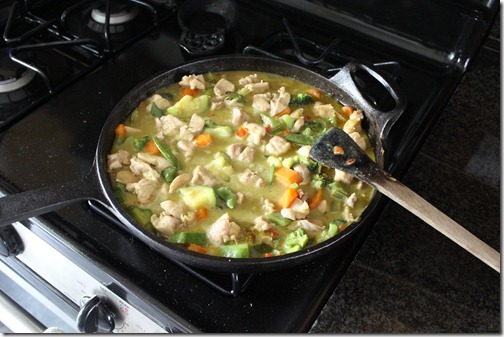 Super duper easy Thai chicken stir fry.
Count the ingredients: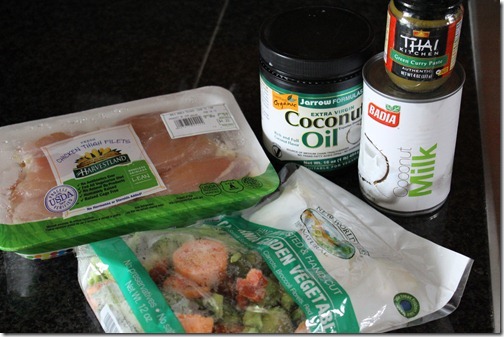 Yup – 4 (5 counting the oil.) Chicken (I used thighs,) Thai Kitchen red curry paste, coconut milk, and frozen veggies.
Basically, just cook the chicken and veggies, and then throw everything in the pan until it boils, and then let it simmer. Winner, winner, easy chicken dinner.
Plus some dessert: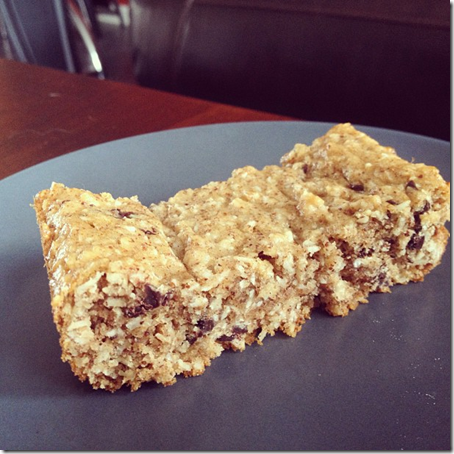 I made another batch of coconut chocolate chip bars on Sunday, and they turned out just lovely. (recipe found here)
This is actually a picture I took earlier yesterday – I had mine underneath a mound of banana soft serve

Gym time!
What was your last fan-girl moment? A couple years ago, my mom and I met EJ from Days of Our Lives (true story) – I was pretty giddy just to see his gorgeous face!