Hello, hello!
I just wrote this entire post, and then Live Writer ate it. Unfortunately, my witty candor was lost along with the post. Thusly, here's what you're getting in this post:
Two recipes
A typical day of Paige eats
A little about my first day on the new job
Forgive me for not being verbose.
Before we begin, I have to thank you guys SO much for all of your encouraging and congratulatory comments from yesterday's post. It was so nice to get a little blip of positivity every time I checked my phone
Now, let's do this shin dig.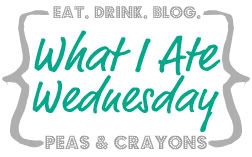 Breakfast – 8:15 a.m. – Chicken sausage, bacon, and broccoli bowl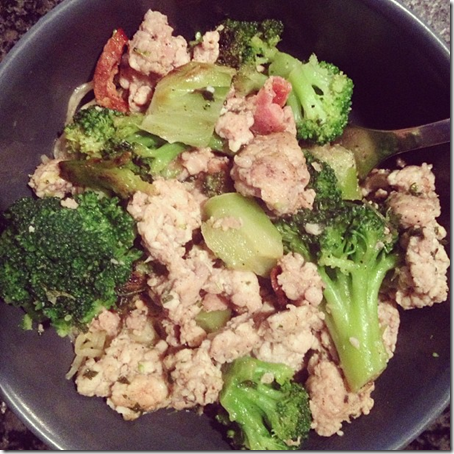 I had this after teaching BLAST Core class yesterday morning. Yep, I'm already weirding out my coworkers with my abnormal breakfast selections But with good reason! This was actually Sunday's dinner, and it was a hit! The ingredients are pretty basic, but the seasonings are what makes the dish.
Coconut Ranch Sauage, Bacon, and Broccoli Bowl
2 tbsp. coconut oil
1/2 onion, chopped
1 lb. ground chicken (or other) sausage
1 c. cooked broccoli
1/4-1/2 c. coconut milk (in a can)
1 tsp. parsley
1 tsp. sea salt
1 tsp. dried basil
1/2 tsp. thyme
1/2 tsp. pepper
1 tsp. garlic powder
1/2 tsp. onion powder
Heat the oil in a pan over medium, and cook the onion for about 5 minutes. Add the sausage, and cook through. Add the rest of the ingredients, and bring to a boil, then simmer for 5-10 minutes.
After class, I drove around the corner to a CorePower yoga studio, and signed up!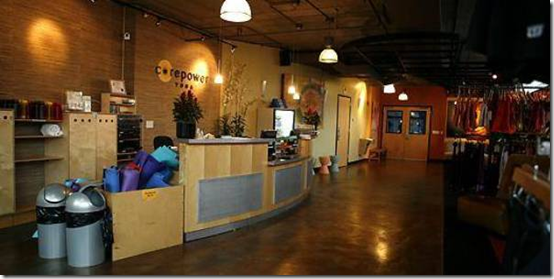 Right now I need yoga in my life. I'm enjoying it so much and it just fits for where I am right now in my life and in my health. I'd been debating joining a hot yoga studio down the street for me, which is family-owned, extremely local, new, and hip – I joined for a month when I first moved here, and absolutely loved it. But then Natalie had me try CorePower Yoga, and I was obsessed.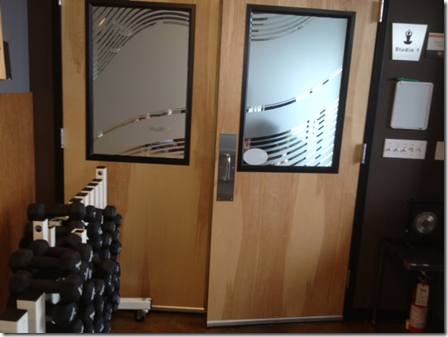 They're both up there along the same lines, price-wise, but after much debate, I decided to go with CorePower. Even though I can't walk to it, there are three studios within a 10 minute drive from my work, plus there are studios in Denver,  as well as Chicago when I go back to visit friends and family. Who knows? Maybe after the house sells I'll join the other, too
Anyway, after teaching yesterday, I headed over to the studio for what was the hottest yoga class I've ever tried. The studio was warmed up SO much that I started sweating after 5 minutes. After going through a 60 minute bikram-style class, I had sweat in my ears, eyes, and nose. But I also felt pretty awesome
Post-hot yoga coconut water:
I swung by Whole Foods after class for this. Coconut water is simply amazing after a hot yoga class. If it weren't so dang expensive, I'd have one after every class! They really seem to help with my altitude problems, too.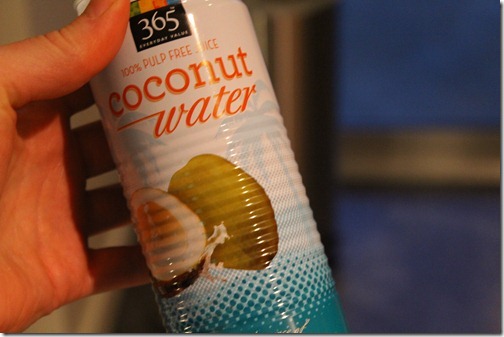 Yum.
12:45 p.m. – post-yoga shower and feeling like a normal human being – taco salad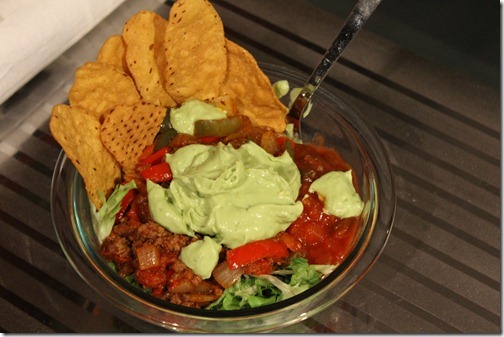 But not just any taco salad – taco salad with THE best avocado dip/dressing EVER. It seriously made this dish, and what I didn't eat on my salad, I ate with my weight in sweet potato chips.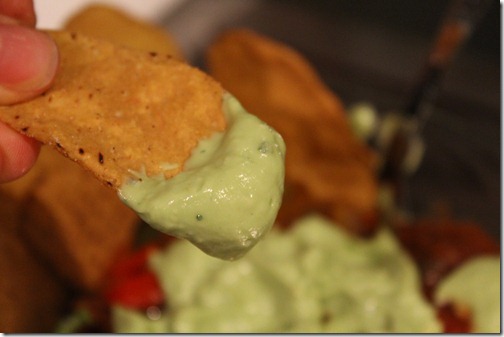 Creamy Avocado Dip/Dressing
1 avocado
juice of half a lemon
juice of half a lime
2 tbsp. olive oil
1 tsp. sea salt
dash of garlic (to your liking)
dash of pepper
dash of cilantro
Place everything in a food processor, and blend until smooth.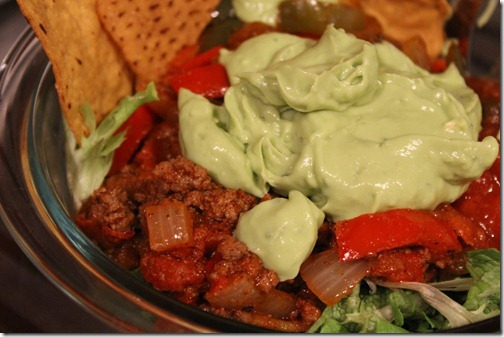 Another thing that really made this batch of tacos stand out is that along with my regular taco meat recipe (meat, diced tomatoes, spices) I aded a bag of frozen tri-colored peppers. It not only bulked up the volume (hello leftovers!) but it also really amped up the taste. Yum.
After lunch, all I wanted to do was sleep (I had a really crappy night's sleep before – pre-first day jitters, I s'pose,) but instead I did a little work for my online clients, took Niko for a 45 minute walk in the sunshine, and then trained a client at the gym.
Dinner – 6:30 p.m. – lemony sole, sweet potatoes, & broccoli: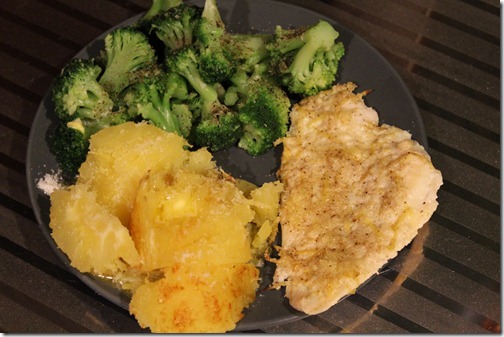 I made the sole from Practical Paleo (yum!) and this is Shane and my favorite sweet tater – a Japanese sweet potato, tastes like a cupcake – and broccoli.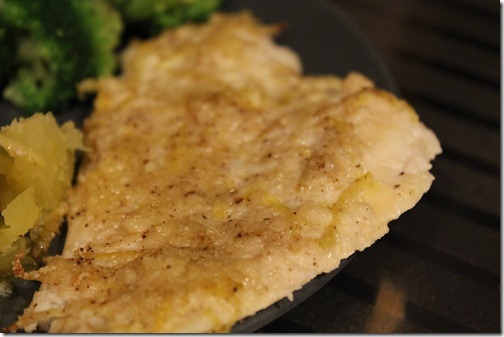 Winner! We both loved this meal.
As always, we watched Jeopardy while I was cooking, and Wheel of Fortune at the table as we ate. Then we caught up on Walking Dead (yikes!) and then as soon as I noticed Shane fell asleep, I flipped on the Bachelor and got a little nighttime snack: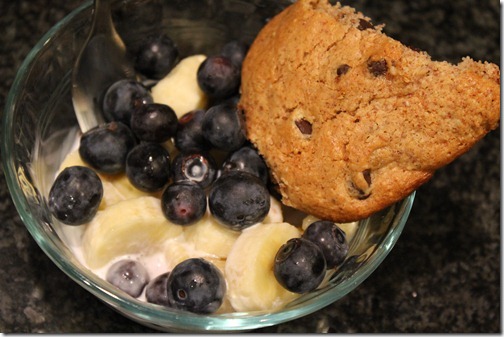 I actually took a picture this time! A banana, blueberries, and a couple paleomg cookies. I also ended up adding a little bit of coconut milk leftover from breakfast (well, from Sunday's dinner, but y'know.)
Today is a pretty light day for me. I slept in this morning (felt SO yummy to my soul) for me – which is like, 6:45, and I have a day full of writing programs for my online clients. Not too shabby!
What's a food/drink product you would indulge in all of the time if it weren't so pricey?
Aside from coconut water? Nuttzo and Kombucha. They're both so tasty!