Good morning!
I'm a little late in posting this morning because I went to another sunrise hot yoga class. Thankfully, this time there wasn't a flu-stricken yogini parked right next to my mat, and it was a really great practice.
Now, when I say it was a great practice, I certainly don't mean that I was able to pull off tripod, crow pose, or even standing lotus. That's not how I measure the success of a yoga class. What I consider a great practice is one where I work as hard as I feel I need to at that moment, letting my mind venture only to the poses and my breath, and completely shutting out the outside world for that 90 minutes that I'm in class. I was able to do that today. Hooray!
But once I did enter the outside world again, I  was pretty ravenous for some breakfast!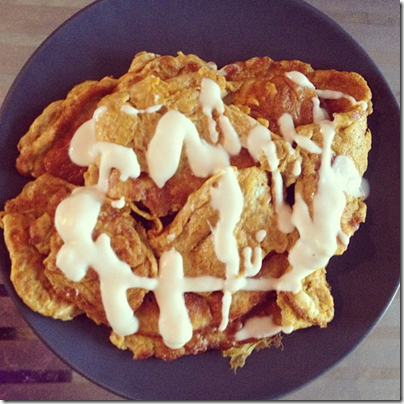 Guys, I have a problem. A coconut butter problem. I'm obsessed with slathering it on everything – namely my pumpkin pancakes. And I when I say slathering, I don't mean a measly tablespoon. Oh, no. Pour the good stuff ON it!
I've gone through 2 jars since I've moved here…which is 3 weeks ago.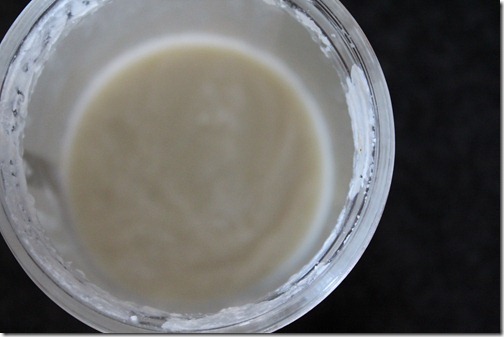 I also may or may not have gotten into the habit of grabbing a spoon, walking to the pantry, and scooping it directly to the face.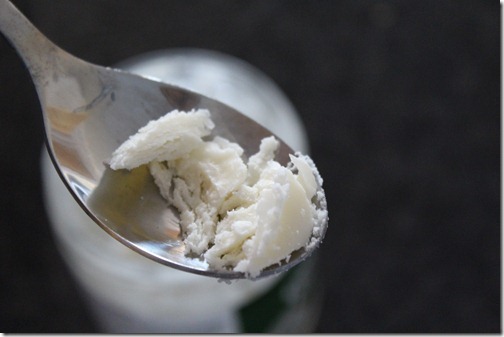 Efficiency, people. Efficiency.
I also may or may have not ordered four (4) jars last night when I realized I had only but one (Paige-sized, ahem) serving left in the pantry:

I also got a single serving packet of some other junk…only because shipping was free once ya passed the magical $49 amount. Donezo!
So, I had originally planned on giving you all a PCOS update, and inform you on my plan o' action after visiting my naturopath. But, if I'm being completely honest (which is something I strive for!) I just didn't feel like getting that heavy this morning. I'm excited about the plan and all, but when I woke up this morning, I felt like talking to you guys about fitness instead of PCOS. We'll save the PCOS update for Monday. Sound good?
Good.
1,000 Reps Workout Debate
So, when I write out my workout programs for my clients, I do so in a manner where the client can measure and track their progress and success. I can't stand workout programs that are all over the place. It drives me batty. (It also may be the one major reason I haven't tried crossfit yet. But that's another post. I totally should not judge cross fit at all – simply because I've never tried it.)
The other day I was browsing through ACE certified news through the IDEA Fitness Journal, and came across a conversation of whether those 1,000 Reps Workout Challenges were productive or not. It's actually one of the more trendy workouts that have been flooding Pinterest lately. You've seen them too, right?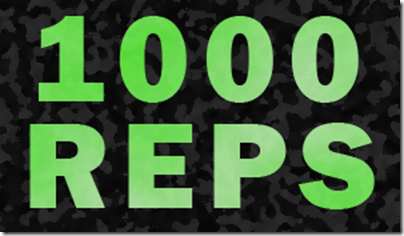 Basically, in my opinion and experience, they're not only unnecessary, but their also counterproductive. It surpasses the threshold for "endurance resistance training" – which I get, I really do. I do write endurance programs for my clients' resistance training, but when I do, I prescribe is usually 15. Fifteen! Not 50. Not 100. And never 1,000.
Let me pause for a moment to say that I really do get the appeal. It's hard core. It's a challenge. It's grueling. It sounds unattainable! But my friends, I'm in the camp that says doing 1,000 reps of various squats is not the most effective use of your time
Now, let me also say that it's not the inefficiency of these workouts that bothers me most. What bothers me; what really worries me is that these outrageously high reps workouts can also lead to overuse injuries. Have you ever done 1,000 of the same plyometric exercise in a row? Yeah, you're NOT going to feel good the next few days. And I'm not talking the sore-but-good type of pain.  Even if you know how to do the exercises properly and with perfect form, chances are around 200 or 300, fatigue will start to kick in and your form will seriously suffer.
Sorry guys – that turned into a bit of a rant there at the end. And I was trying to keep things light around here!
Ah well.
What do you think about the 1,000 Reps Workouts trend?