Good morning
Pretty sure I slept a total of 9 hours last night, so I'm feeling awfully chipper (despite tossing and turning over maybe 4 times throughout the night.)
Yesterday was such a weird day. It was good, and I got a lot done, but I felt a little on edge throughout the day. Unfortunately, I think it started when I met my first rude person here in Colorado.
I was out walking Niko around the neighborhood, and we were a block away from the dog park when she decided it was time to, erm, take a poo. Well, when I reached in my pocket for a grocery bag to clean up after her, I felt an empty pocket. Oops! Luckily, the park offers them to the public, sooo, I turned around back toward the dog park to grab one. Well, as I turn around, I hear a woman who was just standing across the street watching me, scream, "YOU KNOW, NEXT TIME YOU COULD CLEAN UP AFTER YOUR DOG!!!"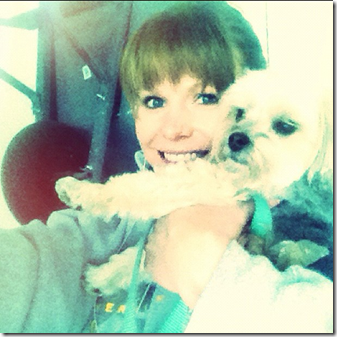 Except I wasn't smiling.
I didn't count to 10. I didn't take a deep breath. And I did not calm myself. Instead, I screamed back that I was actually going to grab a bag to do just that and maybe she should mind her own business! Ugh. I'm just glad I censored myself and didn't say anything worse, but I was so mad at myself later for letting her get my blood boiling so much.
So, I did what anyone who got way too worked up over a petty situation would do. Got dressed and headed to yoga!
I recently teamed up with Old Navy to try out and review some items from their Active Wear collection.
While I was out and about yesterday running errands, I stopped by the store and picked out three pieces to try out. Right now everything is 40% off (!!!) and I was able to pick up a tank, compression capris, and a long-sleeved top for $42!
Compression capris in Carbon3 (I love how it looks like grey denim!)
Active GoDRY Tank in Neon Green Extreme
Active Pullover Top in  grey
I got a medium in everything except the long sleeved top, which I got a large. I like my long sleeved stuff to be cozy and big enough to layer up!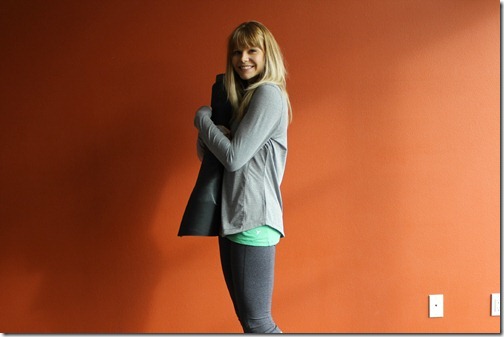 Each piece has quick drying fabric, which I surely put to the ultimate test by wearing them to a hot yoga class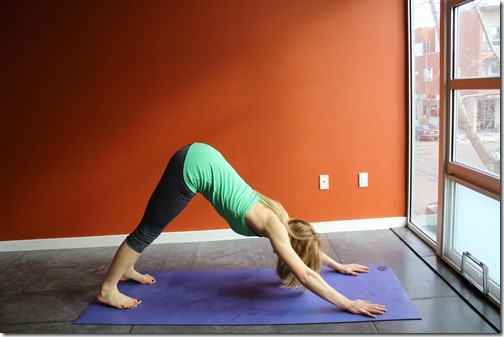 I tried out my first vinyasa flow class at my new yoga studio, and let me tell you, the heat was cranked up the highest that it has been yet. I never thought I'd say this in a million years…but I kinda loved it. About 30 seconds into chair pose the beads of sweat started pouring down my forehead and I thought, whoa. This is intense. We did a ton of warriors, lunges, standing twists, and chair twists, and my legs were literally shaking by the last few vinyasas.
Although I don't think I'd like to go to this class all the time, I'd definitely like to make a it a weekly occurrence.
Another super awesome amazing thing about taking a hot vinyasa flow class? Savasana at the end is that much better. The class was only an hour, but at the end of class I literally felt my skin pulsing as I lie in corpse pose.
The class also a really great opportunity for Old Navy's gear to show me what's got! I was pleasantly surprised to see that it was, indeed, quick drying, even despite the hot, humid controlled environment of the class. I also loved the length of the green ribbed tank. It comes down over the booty, and didn't flip up during inversions in class.
Plus, it's pretty dang comfortable!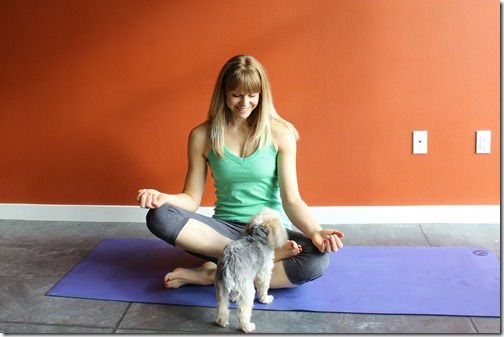 Before class, I lounged around with Niko and felt comfy and cozy
Today I've got my first client in the gym (wish me luck!) But first, I'm to get in my own workout, which today is a lower body workout. For the first time in a long time, I'm not really looking forward to it for some reason. On days like that, when I know I'm just being lazy, I do as the Nike's say, and just do it.
What features must your workout clothes have for you to love them?
Mine have to be dry-wicking, not see through, well-fitted, and comfy!
This post was sponsored by Old Navy. Check out Old Navy's Active wear in stores or at oldnavy.com #GetYourActiveON.
---