Hellooo
It's been about a month since I've implemented some changes to my eating style. Long enough to wear I am most definitely starting to feel the effects, but not yet long enough to where I've gotten the hang of it 100%.
So I thought it'd be fun to do a little before/after WIAW.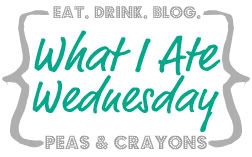 Now before we get into the
before's
and
after's
of it all, I am NOT saying "look how much healthier I am eating now!!!!11!!" I'm simply saying, look at the difference between the meals. And then afterward I filmed a little video where I talk about how I *feel* before and after. You can see that at the bottom of the post. However, if you don't want to watch me gab on, please know that
I am not advocating the "after" meal.
I don't believe this way of eating is for everyone. Heck, right now I believe it's not for
most
people. It's just the way I am eating right now to try to get my hormones back in balance.
Ready? Let's go.
Breakfast:7:15am

Before: 1/2 c. oatmeal, 1 c. almond milk, 1/2 banana, peanut butter, and Greek yogurt. And coffee. Always coffee.
After: 3 egg omelet, cooked in pasture butter, stuffed with kale, avocado, mushrooms, and onion, sprinkled with sea salt and cheese.
Snack: Nope! No snack. Don't need one. But before, it would have been a piece of fruit or a smoothie.
Lunch: 12:45pm
Before: turkey, bacon, lettuce, tomato sandwich and some radish with dressing
After: Whole can of salmon, mixed with 2 tbsp. olive oil, corriander, lemon zest, sea salt, and black pepper, on top of shredded carrot and a chopped beet. With a pumpkin cranberry egg muffin on the side. The reason there's a question mark after this one is that it's strange even for me. I loved how I made the salmon, but not so sure about serving it over carrots and beets.
Snack: Nope! No snack. Don't need one. But before, it would have been a protein bar or an apple.
Dinner: 6:30pm

Before: Barbeque chicken, corn with butter and salt, corn bread, a salad with ranch, and wine.
After: Grass-fed hamburger, topped with cheddar cheese and 1/2 an avocado, some fried, shredded potatoes in a little pasture butter, and sauteed kale.
Snack: 8:00pm – not too hungry, but I've found I sleep a lot better eating a snack of protein and carbs before bed.

Before: vanilla oikos + chocolate chips + chocolate hazlenut butter – or ice cream/chocolate covered banana chips/other sugar
After: chocolate almond butter pumpkin bar (I just added cocoa powder to this recipe, and used raw honey instead of sugar,) blackberries, and walnut butter in some Greek yogurt.
How I'm Feeling:
Fitness:
thoracic mobility routine
hip mobility routine
30 minutes light elliptical in between clients
So there you have it!
Question:
What was the best thing you ate yesterday?
---