Good morning! Things are starting off here bright and early. I actually made it to the 5:30 spin class! Never mind the fact that I felt like a zombie for the first three songs, because I feel great now!
Ask me again around 4:00 this afternoon, though
Since I enjoyed participating in What I Ate Wednesday and it seemed to be well-received last week, I thought I'd give it a repeat this week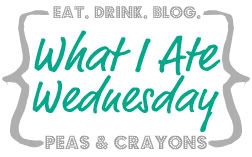 Breakfast #1-6:30 a.m.
I normally don't eat this early, but I was hung-ry! I think it's because I didn't really eat a nighttime snack before bed like I usually do, save for a few pieces of watermelon. I think I even dreamt that I was hungry! haha This was just part 1 of breakfast, to get me through my workout.
Breakfast #2 – 9:00 a.m.
Chocolatey overnight oats. The usual mix, which just tastes fabulous. I topped it with my homemade honey almond butter. It was tasty, but it almost made me too full. However, not too full to finish it off
Yum!
Lunch – 1:30 p.m.
Lunch was smaller since breakfast was eaten late and filled me up quite a bit. I continued with the "salad salad" theme of the week, and went with tuna salad. I just mixed some Greek yogurt, mayo, relish, chopped HB egg, s&p, paprika, and chopped onion with a can of my favorite tuna and topped it on a bed of spinach. On the side I ate an apple, and the apple pie Uber larabar, which was super tasty
Snack – 4:00 p.m.
In the late afternoon, I had an hour break in my day before I had to be back to train a couple more clients. When I walked in the house and saw the kettle corn, I went after it.
I'm obsessed with kettle corn lately! In fact, Shane and I got a giant box of mini kettle corn (I almost wrote kettle bell LOL) in the basement to snack on while we watch movies. There were 28 little bags when we got the box, and now there are three
Dinner – 7:45 p.m. – Barbeque chicken, broccoli, and sweet potato salad
I don't normally eat dinner this late, but had a later client. I almost grabbed Subway, but then remembered I had chicken thawed in the fridge. Besides, ever since I made this potato salad, I've been thinking of how to make a sweet potato salad.
And I nailed it! Recipe coming this afternoon for the sweet potato salad, but I will say I will be making MUCH more of this side dish in the future
Now, I'd usually post something like 8:30 – nighttime snack – coconut milk ice cream or something else sweet here, however, after dinner I was SO full. Actually, let me clarify: after putting away dinner – and sneaking a couple extra bites of the sweet potato salad, chicken, and veggies – I was so full
Do you usually snack after dinner? If so, what's your typical nighttime snack?
This is actually one of my weaknesses. I feel like I have to have something dessert-like before bed. I'm trying to break this cycle, but it's tough! And…I like my nighttime sweet tooth dessert, haha
---