Evening!
Boy am I going to surprise Shane tonight for dinner!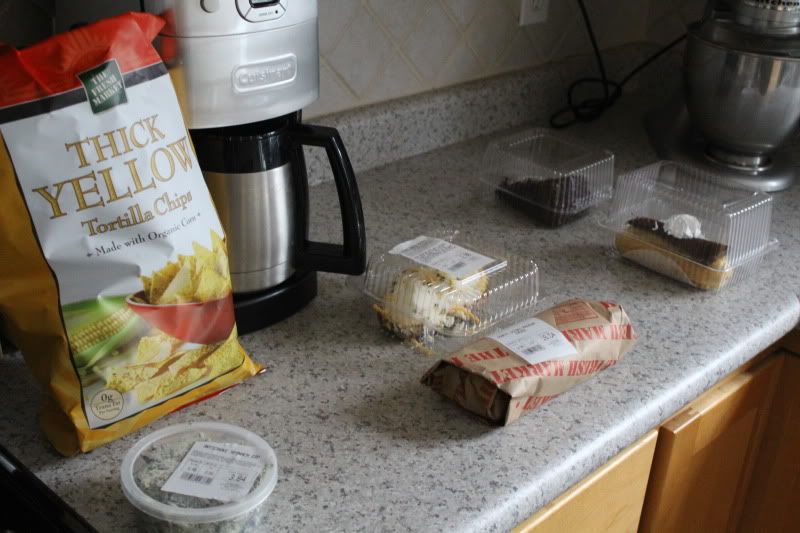 Thankfully, I was able to push up my client schedule, thanks to some flexible clients, and had about 45 minutes to get everything in order.
Shane is in class until 7:00ish tonight, and he made dinner reservations for 7:30 for our anniversary. If I know my husband, I know that after a busy weekend and a day full of work + night full of class, going out would be the last thing he really wanted. He made the reservations because it was our anniversary. Simple as that. But I know he'd rather stay in and relax.
So, I played the trickster and headed out to Fresh Market to get his absolute favorite steak ever. It's also the only time I'll spend $15 on a steak. Ever.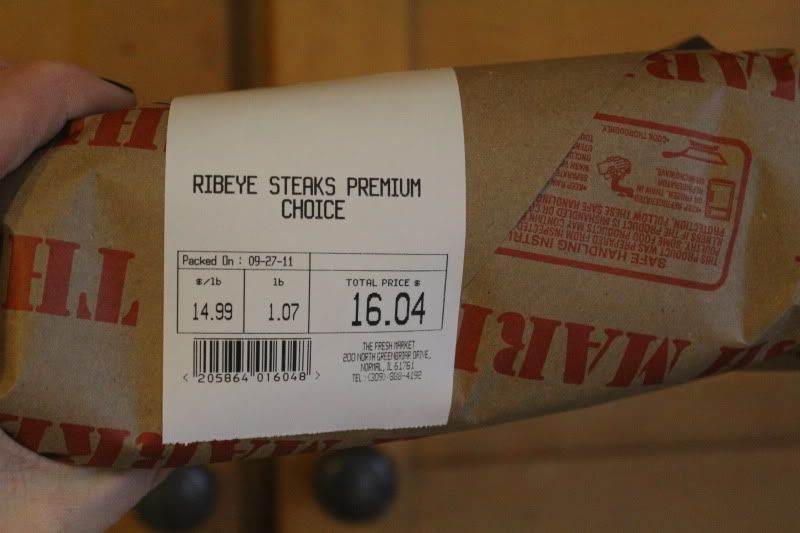 This "gift" was also numerically convenient because the traditional 3rd wedding anniversary gift is leather.
Get it???
No?
Ok, fine. I'll let you in on my thought process. But be warned, it's a little twisted, especially for someone who hasn't eaten beef or chicken in more than two years. Steak comes from cows, which are also where leather comes from. So…it's leather. I know. It's creatively sick. Moving right along…
Along with the steak, I also picked up the works: appetizers of spinach artichoke dip and chips, main course of aforementioned steak and a twice baked potato, and then a choice of chocolate cake or an éclair for dessert.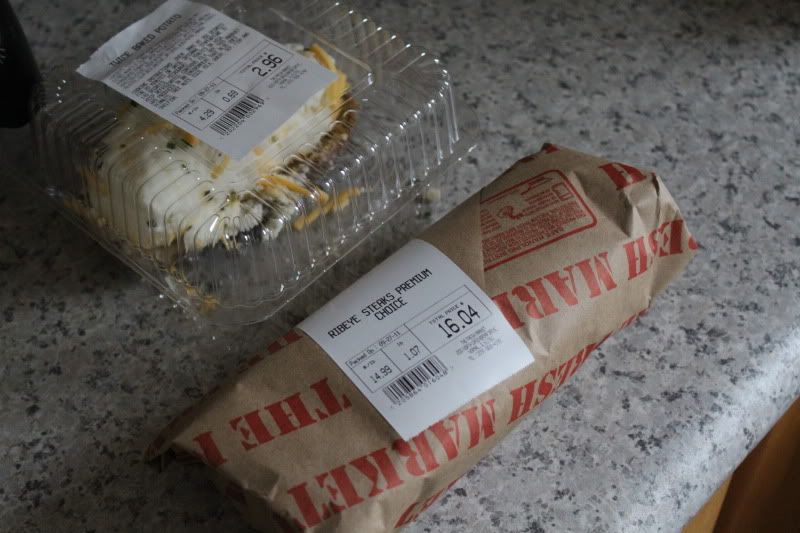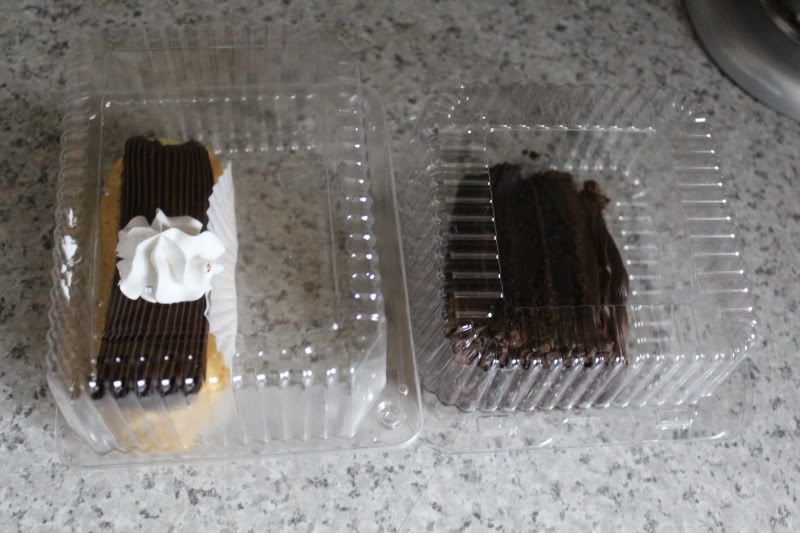 (don't worry, I'll eat whichever one he doesn't choose
)
I think this deserves a good wifey medal if you ask me.
And since a big steak isn't my cup of tea, I subbed out his main course for one that I haven't had in a very long time – sushi!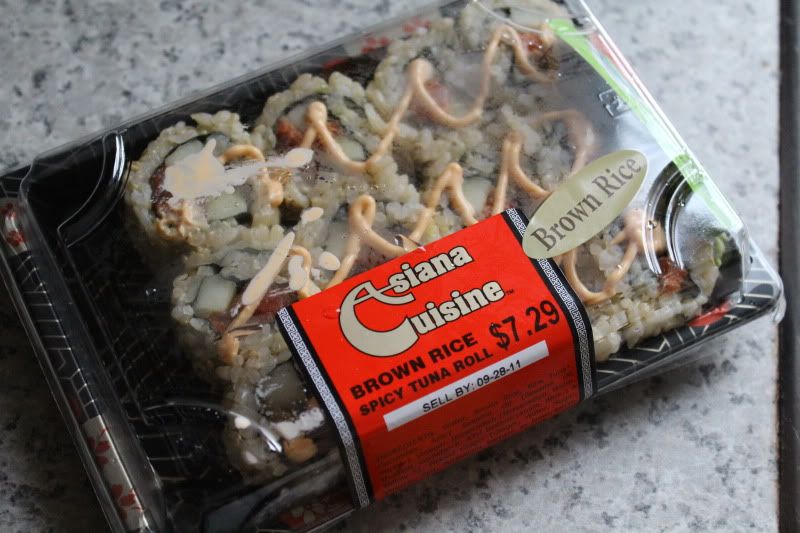 Yum!
One thing I didn't do? Cook the steak – because, you know, I wanted it to actually taste good for him
I also set out a my gift to him and a bottle of wine: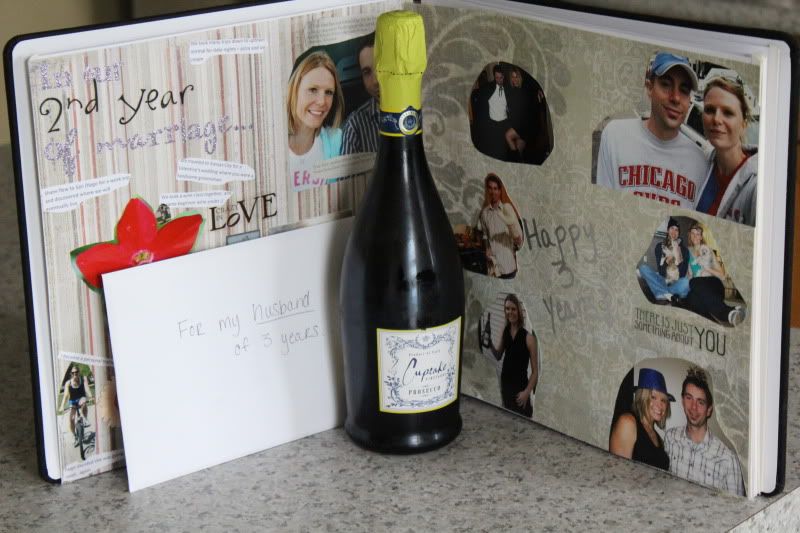 Turns out, he had set up his card and a bottle of wine for me to come home too! Who knows…it could be a two-bottle night! Kidding, kidding.
Hopefully this change of plans turns out well! I'll let you know
Now it's just time to wait until he gets home from class. Eek! I think I'll occupy myself by catching up on all of your blogs
Have yourselves a lovely night, loves!
Which do you prefer: going out to a fancy dinner? Or keeping is casual in the casa?
---